Ant Group Insights part 1 – Company introduction
2020-10-20
Nordic Asia Team
Ant Group - Business overview
Ant Group formerly known as Alipay is an affiliate company of Alibaba Group. It develops online payment platforms and operates the Alipay mobile payments app, used by over 700 million monthly active users in China. Ant Group also offers a variety of other financial products ranging from insurance to wealth management.
Dual-engine revenue model serves both users and partners
The majority of Alipay's users come from Alibaba's e-commerce platforms, subsidiaries, and associate companies. Alipay is used as a tool to substitute some of the banking functions, such as transaction, online/offline consumption, borrowing and wealth management. Payment transaction income from users and merchants accounted for 35.9% of Ant Group's total revenue in H1 2020 as Alipay's basic function. Digital financial platforms revenue contributed 63.4% of Ant Group's total revenue (up from 44.3% in 2017), which is the technology service fees charged from its financial institution partners for distributing their financial services as a channel.
CreditTech: Alipay acts as intermediate and originates consumer or small business credits, which are independently underwritten by its partner financial institutions. Technology service fees are charged based on the credit amount originated via Alipay while Ant Group itself bears nearly no credit risk on its book. The platform originated CNY 1.7 trillion consumer credit balance and CNY 0.4 trillion small business credit balance as of H1 2020 with less than 2% of the credits running through the balance sheet of Ant Group's subsidiaries.
InvestmentTech and InsureTech: A marketplace which offers users with partners' investment and insurance products and charges partners technology service fees by Asset Under Management (AUM) or premium enabled through the platform. Alipay enabled CNY 4.1 trillion AUM of investment products as of H1 2020 and CNY 52 billion of insurance premiums during the last 12 months ended June 2020.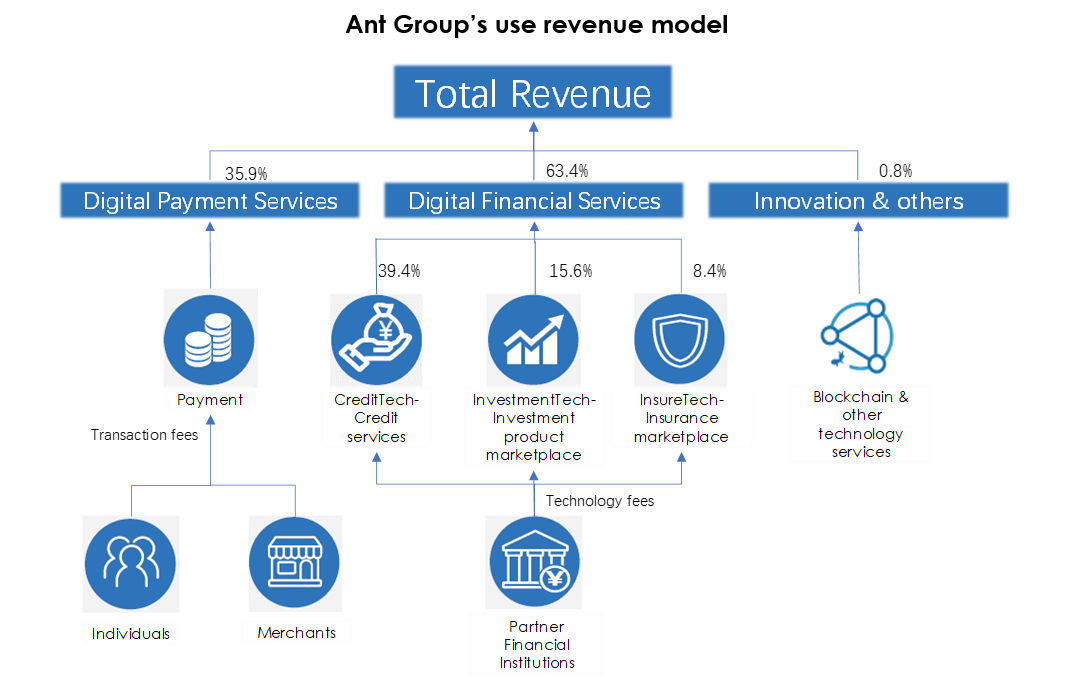 Achieve user stickiness via payments for financial services distribution platform
Ant Group's strategic focus has shifted from driving user growth to user engagement after its extensive sales and marketing promotion in 2018. Ant Group thus actively expand Alipay's use cases coverage and promote its digital financial platforms by cross-selling financial services to payment users. As a result, user stickiness was improved with 80% of Alipay users using over 3 types of services and 40% using over 5 types of services in 2019, up from 70%/30% respectively in 2018. Ant Group will continue to focus on user stickiness and penetration of financial services to payment users at least in the mid-long term, in order to drive revenue growth.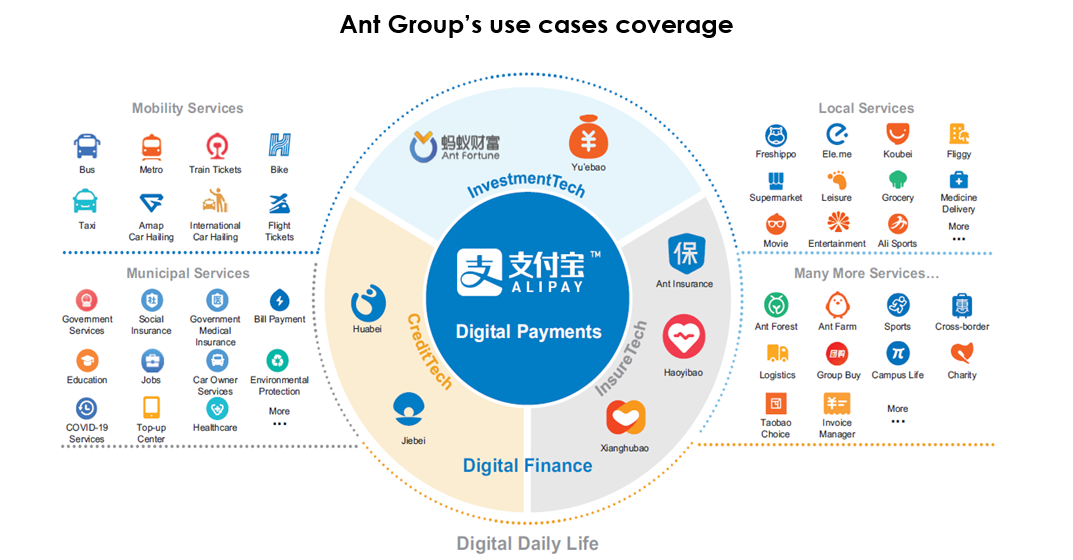 E-commerce Synergies with Alibaba
Ant Group not only enjoyed the traffic from Alibaba's diversified eco-system (i.e. e-commerce, food delivery, subscription, etc.), but also obtained mass data and consumer insight/image through the transactions. The analysis of user transaction/behavior data lays the foundation of the penetration of Alipay's financial services platform. In 2015, Ant Group launched Zhima Credit, a trust score system, to assess consumers' trustworthiness. Such system enhances user experience with access of deposit-free services including car rental and hotel booking, and provides financial institution partners a guidance in their services.
Credit Service Platform
One of Ant Group's key strategies is to serve consumer credit and small business credit needs with its extensive reach on users and merchants. Alipay acts as a service provider, credit enhancement platform as well as product designer to connect borrowers/consumers with better credit quality/customer image to its 100 commercial bank partners and provides more insights with Zhima Credit. The key feature of such approach is not to use Ant Group's own balance sheet or provide guarantees on originated loans, which allow the platform to grow the size quickly without direct regulatory restriction. As of H1 2020, about 98% of credit balance originated through Alipay's credit platform was underwritten by its partners or securitized. In 2014, Ant Group invented an innovative product called Huabei to grow the credit balance. It is a virtual credit card that allows consumers to make payment online/offline with minimum credit line of CNY 20. Users of Huabei exceed 141mn in two years. The successful launch of Huabei benefited the subsequent introduction of Jiebei (unsecured consumer credit) and Wangshangdai (small business credit).
Investment Tech Platform
As a platform/marketplace, Alipay enables its asset manager partners to distribute over 6,000 investment products to a wide-range of consumers with its own recommendation mechanism, customer education and after-sale services. Users are able to invest across a diverse range of products including mutual funds, bank time deposits and wealth management products with low minimum investment amounts via Alipay. Additionally, Yu'ebao, a money market fund product was introduced in 2013 to drive AUM size and accounted for 30% of total AUM as of H1 2020. The product achieved significant growth of 71% CAGR from 2013 to 2017 and reached CNY 1.58 trillion in 2017, accounting for 71% of total AUM enabled by Alipay. Non-Yu'ebao AUM surged from CNY 0.65 trillion in 2017 to CNY 2.88 trillion by H1 2020. Alipay further increased its expertise via deepening partnership with asset managers such as Vanguard to attract larger AUM.

Insurance Tech Platform
Mimicking the success of its investment platform, Alipay acquired over 100mn customers with the invention of a mutual aid program called Xianghubao in 2018, which protects participants against over 100 types of critical illnesses with a maximum one-time payout of CNY 300,000 for each successful claim. The special feature of such program is that no upfront payment/premium is required upon joining as the cost is shared equally by all participants each period (average of CNY 29 in 2019). Alipay currently offers over 2,000 insurance plans including life insurance, health insurance and P&C insurance. Alipay and its partners also co-designs affordable and easy-to-understand insurance products that fit the majority user base. Beyond traditional products, Alipay offers scenario-based insurance products that is embedded in Alibaba's e-commerce marketplaces, e.g. shipping return insurance on Taobao that covers purchasers' shipping cost for returning products. Convenience is another key characteristic of Alipay's insurance platform. It allows users easily reach to products across different insurers, customer educations, experts and claiming services within the platform.

Ant Group - Financial overview – Financials and Current Valuations at CNY 67 at USD 265 billion Market Cap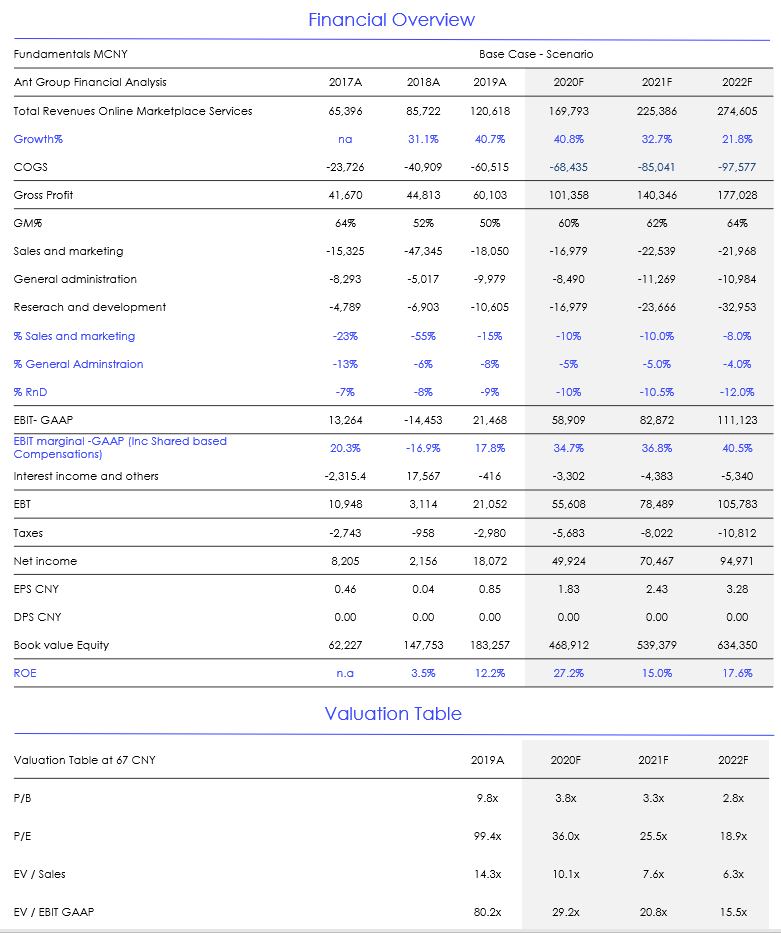 Please contact Nordic Asia for a more detailed analysis and insights on Ant Group via the contact us form below: