China's COVID-19 recovery – Short news stories and data points on the recovery of the travel and hospitality industry in China
2020-11-19
Nordic Asia Team
Civil Aviation as a whole was down 70-85% year on year in the beginning of the year but has since recovered significantly
In February 2020, the number of Civil Aviation Passengers in China was down 83.1% year on year with most airlines cancelling nearly all flights due to the pandemic. Since then, the number of Civil Aviation Passengers has recovered steadily and in September 2020, the year on year decline recovered to less than 30%.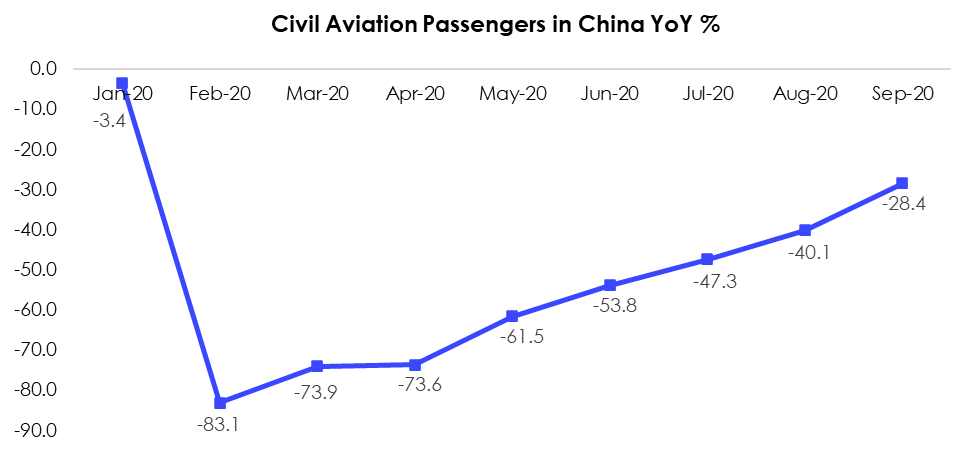 The recovery for the travel and hospitality industry is uneven driven by domestic travel with international travel and cruises still at a standstill
The demand for domestic travel has recovered to near pre-pandemic levels. Hotel room nights and domestic flight passengers bounced back to around 90 percent of 2019 levels by the end of August, and railway travel also shows a strong recovery. On the other hand, international flight passengers and cruise passengers are still non-existent and are still not showing any signs of picking up.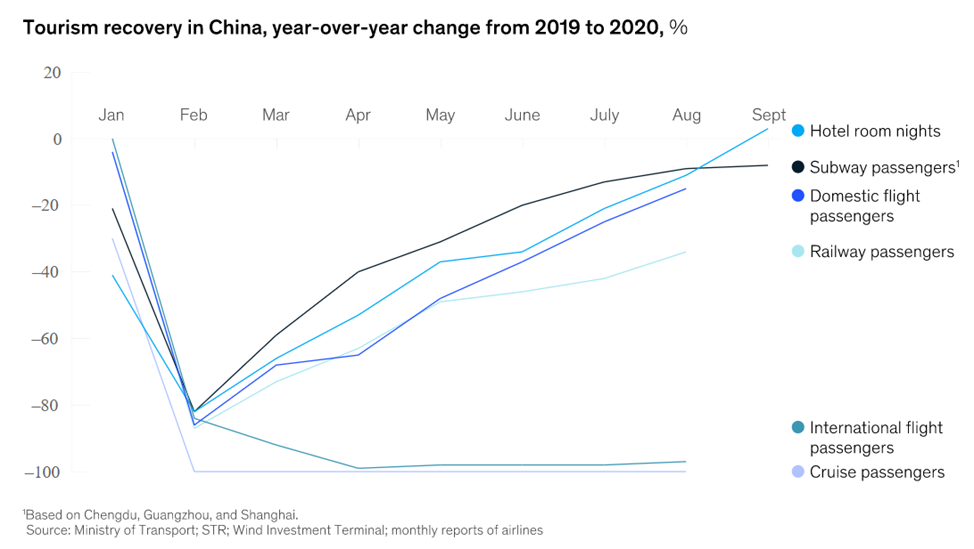 More on this news story here
The number of domestic flights during the National Day Holidays in October was higher than in 2019
During the National Day Holidays 1-8 October, the number of domestic flights increased by 13% compared to the same period 2019 with 109,856 local services offered during the period according to the Civil Aviation Administration of China.
"October's gain was higher than expected, as airlines were not expecting a recovery to 90 or 100% until the start of 2021," said Bocom International's analyst You Luya in Hong Kong. "It's not only the recovery of demand for domestic travel, but also because people who used to travel abroad turned to domestic destinations."
More on this news story here
Domestic travelers are increasingly choosing short trips and luxury stays around big cities
In China's post-Covid-19 tourism market, short-distance travelling, and luxury holidays are leading the rebound, while tour groups and business trips are declining, according to industry players
"The coronavirus will have a profound and long-standing effect on the global tourism industry," said Qian Jiannong, chairman and chief executive of Fosun Tourism, in a recent interview with the South China Morning Post. "Different segments and regions in the market will diverge in their future performance, and this will lead to great structural opportunities."
More on this news story here
China's hotel industry first to show revenue growth post during COVID-19
China is the first country to see year-over-year hotel revenue growth since the pandemic began. The hotel industry's key performance metric: occupancy, daily rates, and revenue per available room were all up the week ending October 10. Specifically, occupancy was up nearly 3%, daily rates were up by a little more than 10% and revenue per room was also up more than 13%.
More on this news story here
Summary
China was the first country hit by COVID-19 and the first country to get the COVID-19 pandemic under control. The recovery for the travel and hospitality industry in China is therefore not only important to China but can also be used as a case study for how the recovery for the travel and hospitality industry in other countries might look like in the future once they get the pandemic under control.