It is time to look East! Increase portfolio returns and yet reduce portfolio risk correlations by investing in Chinese stocks
2020-12-10
Nordic Asia Team
Significantly lower valuations for Chinese stocks compared to Swedish and US stocks
Looking at the next 12 months P/E ratio for Chinese stocks vs. Swedish and US stocks, it is evident that the valuation is significantly lower for Chinese stocks with 15.2x for MSCI China and 12.7x for CSI 300 compared to 20.1x for Swedish OMXSPI and 22.1x and 31.0x for US S&P 500 and Nasdaq, respectively.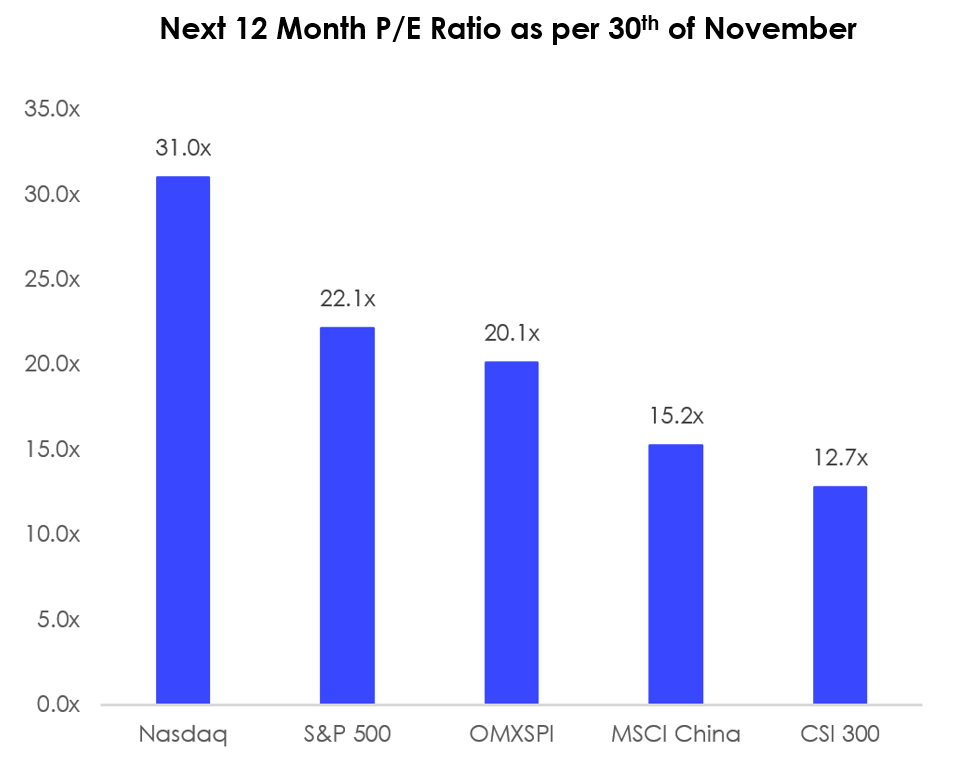 Historically speaking, Chinese stocks have often traded at a discount to US and Swedish stocks. However, as China has recovered much better from the COVID-19 pandemic than US and Sweden leading to a more visible earnings visibility, the current valuation gap offers an attractive risk/return potential for Chinese stocks compared to US and Swedish stocks which are all trading at or close to all time high levels supported by accommodative monetary policies by its central banks.
Higher Earnings Yield and lower Beta to OMXSPI compared to US stocks
As a consequence of the lower valuation, Chinese stocks offer investors a significantly higher earnings yield compared to Swedish and US stocks. The earnings yield for CSI 300 and MSCI China is around 8.0% and 6.6% respectively compared to around 5% for OMXSPI, below 5% for S&P 500 and around 3% for Nasdaq.
Apart from a lower valuation and a higher earnings yield, Chinese stocks can reduce the overall portfolio risk for Nordic Investors by offering a significantly lower Beta to OMXSPI compared to US stocks. The Beta to OMXSPI for Chinese stocks range between 0.3-0.5 compared to a Beta to OMXSPI of over 0.8 for US stocks.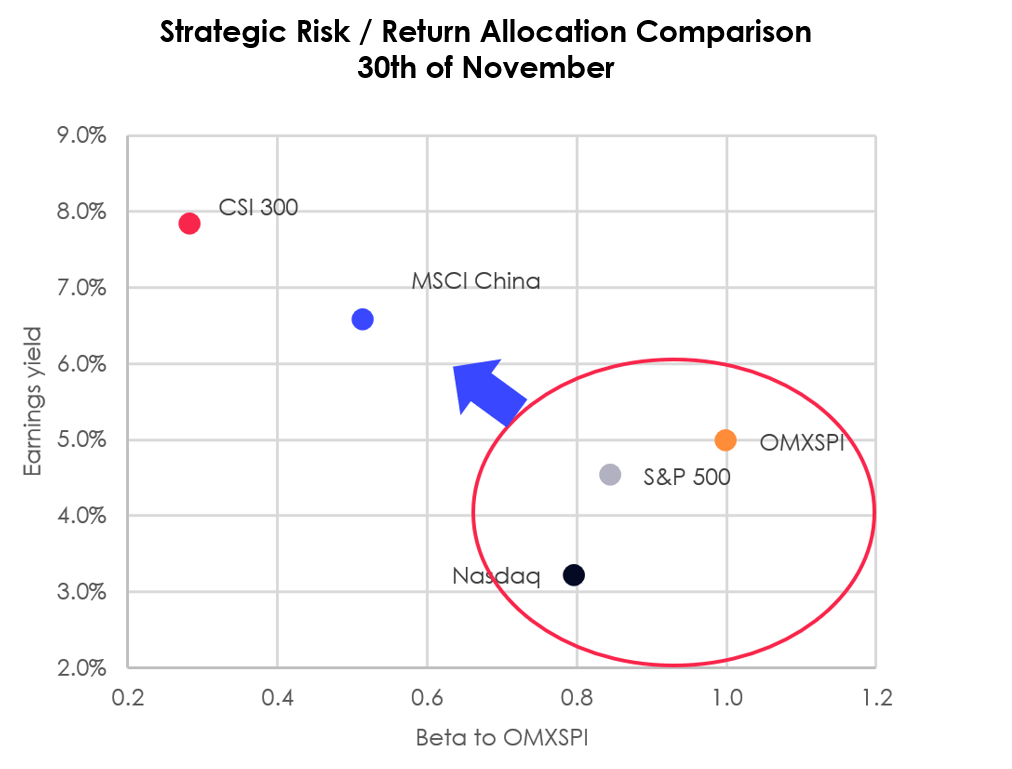 Nordic Asia Comment
In this unique market environment of high uncertainty and high valuations caused by the COVID-19 pandemic and accommodative monetary policies the root problem is not solved and fundamental earnings growth in US and Europe are still uncertain. We need to be aware of the uncertain risk / reward balance in our home markets today. Therefore, in this environment as a Nordic Investor we will need to expand our investment horizons to find more attractive investment cases with long term structural growth and better short-term earnings visibility with reduced correlations to Nordic markets. Because of its lower valuation, higher earnings yield and low correlation with OMXSPI, Chinese stocks offers an attractive opportunity for diversified Nordic Investors who can access it.
It is time to look East!