Nordic Asia Xiaomi Webinar - Full Video and Summary
2020-12-11
Nordic Asia Team
Xiaomi Webinar summary
The Webinar was divided into two segments. In the first segment the viewers got an introduction to Nordic Asia's Investment Theme – The Chinese Consumption Upgrade and in the second segment the viewers got a deep dive into the world of Xiaomi.
Introduction to Chinese Consumption Upgrade
China has gone through a Paradigm Shift the last 30 years in terms of the contribution to total GDP split to by Agriculture, Industry and Services. In 1990, Agriculture accounted for 27% of China's GDP with Industry accounting for 41% and Services accounting for 32%. In 2006, Industry reached a high point of 48% with Agriculture dropping to 11% and Services growing to 32%. Currently (2019 data), Services has grown swiftly to account for 52% of China's GDP with Industry dropping to 41% and Agriculture dropping further to 7%. The service sector is expected to continue to grow to 61% of China's GDP by 2030.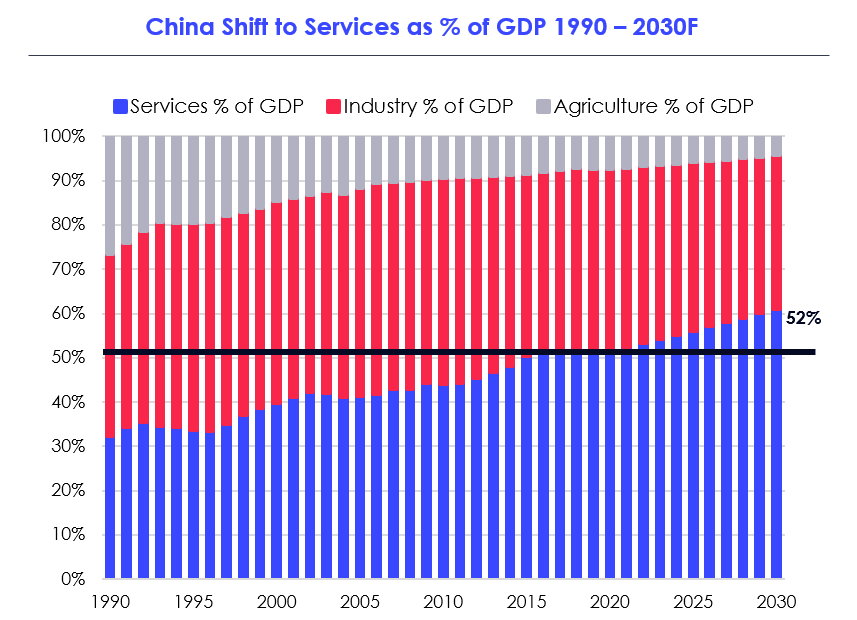 Currently, China Consumption as a % of total GDP is still only 39% but it already accounts for around 65% of GDP growth and is expected to reach 50% of total GDP by 2030. However, there are large regional differences with most of the GDP allocated to Tier 1 cities (Beijing, Shanghai, Shenzhen, Guangzhou). There are also large age differences with Millennials accounting for a 3x times higher discretionary spend. A future driver for a continued strong consumption growth is that Middle Income urban households are expected to double from 2015 to 2030 which means an additional 400 million people reaching a middle class income.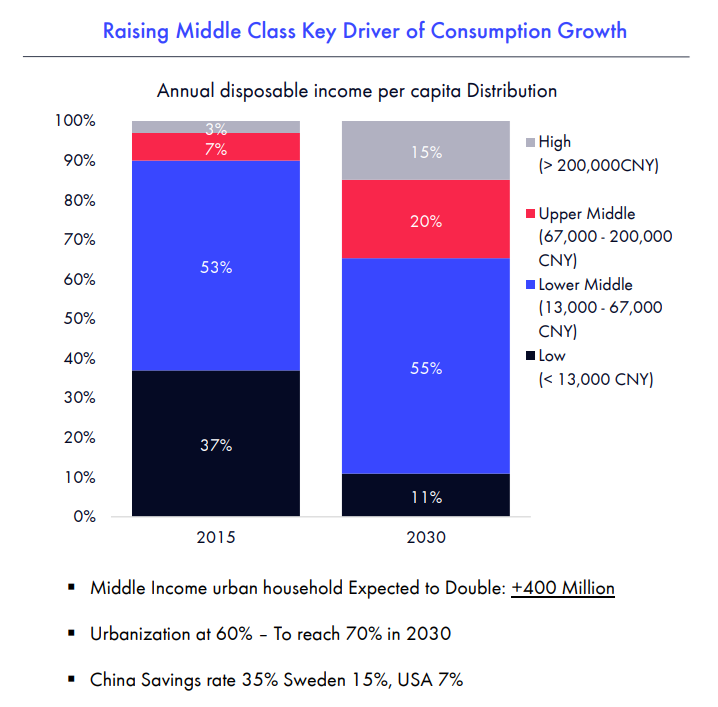 As China's total GDP is expected to continue to show strong growth with a CAGR of 5-6% between 2018 to 2030 (from USD 13.6 trillion to USD 33 trillion), The expected increase of China Consumption as a percentage of GDP from 39% today to more than 50% in 2030 actually corresponds to an explosive growth of China Consumption from USD 5.4 Trillion today to USD 16.4 trillion in 2030 which is more than 3x in the coming decade.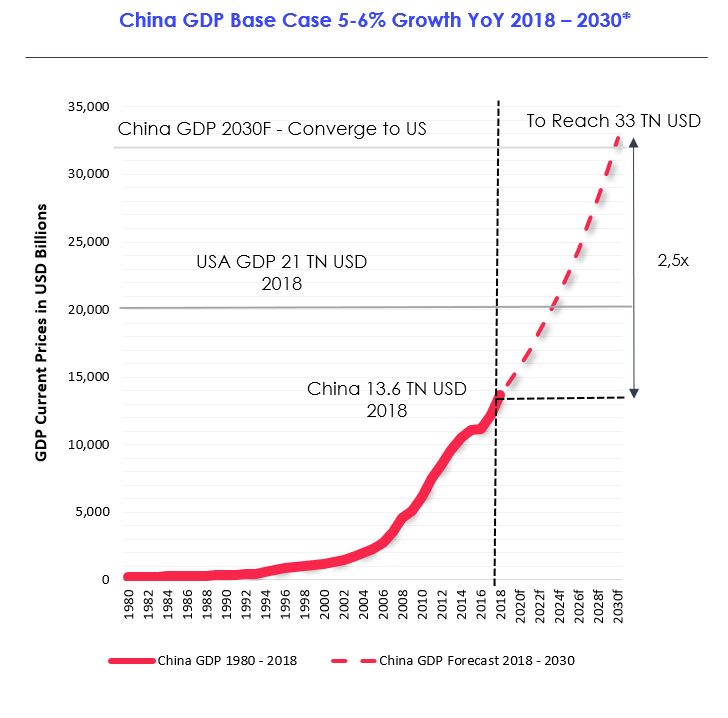 Xiaomi Deep Dive
Xiaomi is a leading Smartphone, IoT and home appliances company that offers amazing products with honest prices. It employs a similar strategy as Apple in terms of the creation and empowerment of a closed loop company Ecosystem "Mi Ecosystem" consisting of both Hardware (Smart Home, Smartphone, and Smart Devices) as well as software/Internet Services. Xiaomi combines online retailing directly and via 3rd party platforms with offline stores in a New Retail Omni Channel strategy.
Xiaomi offers a complete diverse Smartphone Portfolio with Best Value for Mass Consumers with 5G phones accounting of 10% of total sales in Q3 2020. It uses the "MI" brand for its High-end and Mid-end Smartphones, the Redmi brand for its Entry Level Smartphones, and the Black Shark brand for its Gaming focused Smartphones.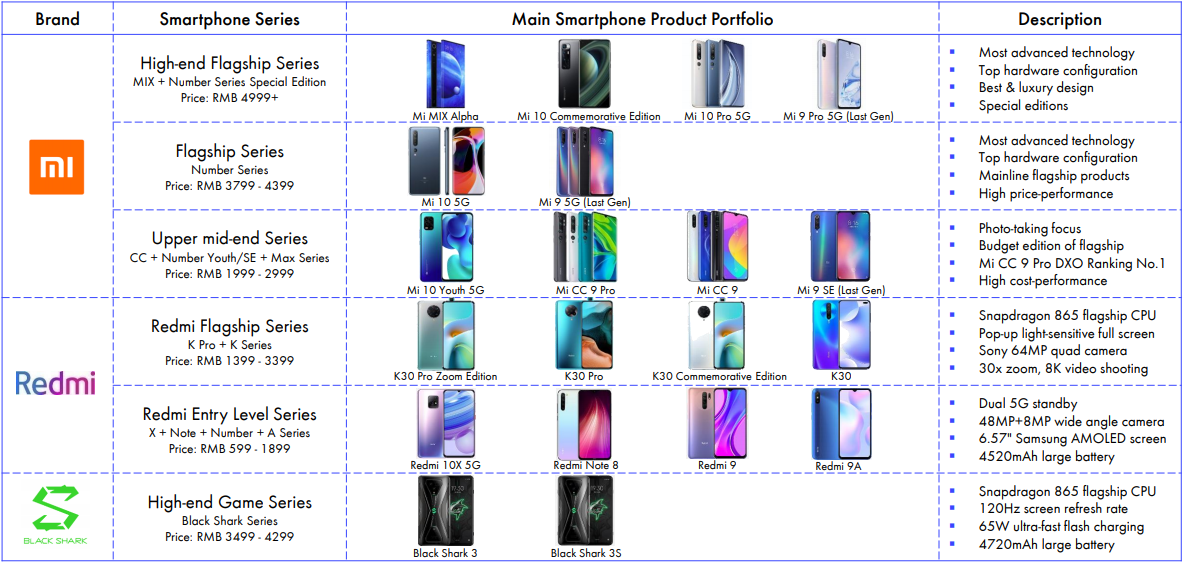 Xiaomi has an ambitious international strategy in place. Between 2015 and Q3 2020 , Xiaomi's overseas revenues grew from 6% to 45% of total revenues. However, most of Xiaomi's international revenues come from its Smartphone business with its overseas Internet Services revenues just accounting for 12% of its total Internet Services revenues but growing fast at 72% YoY.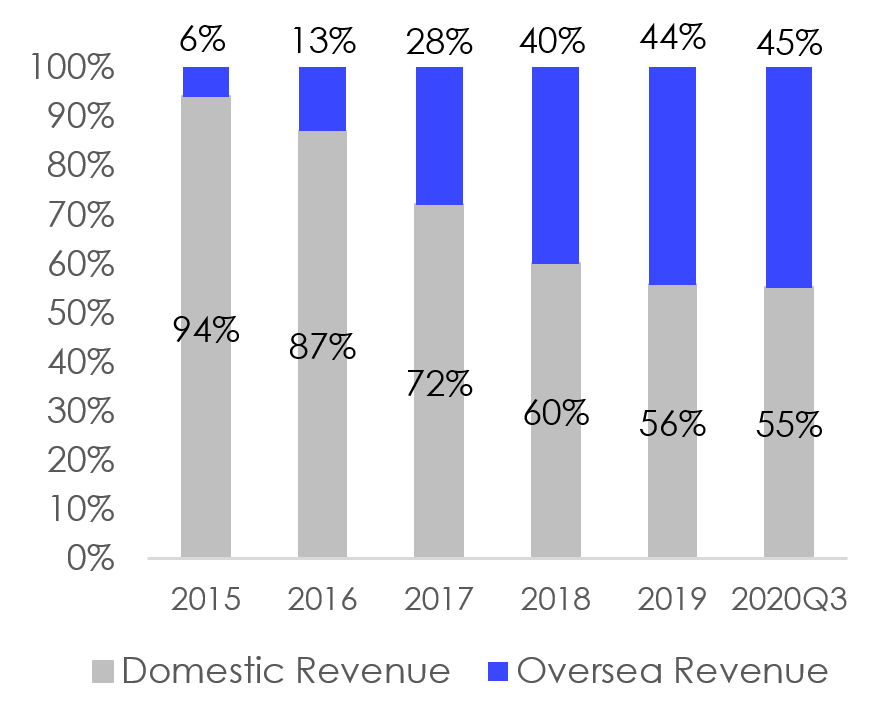 Today Xiaomi is an international Smartphone leader and the number 1 Smartphone company in 7 countries including Spain with 33.9% market share and India with 26.1% market share, a top 5 Smartphone company in 54 countries and has entered 90+ Countries and Regions in total. As of Q3 2020 the company held a Global Smartphone market share of 13.1% ranking third in the World.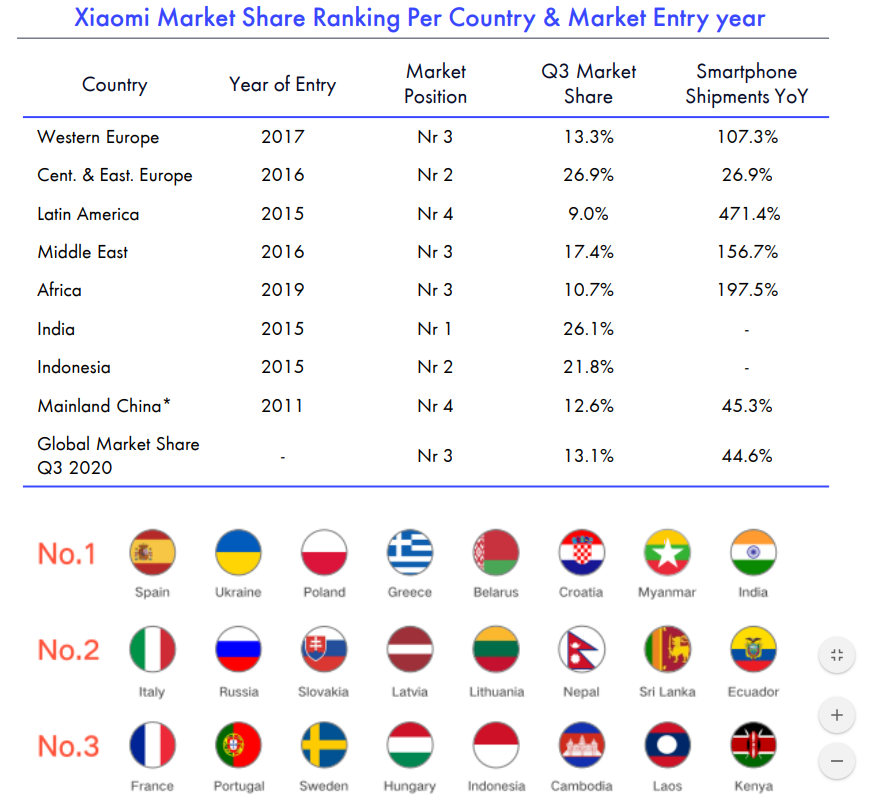 Financially, Xiaomi is displaying high revenue growth with revenues increasing from CNY 115 billion in 2017 to CNY 206 billion in 2019 and expected to increase to CNY 365 billion in 2022. Despite the high revenue growth, the company has been able to sustain healthy and stable gross margins in the 13-14% range between 2017 and 2019 and analyst expect Xiaomi to continue to sustain a gross margin of around 14% for the coming years.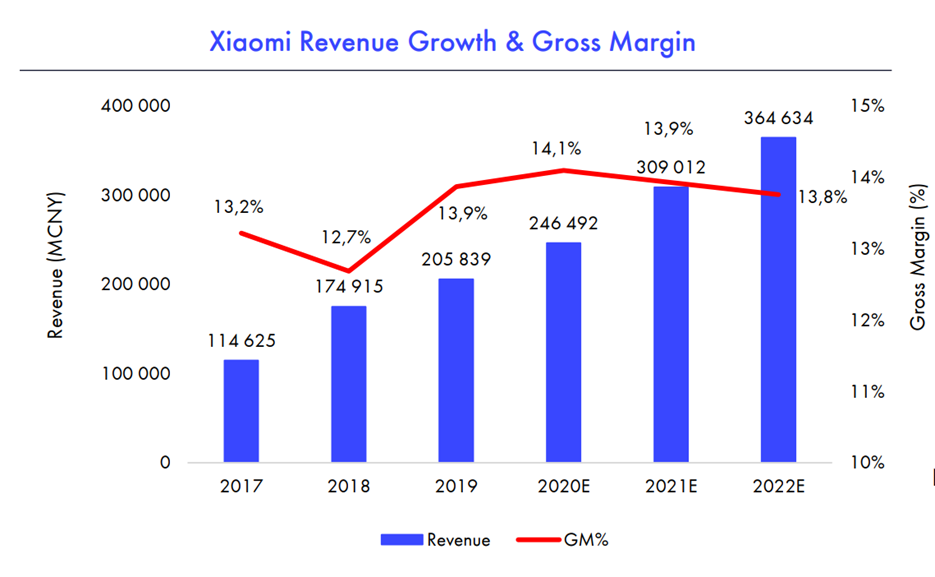 Our guest Jojje, the leading official distributor for Xiaomi in Nordic region and Iceland, also stressed that Xiaomi is growing rapidly in western and nordic countries. Although Xiaomi is already 3rd largest brand in western europe, he still expresses his confidence in Xiaomi because they are huge in sales. Besides 17% of market share in the smarphone market in Europe, Xiaomi has a doniant advantage in its ecosystem products. As he mentioned, Xiaomi's robotic vacuun cleaning owns approximately 92% of the market share in Nordic. With Xiaomi's rapid expansion and high-quality products, it's the first time Jojje faced such huge demand from his customers since 1993.
Please check out the Full Webinar HERE for more in depth information and analysis on the Chinese Consumption Upgrade and Xiaomi. If you find our insights and webinars interesting, please subscribe Nordic Asia on Youtube HERE and sign up for our newsletter.