New Investment Group Builds Bridges between Swedish Investors and the Chinese Consumption Explosion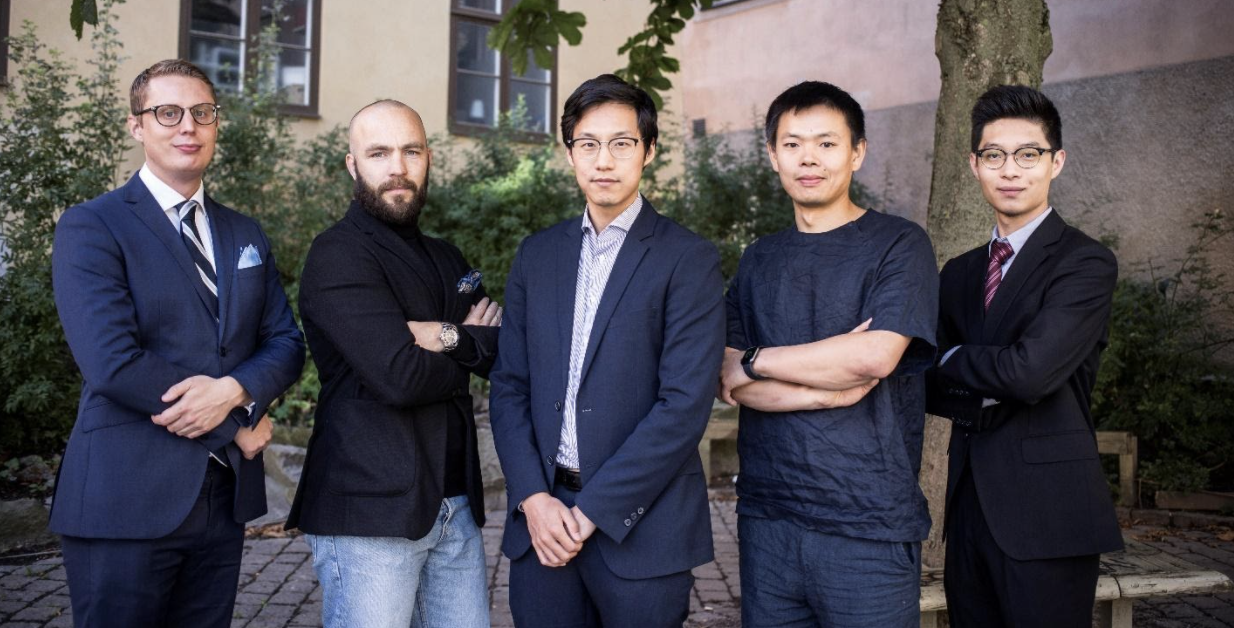 Nordic Asia Team from left to right: Thomas Nordén – Head of Business Development, Svante Jerling – Public Relations and Senior Advisor, Yining Wang – Partner and Investment Director, Chu Zhu – Partner and Technology Director, Hanzhe Zhao – Analyst Intern
Not present: Yu Zhang – Partner Investment Research Director, Sunny Huang – Investment Analyst, Chenjia Tao – Analyst Intern
First closing of SEK 50 million completed
Interest in Chinese companies is growing among investors, but it is a market that is perceived as complex for many. To bring Swedish investors closer to investment opportunities in China, Yining Wang, Zhang Yu and Zhu Chu started the entity Nordic Asia Investment Group. Together the three founders have many years of experience from the Swedish and Chinese tech and financial industries, and the company will offer both investment opportunities and company research to their customers. The firm has just closed its first round and raised SEK 50 million in a first stage, much thanks to China's faster recovery from Covid-19 in the domestic market. The plan is to raise more capital during the year from a selected number of professional investors with the target to publicly list Nordic Asia next year. In addition to the investment entity, the company is also developing a digital service that will provide investors access to company analysis and knowledge about innovation and consumption companies in China, directly into your mobile phones.
Aim to close the knowledge gap for Chinese investments
We consider ourselves to have identified an ever-increasing interest in Chinese companies and Chinese technology, but there is no Swedish player or even expert who help private investors in understanding and taking advantage of the Chinese market. With a different language, culture and regulations, the Chinese market is perceived as complicated, making it difficult for foreigners to see the value of certain services. This is where Nordic Asia can assist clients in identifying relatively untapped potential, says Svante Jerling, Senior Advisor to Nordic Asia who has previously been with and built the dating giant Tantan in China.
Realizing hidden potential in the Chinese market
An example of the potential that exists in the Chinese market, but which the Swedish media has missed, is JD.com, which is one of China's giants in e-commerce, and one of the stocks found in Nordic Asia's portfolio. JD.com benefited greatly from Covid-19 with a growth of + 34% in the second quarter of 2020 and a share price that has risen more than + 120% since the start of the year.
Opportunity to capture consumption driven growth in China
Nordic investors need more investment opportunities in the current uncertain market so we must look to the East where the recovery lies ahead of the one here in the West. The potential lies in the growing domestic consumption that currently is only 39% of China's GDP, compared to for example 70% in the U.S. We are convinced that the interest in investing into companies benefitting from the growth in the Chinese market, will increase over a 5-10 year period among Swedish investors. We want to be a catalyst for that growing interest, says Yining Wang, Founder and Investment Director at Nordic Asia.
About Nordic Asia
Nordic Asia is led by first- and second-generation Swedish-Chinese with a background in the tech and investment industries with the support of leading Nordic investors. Our unique profile, network and experience in both regions enables us to navigate through the noise with first-hand information, objectively analyze the market and identify the long-term investment opportunities in Asia.
Nordic Asia in Media
Avanza - Nytt svenskt investmentbolag har fokus på Kina och ambitioner om notering nästa år
Börsvärlden - Nytt svenskt investmentbolag har fokus på Kina och ambitioner om notering nästa år
Affärsvärlden - Nytt svenskt investmentbolag siktar på notering nästa år
TT - Nytt investmentbolag bygger broar mellan svenska investerare och den kinesiska konsumtionsexplosionen