China Macro Statistics - End of Year Update
2020-12-21
Nordic Asia Team
China manufacturing PMI increased significantly in November 2020 to its highest November value for the past 13 years
The Chinese Manufacturing PMI increased sharply to 52.1% in November 2020. It has now remained above 50 (where a PMI above 50 represents an expansion when compared with the previous month) for nine consecutive months, setting a new high for the year. The Manufacturing PMI value of 52.1% in November 2020 is also the highest November value for the past 13 years.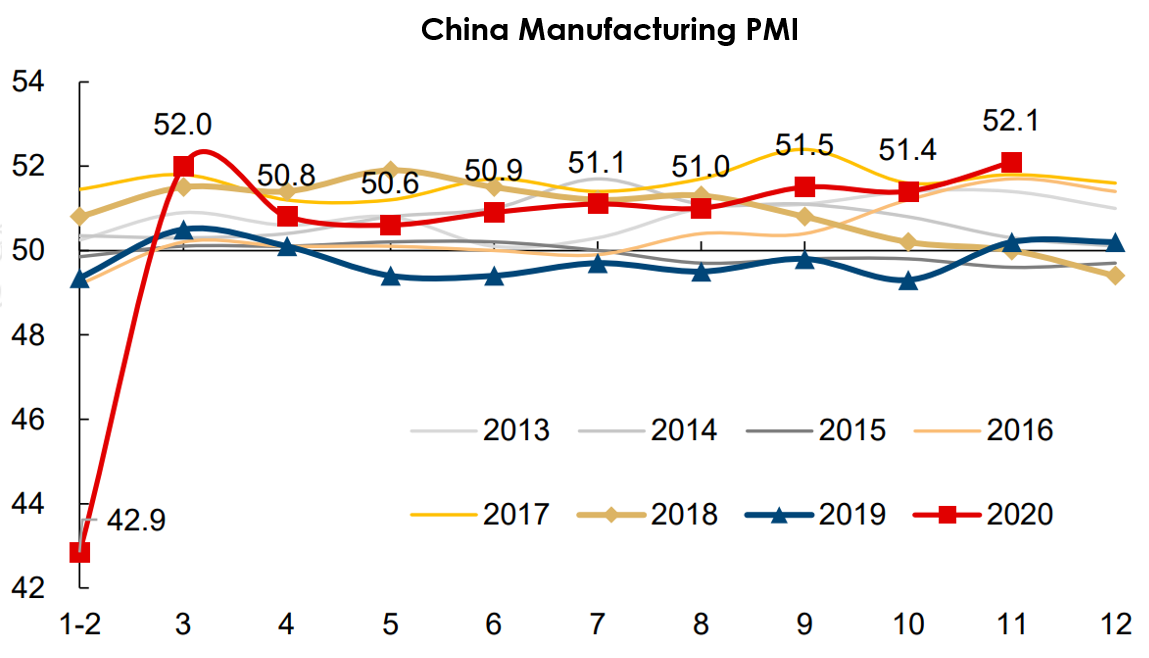 When looking at its sub-indexes, the strong Chinese Manufacturing PMI value for November 2020 was driven by new orders which rose to 53.9% in November, while new export orders contined to rise to 51.5% both reaching a record high over the same period in 13 years, pointing to the continuous improvement of domestic and international demand. The purchase price index of major raw materials continued to rise to 62.6% driven by increased oil and steel prices while the ex-factory price also continued to rise to 56.5%.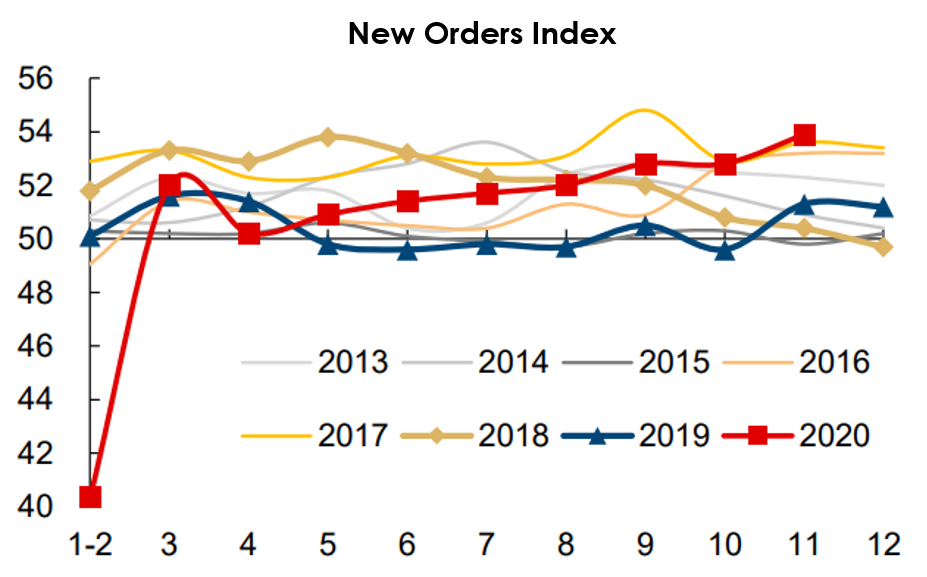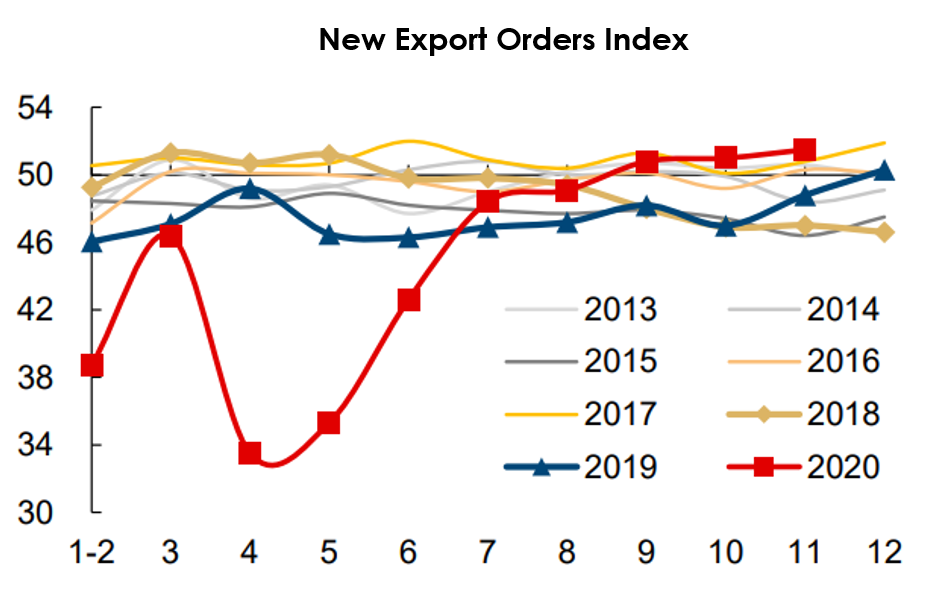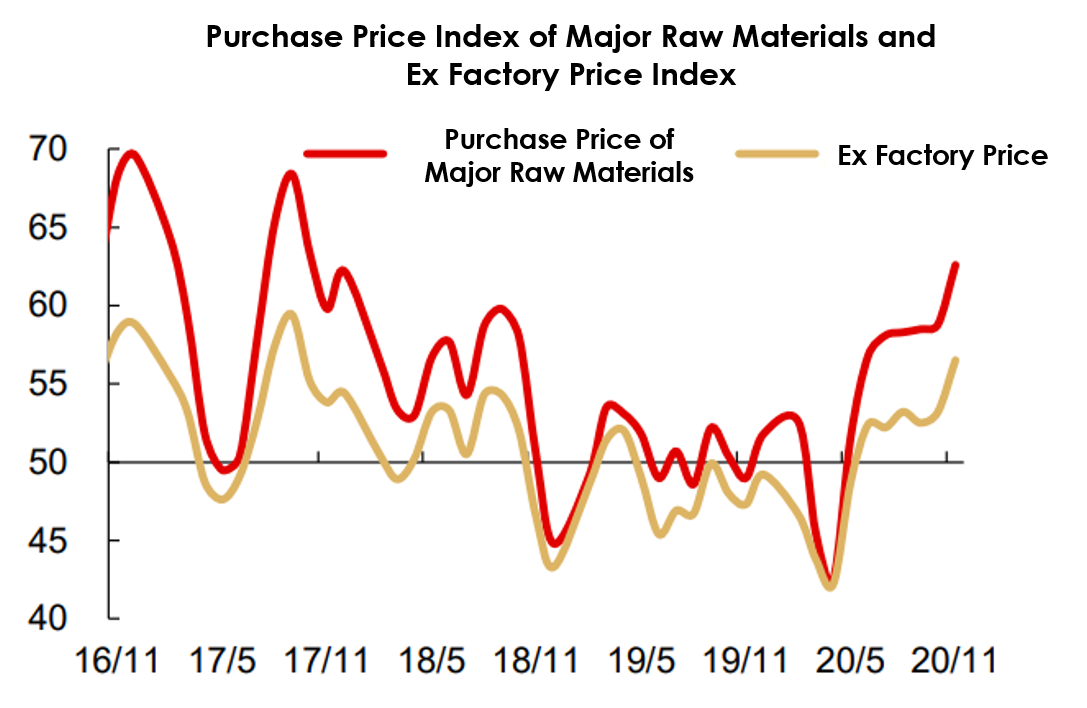 Retail Sales and Passenger Car Sales continues to show a strong post COVID recovery in China
Retail Sales fell sharply with around 20% during the first quarter 2020 due to COVID but recovered quickly to display a similar level to 2019 between May and August. For September, October and November, the Retail Sales is significantly higher than last year with a growth of 3.3%, 4.3% and 5.0% respectively.
Passenger Car Sales was impacted even more by COVID during the first quarter with February sales decreasing more than 80% compared to last year. Passenger Car Sales recovered to match 2019 during the second quarter and has since July been able to display a sales growth of around 6-12%. This recent jump in Car sales could be due to a pent up demand from the first quarter.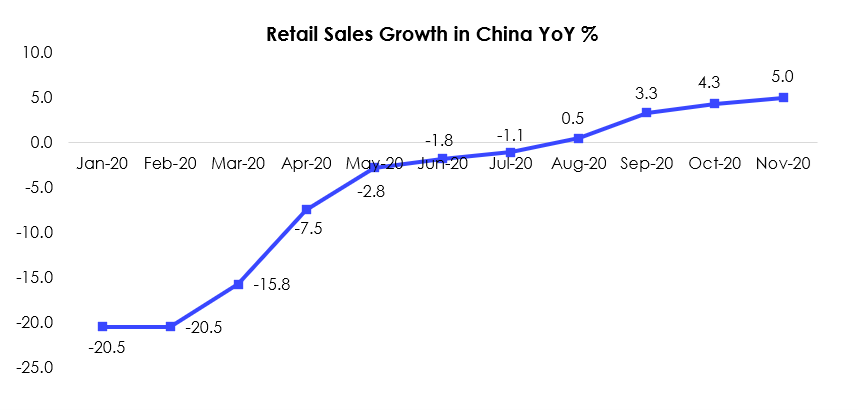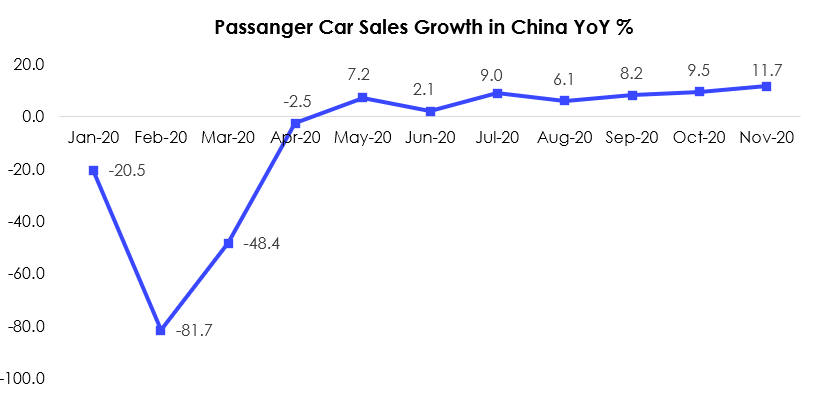 Summary
China manufacturing PMI for November 2020 reached a 13 year high which is pointing to a more and more obvious economic recovery in China as both domestic and overseas consumer demand continues to recover post COVID-19. Furthermore, domestic Retail Sales and Passenger Car Sales has not only managed to recover but has increased significantly compared to last year with the growth accelerating during the past 3 months showing that China's post COVID-19 recovery is gaining momentum in a time when US and Europe is still struggling with limiting the spread and the economic effects of the virus.
For more comparisons on the post COVID recovery in China vs. US and Europe, please read our previous article: Why China is beating US and Europe in the COVID-19 recovery race