China's shift to a Consumption Driven Economy: The formation of a large urban Middle Class
2020-10-29
Nordic Asia Team
Policy drivers for a raising urban middle class
China is proactively pursuing a number of structural reforms to raise an urban middle class in order to drive consumption growth. For example, the increase of coverage of social security pension programs (covering 85% of workers), continued high wage growth (7-10%), low inflation (2-3%), control of housing prices and encouragement of balanced regionalization development strategies to alleviate large city congestions and drive economic growth in lower tier cities. As a result of these policies, the aim is to double the mid to high income segment as defined as a personal disposable income of over CNY 13,000 per year in the next decade. This implies that more than +400 million of additional urban population will reach the middle income segment with increased disposable income as a key driver for consumption growth.
Demographic drivers for a raising urban middle class
Today, the Chinese millennials are becoming the main workforce of China accounting for more than 400 million of the current population. Millennials grew up after the economic opening up, when social stability and living standards significantly improved compared to the baby boomers in China. Millennials in China have an average primary education coverage level of 70% and university level of 25%. Millennials grew up during a period of proactive market economy reforms and market liberalizations with imported products and culture from the west. Therefore, discretionary spending for apparel, social and entertainment is a natural integral part of their upbringing. On average millennials spend 3x more on discretionary items as compared to the average. Furthermore, China's baby boomers are retiring rapidly. The population of retirees 65+ is expected to increase from 13% to 20% of the population in the next decade adding more than +100 million retirees in the coming 10 years. This will drive a structural demand for retirement leisure, health, nutrition, pharmaceuticals, and aged care services to serve the baby boomers.
China's social class distribution to fundamentally change until 2030 with an increasing urban middle class
Due to the above policies and demographic drivers together with the urbanization trend, China's social class distribution is set to fundamentally change until 2030. The share of lower income consumers defined as those with a personal disposable income below CNY 13,000 per year is set to decrease from 37% to 11% while the lower middle income consumers defined as those with a personal disposable income between CNY 13,000 and 67,000 per year is set to increase slightly from 53% to 55%. More interestingly, the upper middle income consumers (CNY 67,000 to 200,000 per year) and the high income consumers (> CNY 200,000 per year) will grow swiftly from 7% to 20% and 3% to 15% respectively to combine for 35% of Chinese consumers in 2030. These two segments are comparable with the global definition of middle income where most developed countries has a mean disposable income per capita of between USD 20,000 – 35,000 (CNY 134,000 – 234,500).

New patterns of consumption
The anticipated rises in income levels means that Chinese consumption habits will also change. Individuals moving into the lower middle income bracket will have greater room for discretionary spending apart from the basic necessities . Those entering the upper middle income segment will be looking to upgrade their spending towards branded and premium products. Meanwhile, the growth in the high income population means that international travel, financial services, and luxury products will become increasingly widespread.
The Automotive industry benefit when consumers moving into the upper middle income segment purchase their first car or when consumers moving into the high income segment trade their budget car for a luxury or sports car. The Healthcare industry will be driven both by the demographic trend of an aging population as well as by the increased spending power of the aging baby boomer generation. Tourism and Leisure will be driven by more frequent and more premium travel when consumers move up the income segments. Internet Finance is also expected to grow rapidly as more people in the high income segment own shares, bonds and funds compared to people in the lower income segment.
New middle income consumers will purchase some goods and services for the first time, while those moving up the income ladder will upgrade to premium and branded products. Industries such as Automotive, Healthcare, Tourism and Financial Services look particularly set to benefit from rising discretionary spending power.
Despite an unprecedented growth in China over the past decades the market potential is large. There is still only 1 car for every 5 people in china compared to 1 car for every 1.3 people in the US. In addition, around 75% of all household financial assets in China are in the form of cash and deposits compared to only 15% in the US. These gaps are expected to narrow which will benefit Chinese Automotive related companies such as Geely and Amperex and Chinese Financial Services companies such as Ant Group.
To further support the future potential of Chinese consumption, there has historically existed a strong correlation between the disposable income per capita in a country and the spending on consumer goods. As the disposable income per capita in China is still significantly below some if its Asian peers (as seen in the charts below) this suggests that China is still at an early to middle stage of development in terms of per capita consumption.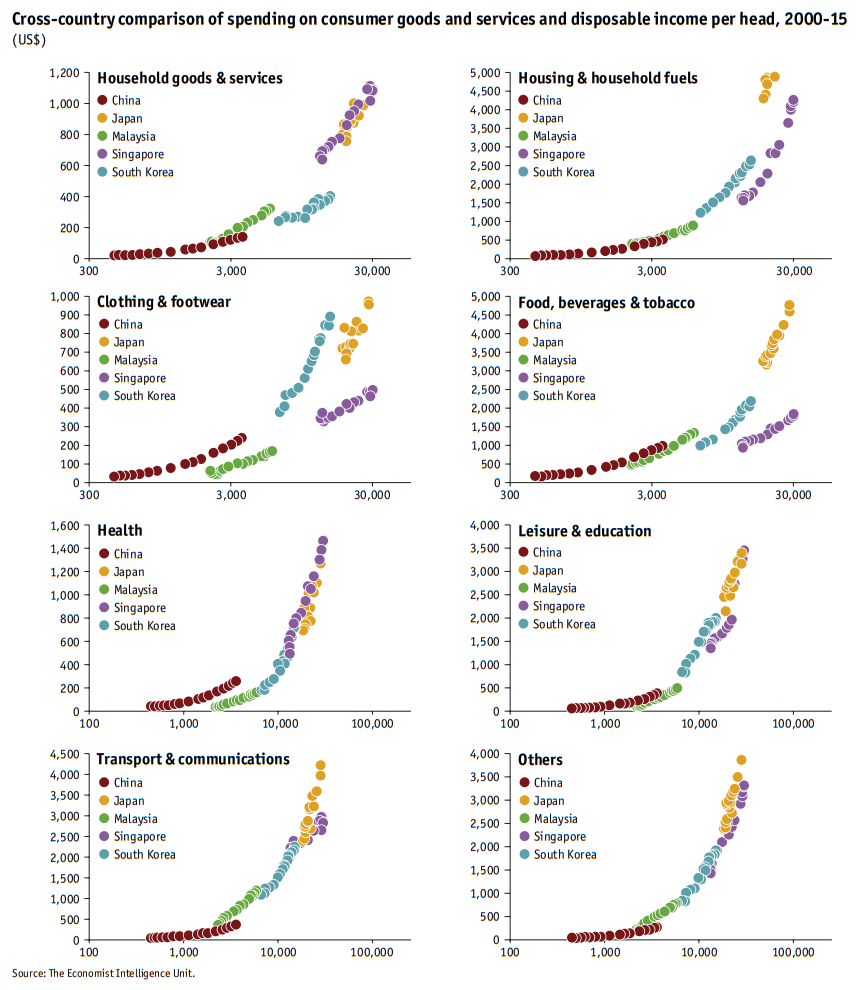 Summary
Consumption only accounts for 39% of China's GDP today compared to 68% in the US which suggest that China has plenty of headroom for development in terms of per capita consumption. This number is expected to reach 50% of China's GDP by 2030 driven by the current national domestic market expansion strategy and the raising middle class. Last year, China's total retail sales of goods grew by +8% and reached USD 6 trillion surpassing that of US for the first time in history. If the American consumers were the driver of global economy in the past decade, in the next decade, the Chinese consumers is expected to gradually overtake the center of global growth.