China's shift to a Consumption Driven Economy: Urbanization
2020-10-13
Nordic Asia Team
Urbanization historically and forecasted in China
Urbanization in China started much later than in the USA and Western Europe. In 1950, the urbanization rate in China stood at around 3% compared to over 60% in both the USA and in Sweden. Urbanization rates in China increased steadily from 1950 to 1980, but still in 1980, China was less than 20% urban. As a consequence of Chinas new economic reforms around 1980, the urbanization rates started to increase swiftly. Current forecasts estimate that urbanization rates in China will continue to increase from around 60% today to 65% by 2025 and to 70% by 2030. Adding another 140 million urban population.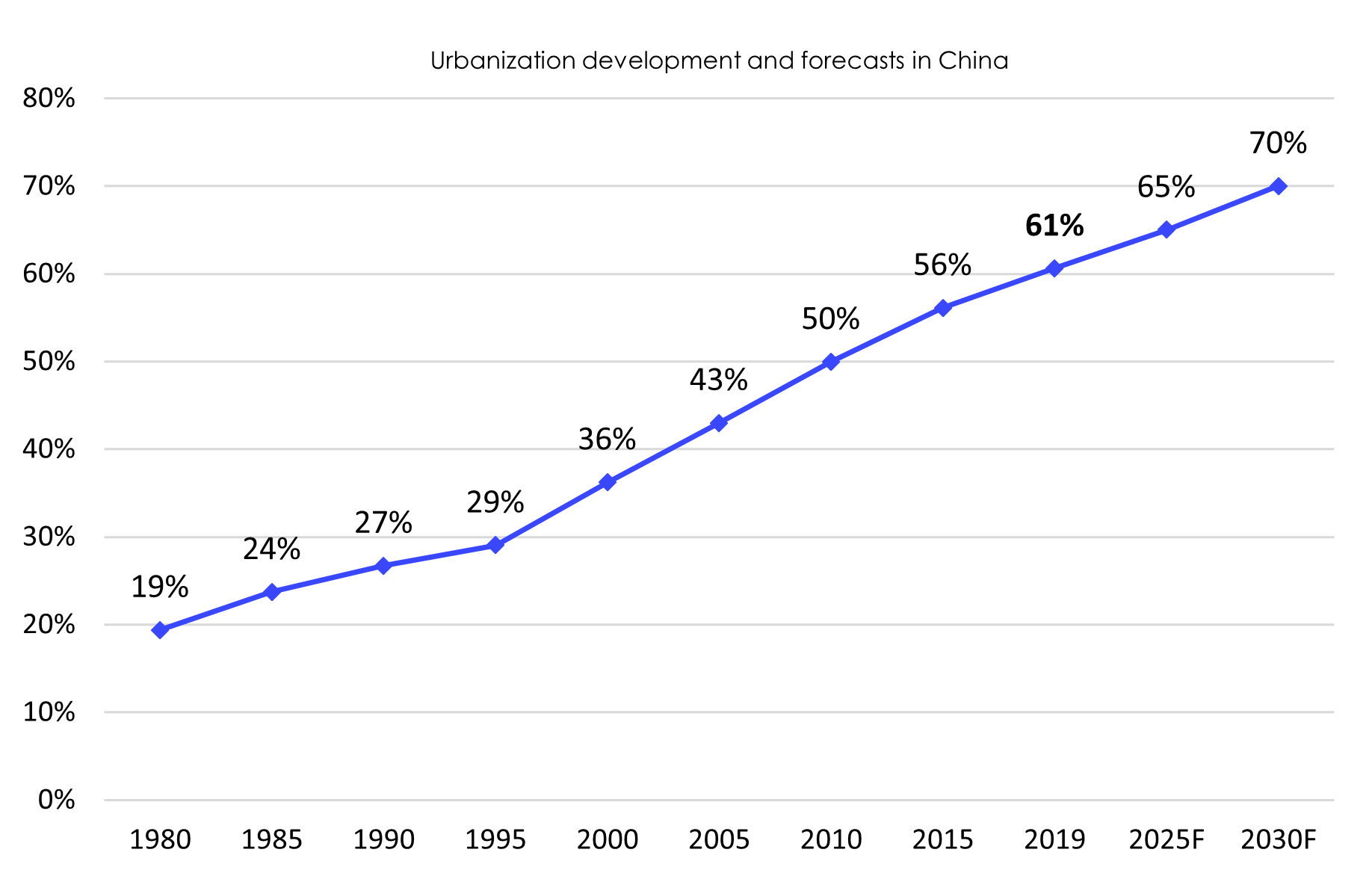 Differences Urban China vs Rural China:
1) GDP per capita
When observing China from a top down approach, there are large differences of GDP per capita between Urban China and Rural China. Average GDP per capita in the most urban top tier cities (Beijing, Shanghai, Shenzhen etc.) is 2.5x times higher than the average GDP per capita in China and 4.7x times higher than the average GDP in Rural China but accounts for less than 12.5% of total population. At the same time, more than 500 million and 40% of the total population still lives in rural non-urbanized areas but accounts for less than 24% of total GDP.

2) Consumption
From a consumption point of view, the urbanized areas accounts for 85% of total consumption today while rural areas today only combine for 15% of total consumption in China.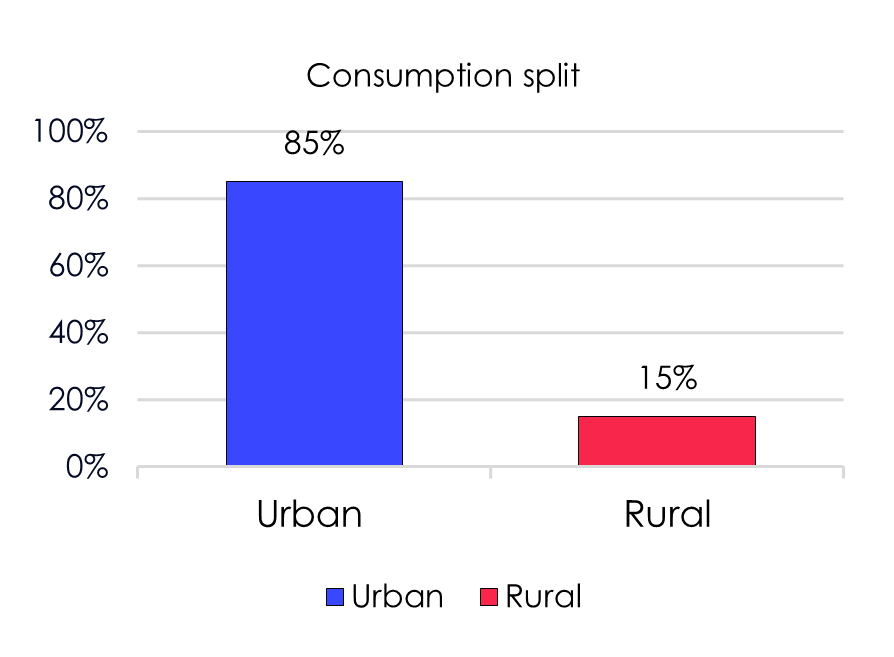 3) Internet penetration
As of 2019, 225 million out of a total internet population of 854 million in China lived in rural areas corresponding to a rural internet penetration rate of 42% compared to an urban internet penetration rate of 74%. By adding another 140 million urban population by 2030 this corresponds to an additional 45 million in internet population.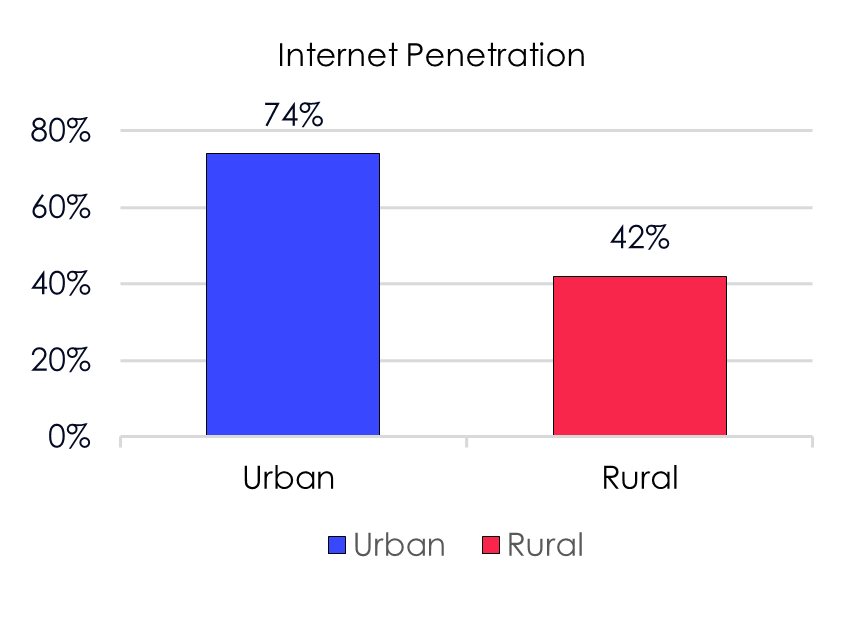 4) E-commerce sales
Although E-commerce sales has grown significantly in China over the past decade there is a significant gap in E-commerce sales in Urban areas vs rural Areas. For the first half of 2019, Rural China as a category accounted for only USD 110 billion in sales compared to USD 627 billion in sales for urban areas. This corresponds to E-commerce sales per capita of USD 204 in Rural China compared to USD 742 in Urban China.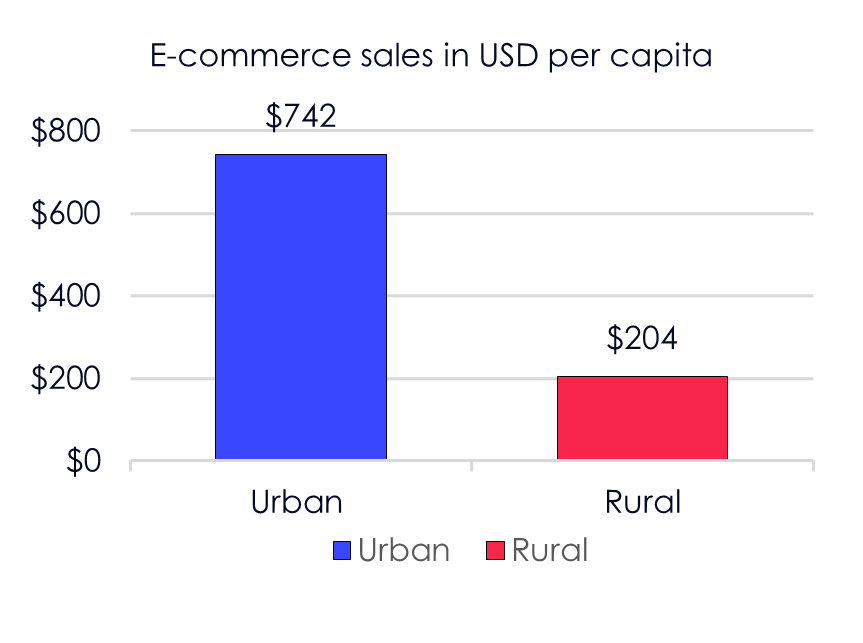 5) Cars per 100 households
The number of cars per 100 households differ significantly between Urban and Rural China with Urban China having almost 2x times the car density of Rural China. In 2018, there were 41 cars per 100 households in Urban China compared to 33 cars per 100 households nationwide and only 22 cars per 100 households in Rural China.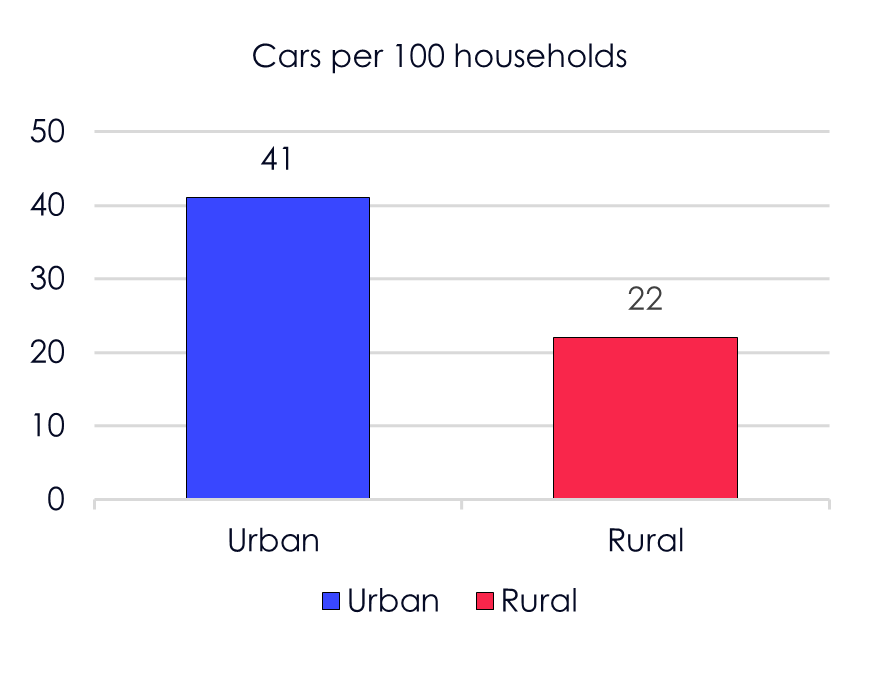 Urbanization as a growth driver
There exists a strong correlation between the level of urbanization and important growth drivers in China. Although a first structural high growth period with urbanization as a key driver has past, as Nordic Investors we still have the opportunity to capture the next phase of urbanization driven economic market growth in China. The current urbanization rate of 60% in China is expected to increase to 70% by 2030. This can be compared to current urbanization rates of 82% in the USA and 87% in Sweden thus giving plenty of headroom for urbanization to continue to act as an important growth driver in China even after 2030.
In the years to come, urbanization will continue to drive GDP growth and consumption by adding tens of millions of new internet users as well as tens of millions of new cars in China thus expanding the total addressable market for Chinese domestic market leaders such as Alibaba, JD.com, Geely and Yonghui.