Chinese White Liquor part 1 - Industry overview and introduction to five listed market leaders
2020-11-25
Nordic Asia Team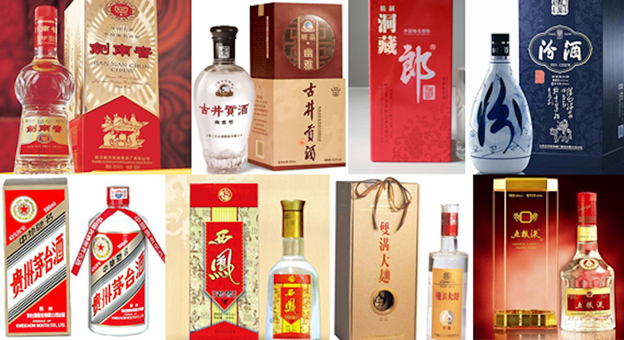 Industry Overview
Chinese white liquor, also known as Baijiu, is a distilled alcohol spirit which can be regarded as the national drink of China with historical background tracking back to Yuan dynasty (1279-1368). White liquor has become a product with strong social features due to its cultural background and the promotion from Chinese leaders . In the first part of the Chinese White Liquor series, we will give an overview of the white liquor industry make an introduction to the top 5 Chinese White Liquor manufacturers: Moutai, Wuliangye, Luzhou Laojiao, Shanxi Fenjiu and Yanghe.
The Industry's sales revenue reached CNY 500 billion in 2013 and has remained relative steady since then. In 2019, the industry sales revenue reached CNY 562 billion corresponding to a CAGR of only 4.8% some of the weaker players exited the market. Nonetheless, the total revenue generated by high-end and sub-high-end liquor companies reached CNY 179 billion in in 2019, up from only CNY 67 billion in 2015 corresponding to CAGR of 28%. The market share hence gradually increased for high-end and sub-high end companies to 23.1% and 8.9% in 2019 respectively from only 9.2% and 2.8% respectively in 2015. The industry size for high-end products is expected to further increase to CNY 160 billion by 2029. The industry profitability enjoyed a sharp increase from about 13% in 2015 to 25% in 2019 driven by the consumption upgrade to high end and sub-high end liquor.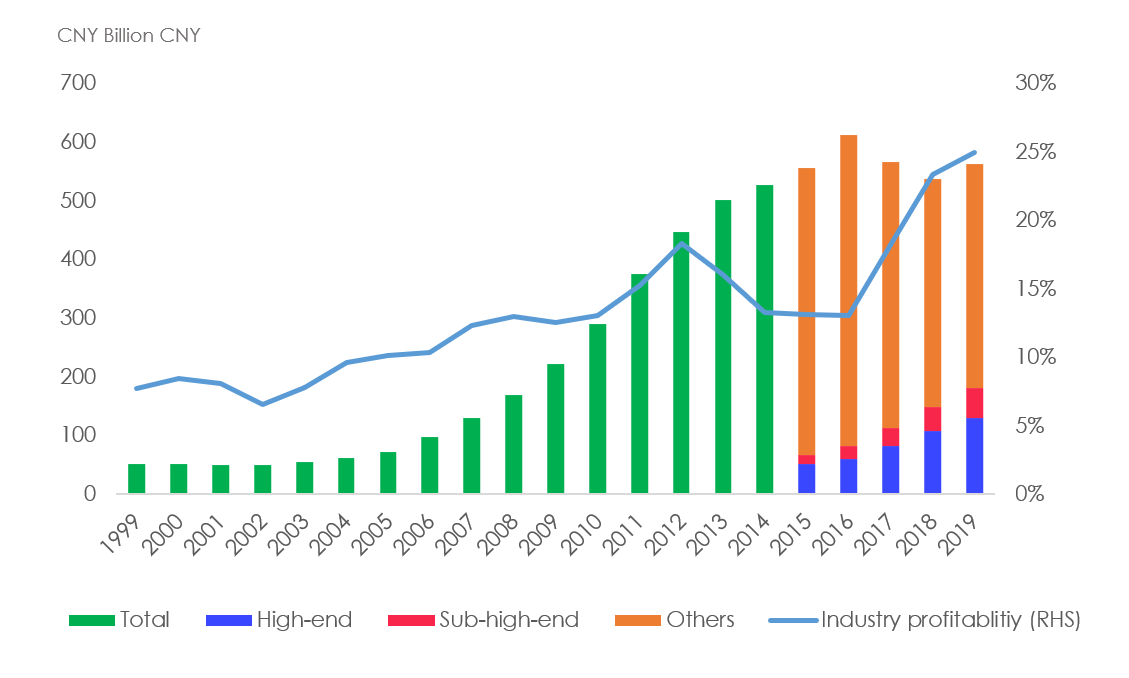 Industry value supported by price increase
Despite the steady market sales, the industry value is mainly driven by the higher price while the sales volume is dropping. Average price of high-end white liquor was CNY 1,078 in 2019, up from CNY 791 in 2016 with a 3-year CAGR of 11%. However, industry sales volume has been declining with two digits rates in the past 3 years.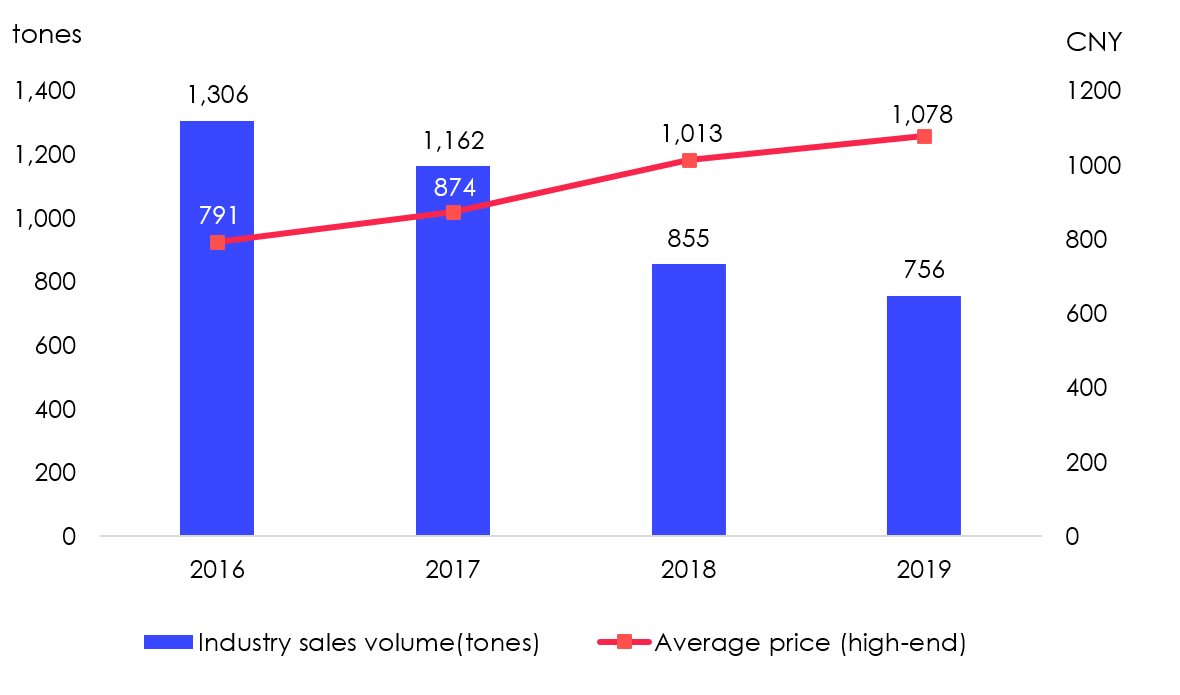 Higher-end products preferred in most scenarios
The main consumer profile of white liquor is middle-aged professionals with mid-to-high income levels. Males accounts for 75% of the consumer group and 60% of the mainstream consumers drink white liquor weekly. Consumption scenarios include banquets and social gifts favoring high-end and sub-high-end products, while self-drinking activities mostly favoring mid-to-low-end products. Consumers also treat high-end or ultra-high-end white liquor as collection items which helped driving up the average sales price.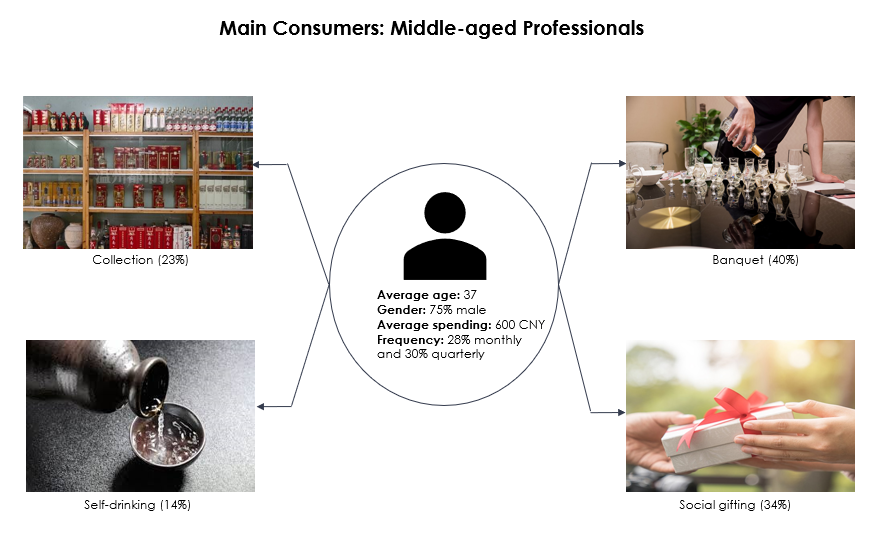 Historical track record to become high-end product
The white liquor industry in China is a highly concentrated market with the 19 listed players dominating over 50% of market share. The high-end brands enjoy greater popularity with higher market position and price, in which Moutai and Wuliangye are placed in the top tier with the highest reputation by the general population. The entry barrier to the top tier ranking is the reputable historical or cultural background and a track record in premium quality. For example, Moutai is favored by the founding leaders of PRC who used Moutai for various important occasions. On the contrary, general consumers perceive low-end products as FMCG's with much lower price (<CNY 100).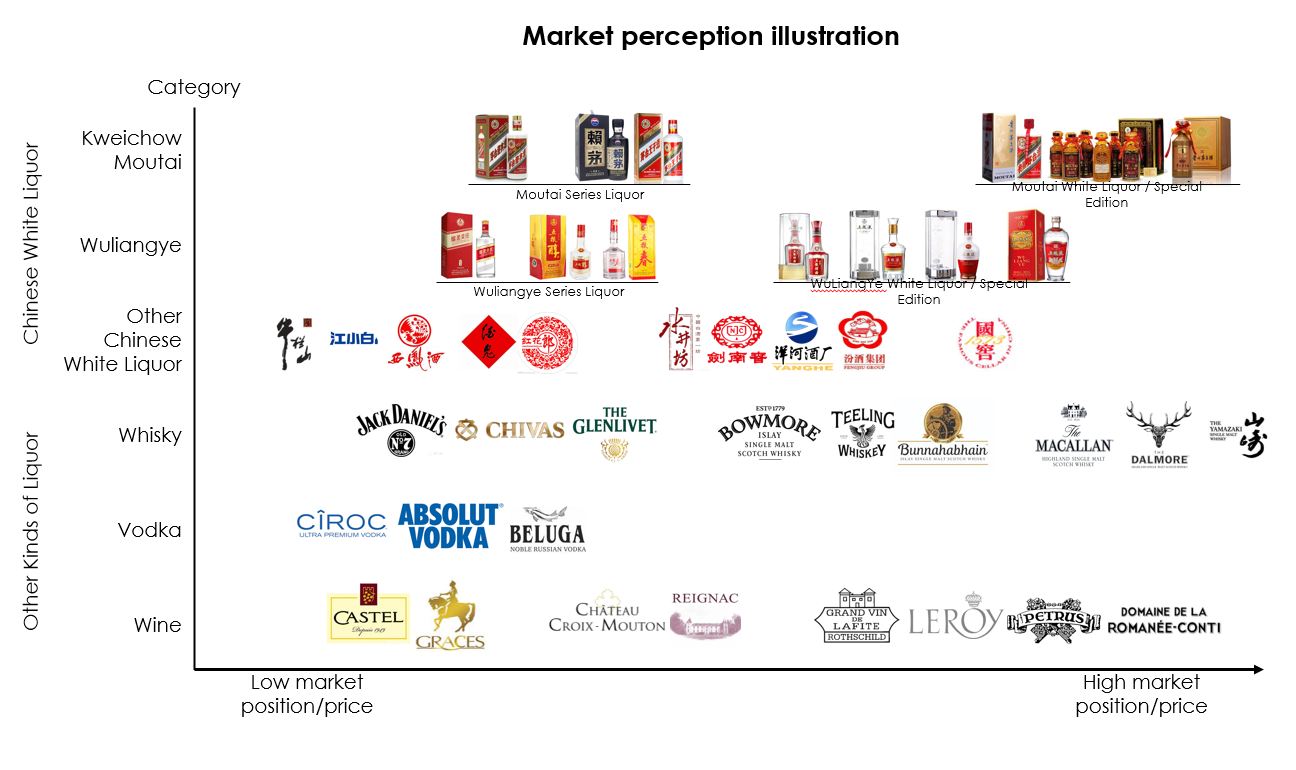 Premiumization: Mimicking Moutai's success
China's white liquor market could be illustrated into a pyramid. Moutai holds the top spot with an ultra-premium position. Moutai's signature product, Feitian Moutai, is the only standardized white liquor selling at a price close to CNY 3,000 per bottle at the retail end-point. Wuliangye and Luzhou Laojiao also enjoys a high-end position with their respective high-end products Wuliangye and Guojiao1573 at a price at about CNY 1,000 and CNY 900, respectively. Shanxi Fenjiu and Yanghe, who also enjoys a long historical background, are positioned below in the sub-high-end tier due to a slightly lower branding power. Therefore, the price range for their premium products is lower at about CNY 500-800. In the high-end market, Moutai accounts for 42% of market share while Wuliangye holds the second place with 31% of market share.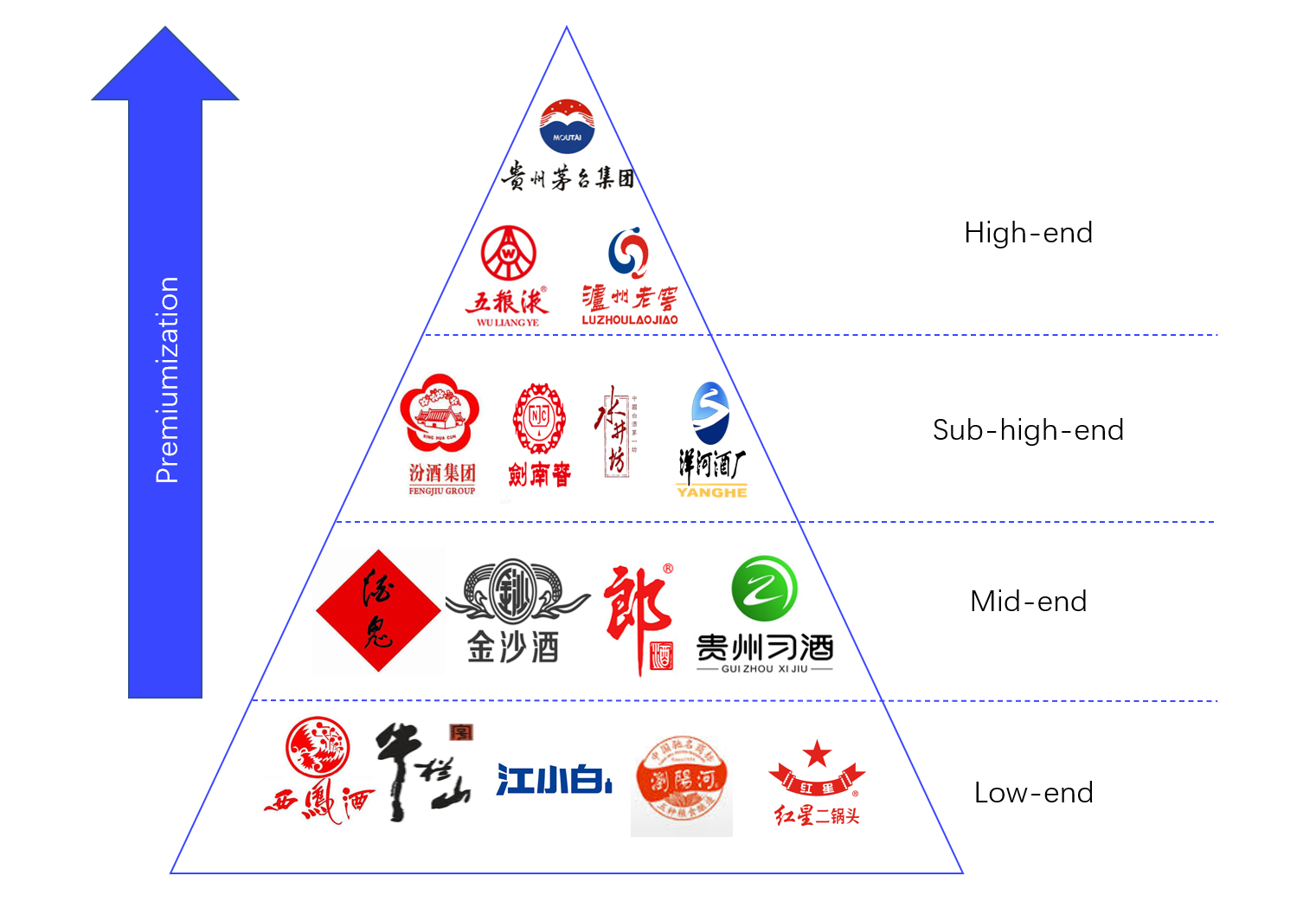 The premium branding power serves as a key driver for a company's sales growth. A common shared product strategy across major high-end and sub-high-end players is to mimic Moutai's success with the promotion/launch of signature premium products in order to ride the trend of industry concentration and high-end preference. Tracking back in history, Moutai is the only player consistent in strategy of focusing on its single premium product, Feitian Moutai. Feitian Moutai is promoted with the characteristics of scarcity caused by a long production cycle (~5 years) and that it tastes much better due to the longer storage time and its unique premium quality. As a result, Moutai successfully educated consumer with the perception of "King of White Liquor" which also drove the growth of other sub products under the same brand name. Moutai's total revenue reached CNY 89 billion in 2019 corresponding to a rapid CAGR of 25% since 2010. This was growth rate was significantly faster than other high-end and sub-high-end brands which reached a CAGR of 13-16%. The strong branding power boosted Moutai's sales volume and pricing with excess demand. Feitian Moutai's price has been in a stable upwards trend. According to company announcements, Wuliangye and Luzhou Laojiao, refocused on their signature products with Wuliangye introducing the 8th generation of its high-end product and with Luzhou Laojiao benchmarking its premium product Guojiao 1573 to Feitian Moutai by cutting SKUs. For the sub-high-end brands Shanxi Fenjiu and Yanghe, they both launched new premium products with enhanced consumer education to raise the product's price level for branding building.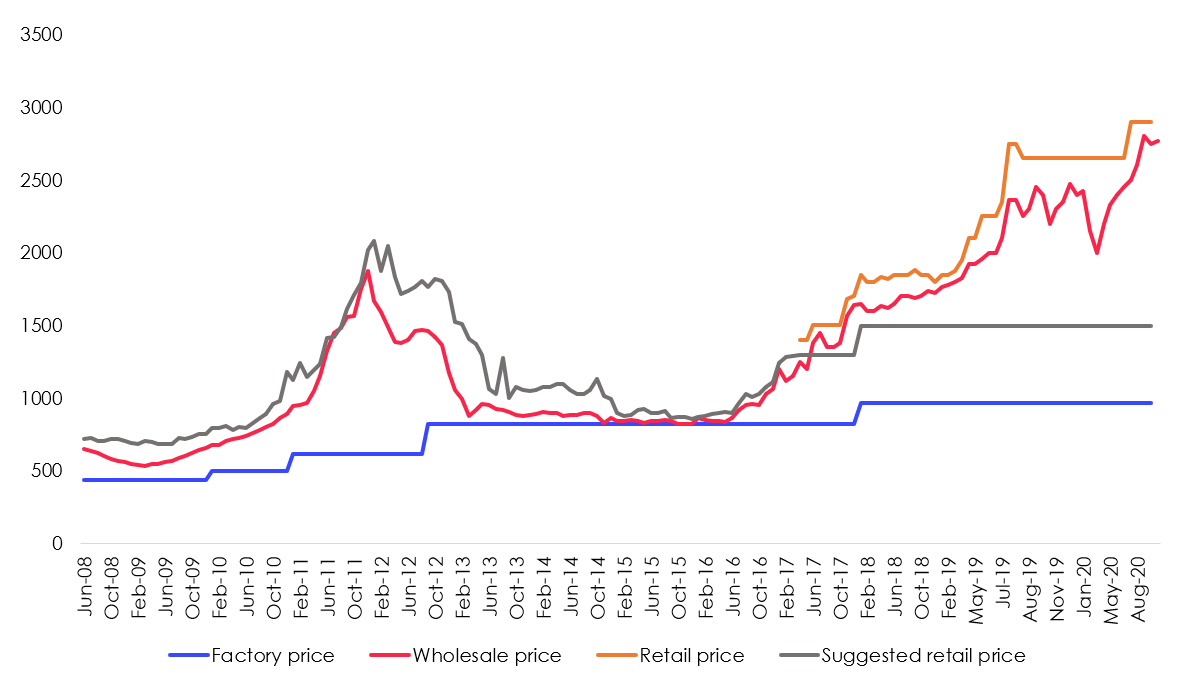 Different Strategy in Distribution and Marketing Across Players
The current general trend is to flatten the distribution process for stronger price control in the retail end-point. Moutai has a strong edge with its established brand power while Wuliangye and Luzhou Laojiao tries to boost up their revenue growth via pricing up and building brand. Shanxi Fenjiu and Yanghe are in the phase increasing nationwide penetration.
Moutai
Moutai's strong branding power enables it to rely less on distributors' networks. The majority of Moutai's distributors are small in size. Such model enhanced Moutai's capability in controlling the distribution channel and sensing market condition. However, with the excess demand in Feitian Moutai, the small distributors tend to stockpile their inventory for higher profit. Retail price was pushed up to nearly CNY 3,000 per bottle as of Oct-2020, double of Moutai's suggested retail price of CNY 1,499 or triple of Moutai's factory price of CNY 969. As a result, Moutai implemented a strategy that increased the percentage of direct sales at the price of CNY 1,499 to consumers by cutting the number of distributors for sales growth. Additionally, Moutai also actively promotes its lower-end products within its Moutai series liquors in order to counter the slowing sales growth trend.
Wuliangye
In contrary to Moutai, Wuliangye achieved a quick and effective market expansion by utilizing larger distributor's strong network in the past. However, the weak control of the distribution channels dragged down pricing power. In recent years, Wuliangye reformed its sales strategy by; 1. Cutting SKUs to refocus on brand building; and 2. Increasing the number of small size distributors and flattening the distribution process to regain pricing power and control its distribution channels. By doing this, Wuliangye's revenue rebooted with two digits sales growth since 2016.
Luzhou Laojiao
Luzhou Laojiao experienced a set-back in its strategy to raise price in 2014, when the industry was in distress due to food safety problems and governmental curbing policies. Its old distribution system, which distributes products via regional marketing companies jointly set-up by Luzhou Laojiao's sales personnel and distributors, switched the marketing focus away from the premium product Guojiao 1573 as distributors tend to maximize their own benefit. In 2015, Luzhou Laojiao reformed by reshaping distribution channels with a specialized marketing division by three sub-brands and spent extensive efforts in advertising and promotion.
Shanxi Fenjiu
Fenjiu is a local brand dominating more than 50% of market share in Shanxi and revenue generated from sales in Shanxi contributed 45% of total revenue. To achieve expansionary growth, Fenjiu is actively developing a nationwide network through implementing a diversified distribution strategy by different regions. In Shanxi, Fenjiu's main target is to maintain its dominating position while it wants to increase penetration of Fenjiu's products outside Shanxi. Regional managers were assigned to selectively corporate with distributors with stronger capability and ensure Fenjiu's policy. Beside its premium product Qinghua series, Fenjiu's low-end product, Bofen, also achieved high growth rate for outstanding quality in its price range (below CNY 100).
Yanghe
Similar to Shanxi Fenjiu, Yanghe is a local brand in Jiangsu province where it holds a 32% market share. To achieve expansionary growth, Yanghe's distribution strategy is to corporate with one main distributor in each region for the majority of marketing while other distributors serve as assistance and product delivering platforms. Under such model, Yanghe enjoys distribution advantages and marketing capabilities with strong control over distribution channels and a good sense in the market situation. Yanghe just went through a restructuring and now focuses on its nationwide launch of its new premium product M6+ (pricing above CNY 600) and the development of Corporate Key Account Buyers.