Nordic Asia Industry Insights: Food Condiments Industry
2021-03-17
Nordic Asia Team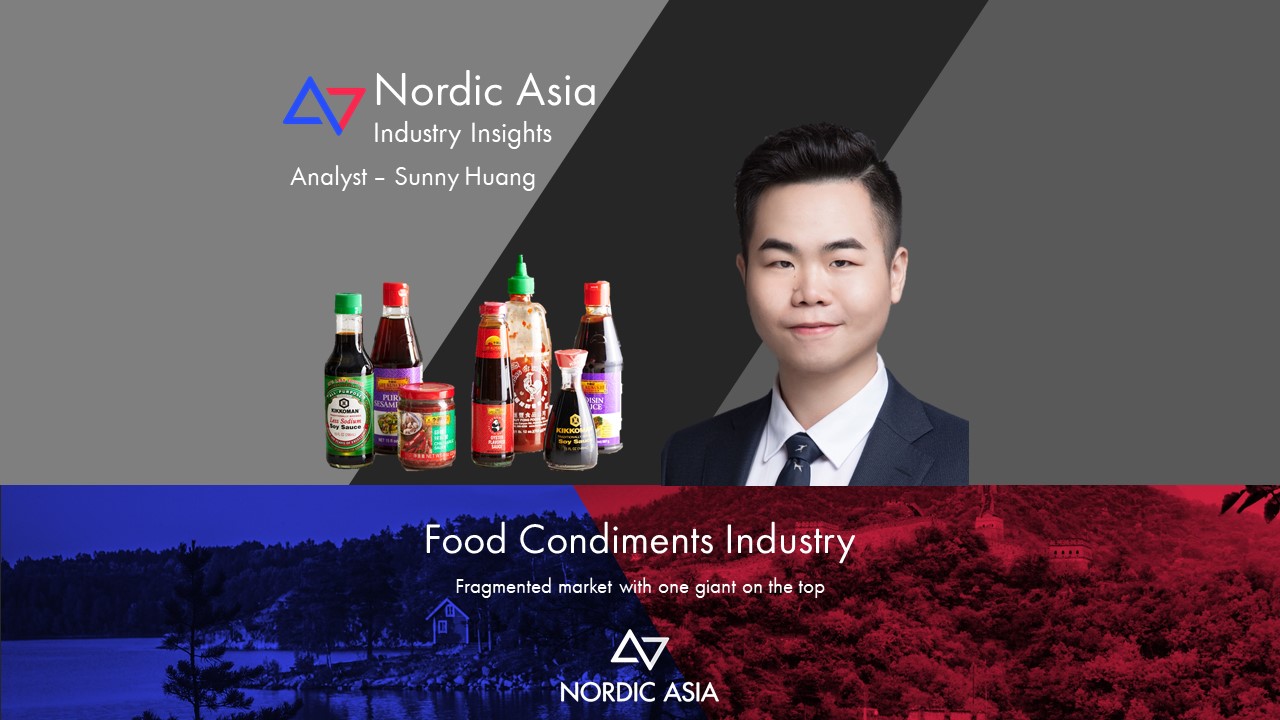 Fragmented market with steady growth
The size of China food condiment industry has reached 419 BCNY in 2019 with YoY growth ranging from 8% to 12% in the past 5 years. The market is driven partly by the growth of catering industry also the boom of delivery industry. The catering industry in China grew by a CAGR of 11% in the past 5 years and the transaction size of online delivery platforms grew by a CAGR of 100% in the past 4 years. The market is fragmented with Top 4 concentration ratio (CR4) at only 18.6% in 2019 up from 16% in 2010.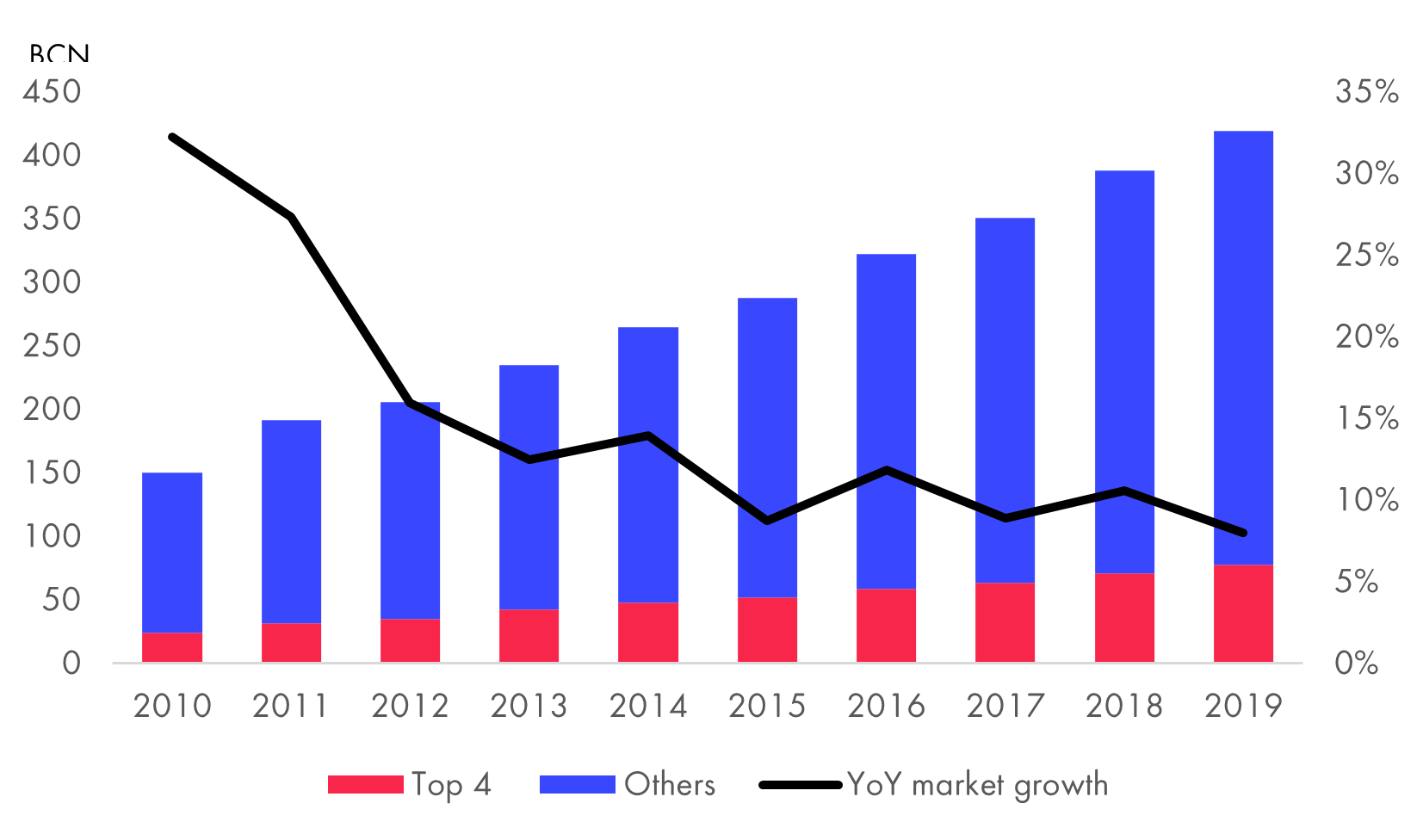 The steady industry growth was supported by both price increase and the volume growth. Sales volume on both retail and catering-end grew by 4-5% in the past 4 years while the price growth slowly declined to below 3% level since 2016, similar to inflation. Such steady growing environment indicates the industry at the growing phase with clear trend of industry consolidation.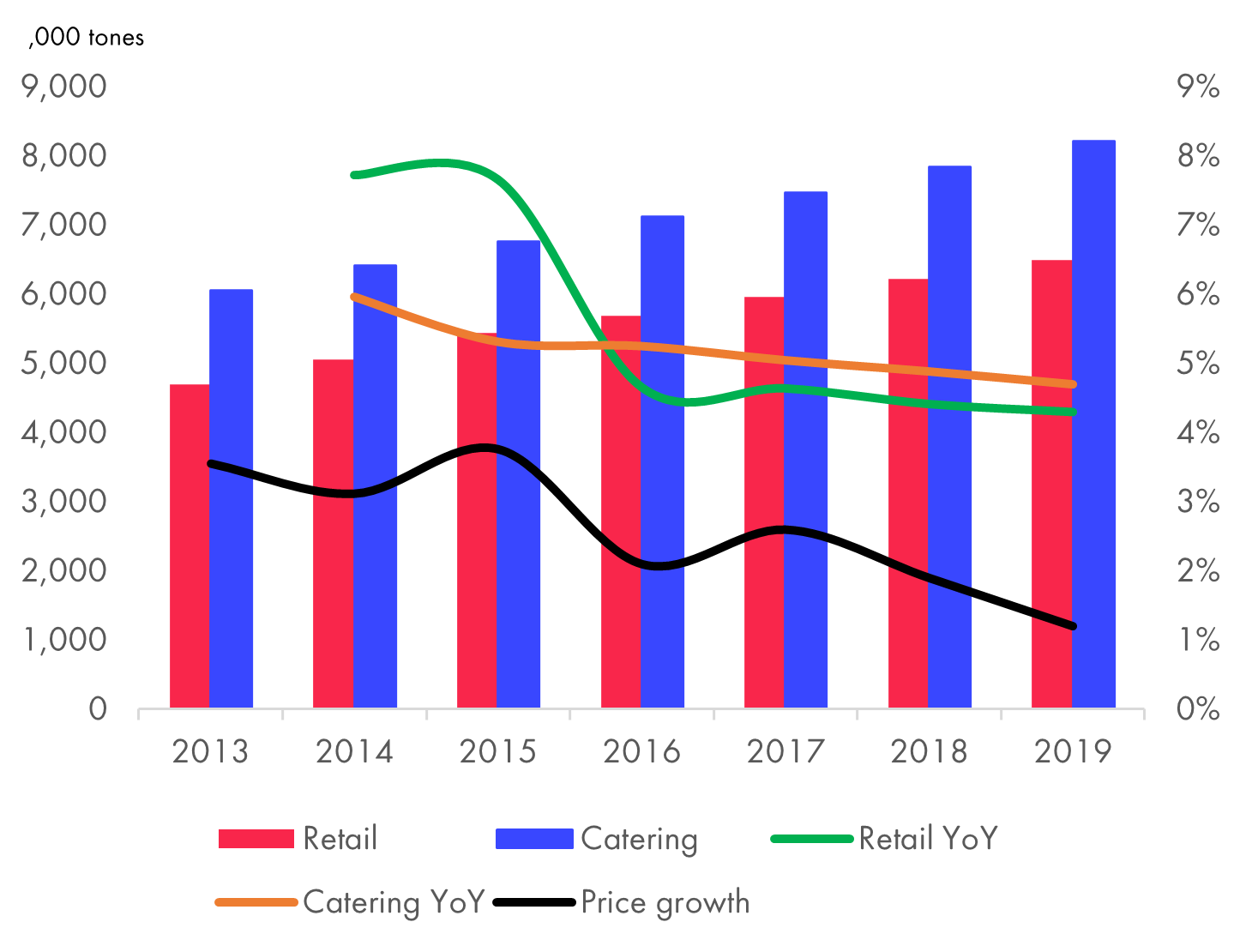 Competitive Landscape: One Giant at Top
In this industry Haitian Flavoring (Haitian) is the absolute industry leader with 2019 revenue at 19.8BCNY siting at the top alone. Haitian mainly sells soy sauces, oyster sauces and other sauces while the lower tier players range from multi sauces manufacturers like Lee Kum Kee and Jonjee HiTech to specialized player like Laoganma hot sauces, Hengshun Vinegar and Fuling Zhacai. Tier 2 and tier 3 players have much smaller size while the tier 4 players are the local brands or factories in the fragmented market.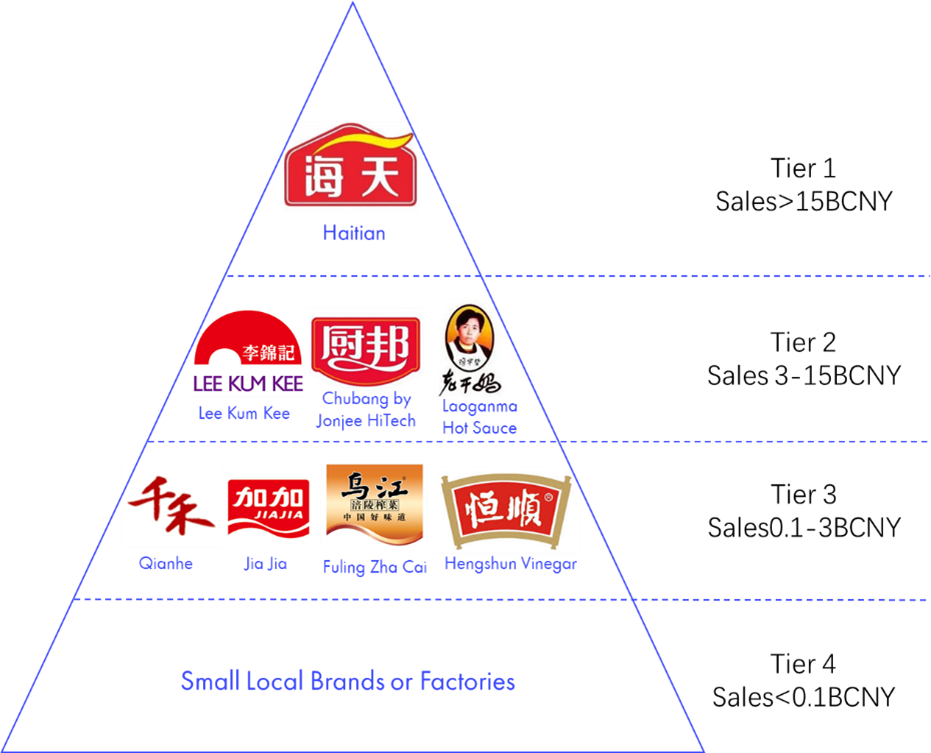 Premium Products Gradually Takes up Position
A general trend in China food condiment industry is to introduce higher-end product with more premium quality to meet the rising demand for healthier and better taste seasoning amid consumption upgrades. The new higher-end product would normally enjoy higher prices and better consumer perception. Hence, high-end products' market share has been gradually increasing. For example, in 2019, sales of high-end soy sauces reached 22BCNY accounting for 34% of overall soy sauces market, up from 29% in 2014.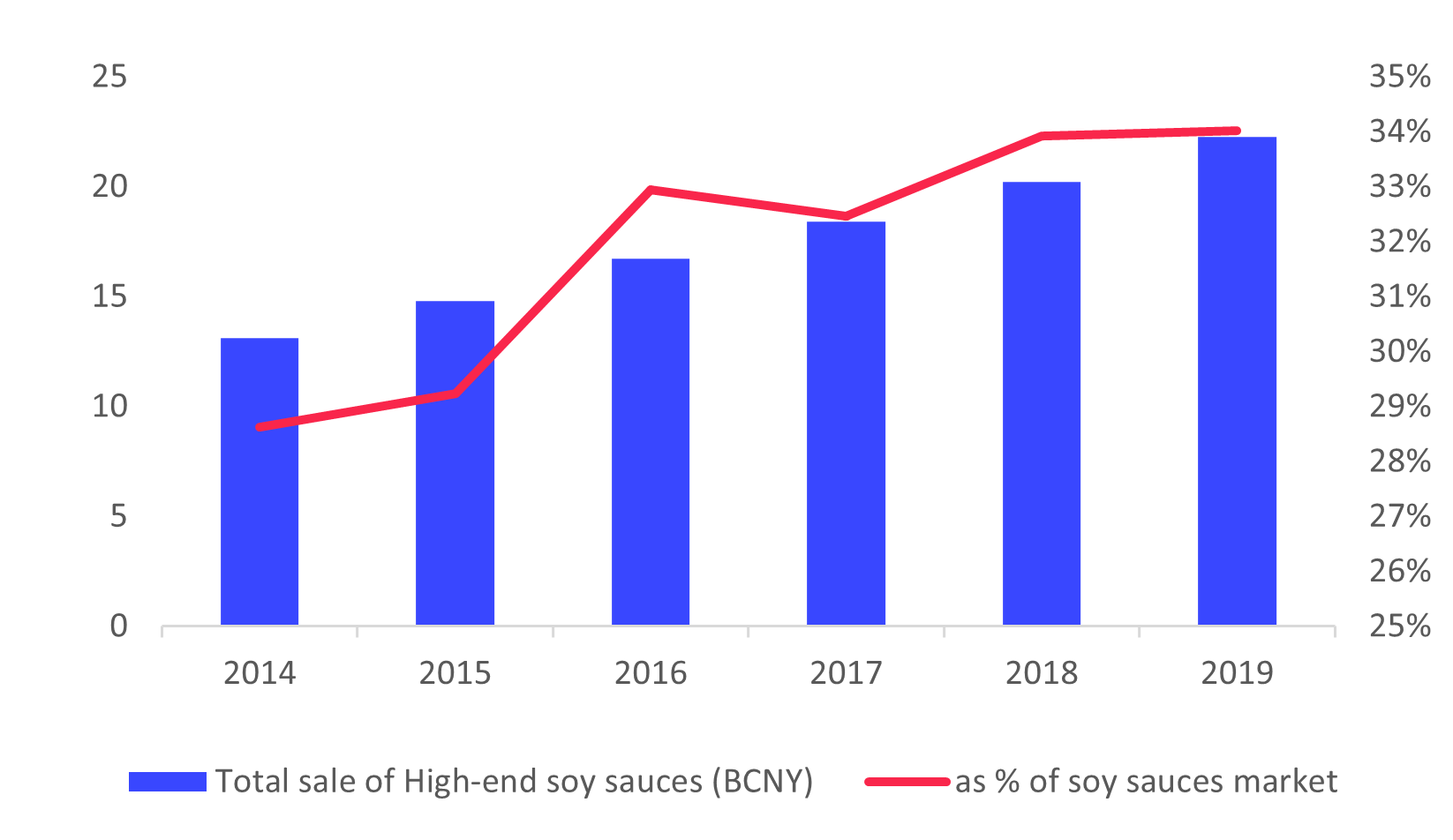 Key Players: Leaders with Competitive Edge
The leaders in sub-categories have edge in better branding power, better operating efficiency, larger size and sales network than local brands. Hence strong earnings certainty and market position makes them a better investment subjects in the food condiment industry for exploring industry growth and industry consolidation. Haitian (603288.SH) - the leader in both soy sauces and oyster sauces sub-categories which contributes 77% of the total revenue. See Nordic Asia's insight on Haitian Here Jonjee HiTech (600872.SH) - the second large listed soy sauces manufacturer in China. Jonnjee ranked the third in soy sauces market with 4% market share, after Haitian and Lee Kum Kee. Yihai International (1579.HK) - the leader of the fast-growing compounded seasoning industry which driven by hotpot market and greater adoption of compounded seasoning for convenience. Hengshun Vinegar (600305.SH) - is the leader of the vinegar sub-category with market share of 7% and has expanded its product matrix into cooking wine. Fuling Zhacai (002507.SH) - Zhacai, pickled cabbage, has a market size about 7BCNY and Fuling Zhacai is the largest player in this pickled vegetable category.