Nordic Asia Portfolio Insights: AIA
2021-03-19
Nordic Asia Team
AIA - Company introduction
Originated from an insurance agent company founded in 1919 in China, AIA is the largest independent publicly listed pan-Asian life insurance group. It has a broad geographic coverage of Asia-Pacific region with wholly-owned branches and subsidiaries in 18 markets. AIA meets the long-term savings and protection needs of individuals by offering a range of products and services including life insurance, accident and health insurance and savings plans. The Group also provides employee benefits, credit life and pension services to corporate clients. AIA is a market leader in the Asia-Pacific region (ex-Japan) based on life insurance premiums and holds leading positions across most of its markets. Through an extensive network of agents, partners and employees across Asia-Pacific, AIA serves the holders of more than 36 million individual policies and over 16 million participating members of group insurance schemes.
AIA – Business Overview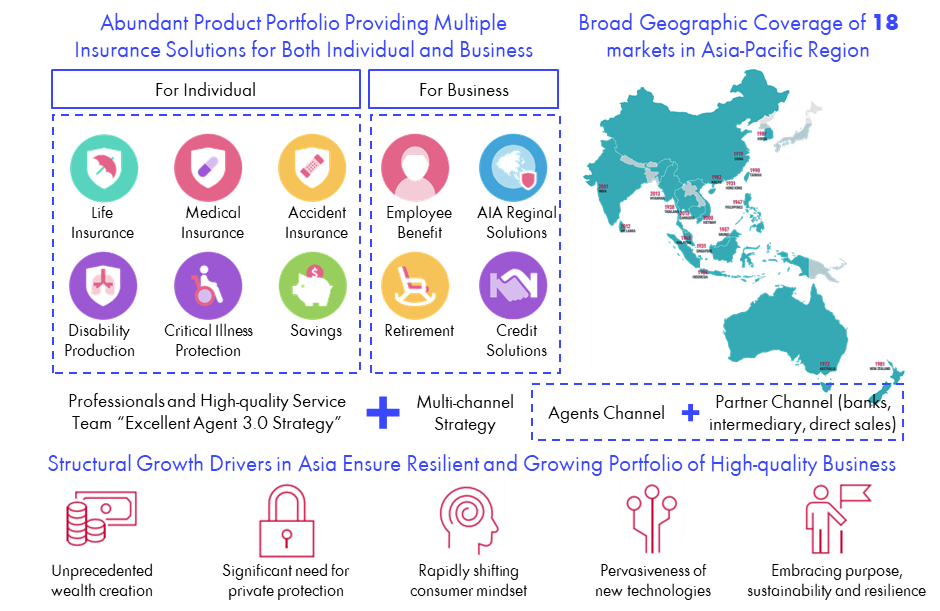 AIA – 2020 Results Highlights
In 2020, AIA's weighted average premium reached 35.4 billion USD (+4.1% YoY), in which first-year premium accounted for 4.3 billion USD (-23.3% YoY). The performance in Mainland China was surprising, with total premium of 5.6 billion USD (+20.6% YoY), most of which was renewal premium (4.4 Billion USD, +24.5%). The first-year premium in Hong Kong SAR and Thailand reached 910 million USD (-57.4%% YoY) and 610 million USD (-12.8% YoY), respectively.
For the full year, AIA's operation was challenged by the COVID-19 pandemic. The value of new business (VONB) was 2.8 billion USD (-33% YoY) with margin of 52.6% (-16.4% YoY) – its growth rate decreased for the first time ever since it was launched. The annualized new premiums (ANP) reached 5.2 billion USD (-20.7% YoY), mainly due to a sharp decrease in new policy premium in HK SAR and Thailand. The annualized new premiums (ANP) in China reached 1.2 billion USD (-4.1%). With the ease of he pandemic and the lockdown, sales momentum returned as movement restrictions were eased with VONB up 15 per cent YoY in the first two months of 2021.
AIA's large and growing in-force portfolio with recurring, high-quality sources of earnings has supported a 5% growth in operating profit after tax (OPAT) and a 7.5% increase in the final dividend to 100.30 Hong Kong cents per share.
AIA's financial position remains very strong and resilient as demonstrated by the Group Local Capital Summation Method (LCSM) cover ratio of 374%.
AIA – Share price performance from 1st Jan 2020 to 18th Mar 2021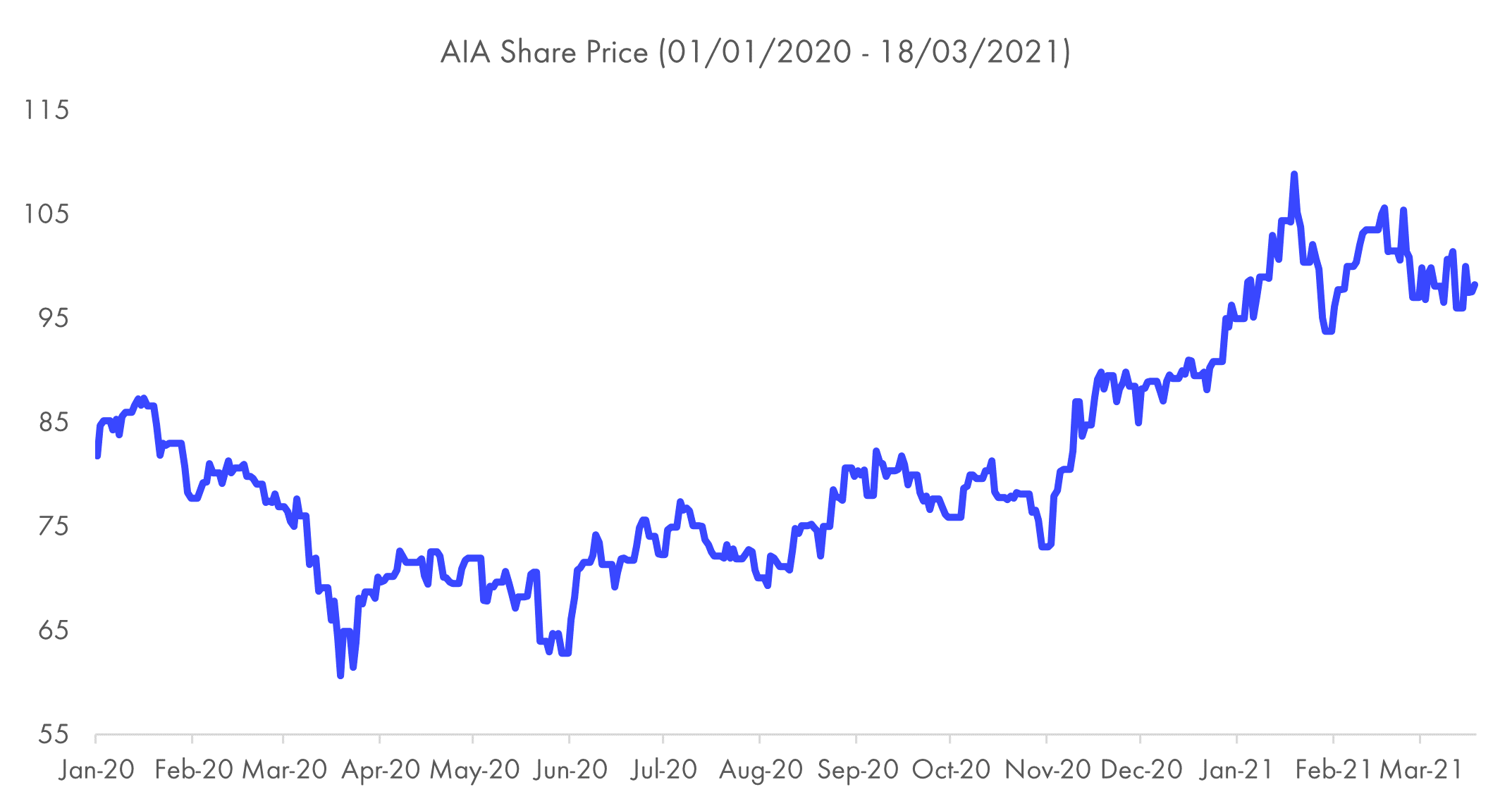 Interview with Nordic Asia Investment Research Director – Jason Zhang on his views on AIA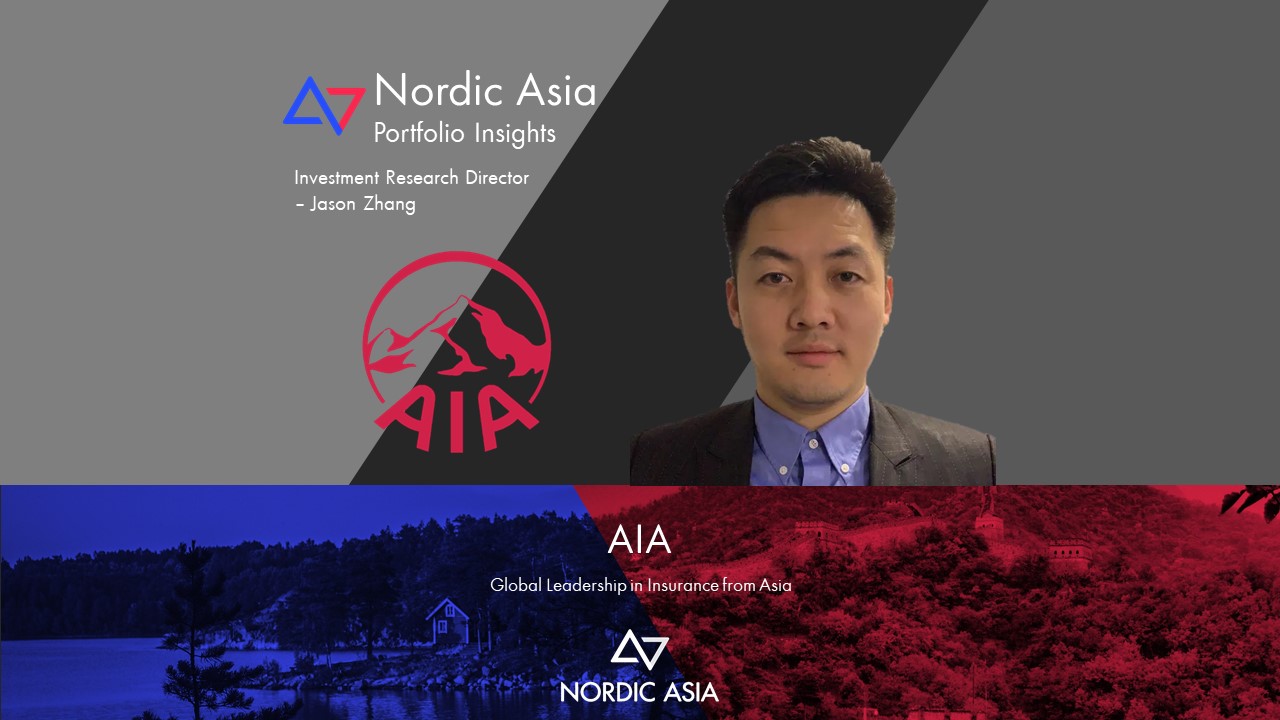 From Nordic Asia's perspective what is the investment case for AIA?
Nordic Asia's investment strategy is to focus on China's consumption upgrade. AIA's main source of revenue is the rising middle class and high net worth groups in China. Those people contribute more than half of the company's revenue. With the rise of middle and high-income groups in China, the idea of investing in insurance to ensure the health of their children and their own has been deeply rooted in the hearts of the people. We believe that this trend will continue to grow steadily along with per capita GDP growth. AIA's investment philosophy, service philosophy and brand advantages have made the company a priority choice in the insurance configuration of middle and high income groups.
How does AIA differentiate itself from its peers such as Ping an, Metlife and manulife?
We believe that the biggest difference between AIA and its competitors is the launch of the "Excellent Agent 3.0" strategy on the retail side. This strategy mainly absorbed a large number of high-quality communicators to serve the medium and high net worth groups. Because of the difference in customer positioning, AIA's total premium growth stability and duration are higher than those of its competitors.
How did AIA perform during 2020 and how was it affected by COVID-19?
The Covid-19 epidemic in 2020 has brought severe challenges. It also caused AIA's Value of New Business (VONB) to fall by 33% year-on-year due to the initial impact of the epidemic, and its annualized new premiums fell by 20% to US$5.219 billion. The basic free surplus generated during the period reached 5.84 billion U.S. dollars, an increase of 7%, and the distribution of shareholders' equity reached 48 billion U.S. dollars, an increase of 9%. The dividend for the year increased by 6.9%. Although affected by the epidemic in the first half of 2020, the company recovered significantly in the third and fourth quarters, and all major financial indicators-maintained growth.
Which are the key drivers and challenges for AIA that we should follow during the coming twelve months?
Rising bond interest rates and economic recovery are good news for insurance. Because insurance companies have a long capital investment cycle, in addition to long-term equity investments, they mainly allocate bond assets. With the recovery of the 10-year treasury bond yield, the pressure on the allocation of new assets by insurance companies will be significantly reduced. In addition, with the increase in the proportion of vaccination, herd immunity in China is expected to be achieved by the end of the year. Therefore, on the retail side, insurance companies will have more marketing activities, and the sales side is expected to resume its growth trend.