Nordic Asia Portfolio Insights: Alibaba Q3 2020 Result
2021-02-12
Nordic Asia Team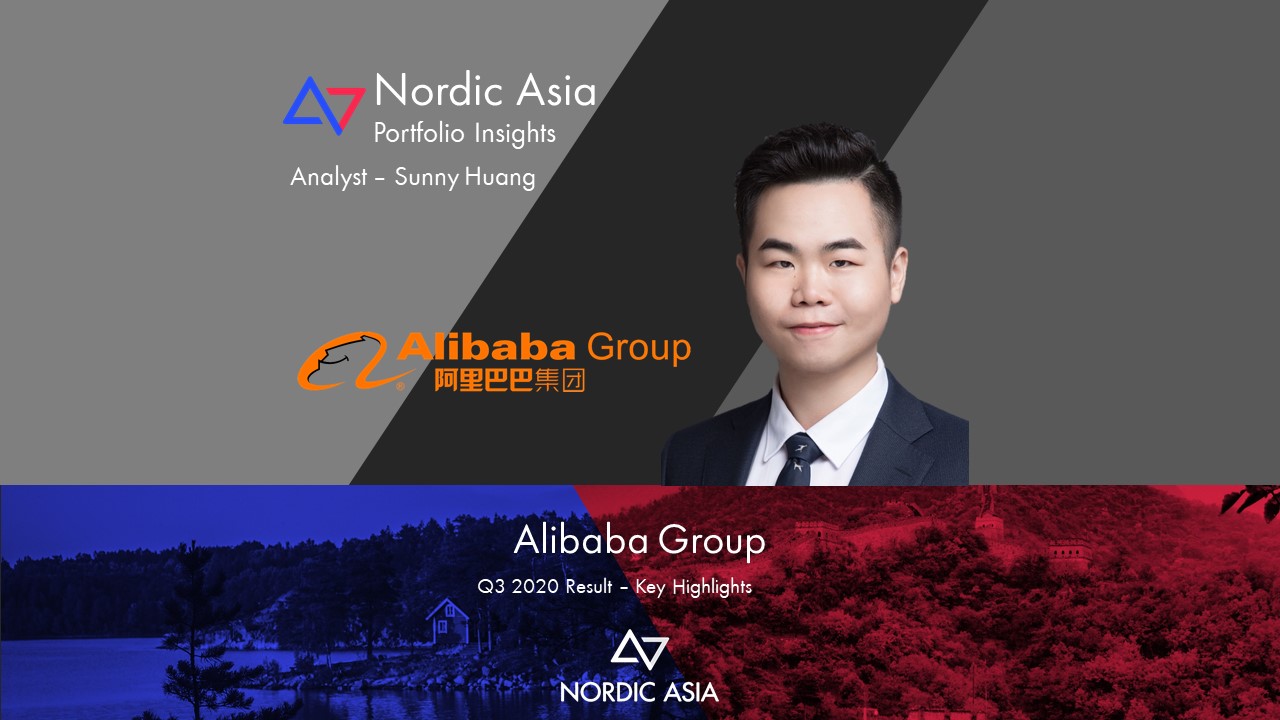 Q3 2020 Key Financial Highlights
Alibaba reported solid an inline FY3Q21 result with total revenue of 221.1BCNY, +37% YoY or 27% YoY ex-Sun Art consolidation. Adjusted EBITA margin further narrowed to 28% dragged by strategic new business investments in core marketplace. China retail revenue grew by 39% YoY with combined customer management revenues and commission revenues +20% YoY. Revenue from Cainiao Network was +51% YoY due to the increase in volume of orders fulfilled from the cross border and international commerce retail businesses. Local services grew by only 10% YoY as increase in GMV offset by more efficient use of subsidies. Cloud was the highlight with 50% YoY growth and EBITA margin turned positive, as pre guided. The strong growth in Cloud computing was driven by robust growth in revenue from customers in the internet and retail industries and the public sector. Digital media and entertainment segment (DME) recorded 1% YoY thanks to the increase in revenue from online games business which was largely offset by the decrease in revenue from customer management. Youku's daily average subscriber base increased by over 30% YoY during the quarter. However, we also witnessed DME contracted loss YoY, which improved meaningfully from -42% in FY3Q20 to -17% in FY3Q21.
Comments from the Q3 2020 earnings call
Alibaba's management changed tone on investment in the result call. Alibaba is more decisive in both strategic areas and new businesses to capture opportunities in live streaming, Taobao deals and Taobao groceries. Management claimed that EBITA margin is not their key focus while expanding total addressable market (TAM) for synergy and further growth are more important. As result, EBITA margin in core commerce is expected to further narrow down. We like management's multi-engine approach and step-up investment for long-term value creation. Alibaba's effort in revamping further by shifting traffic from search into feeds could further enhance its capabilities in value proposition with varieties in marketing tools, stronger user engagement and better conversion. Finally, Alibaba's management reiterated its technology lead and value proposition mindset which is the future strategy of Alibaba.
Which are the key drivers and challenges for Alibaba that we should follow during the coming twelve months?
Looking ahead, Alibaba will face further margin pressure due to new businesses investment. The growth of user and the operation metrics how it expands its TAM will be the key drivers for Alibaba's operation. Cloud computing, new retail and Cainiao will continue serve as new drivers in long-term and also maintain a fast growth in the mid to short term. Margin pressure will be largely offset by the improving profitablility of existing business with 1) marketplace maintaining healthy and stable margins; 2) cloud business achieving its first quarterly profit; and 3) DME adjusted EBITA margin narrowing from -42% to -17% YoY. The main challenge would be the intense competition as more player entered into the e-commerce market. We have old competitor JD and PDD while Kuaishou and Douyin as new competitor forming their e-commerce ecosystem.