Nordic Asia Portfolio Insights: Alibaba
2020-10-02
Nordic Asia Team
Please click here to listen to the Audio version of this post
Alibaba - Company introduction
Alibaba Group is a market leader in E-commerce and internet service provider in the segments:
E- Commerce Retail Platform
Local Service Discovery
Media and entertainment
Digital Infrastructure services
Alibaba through its C2C and B2C E-commerce platforms named Taobao and Tmall commands approximately 60% of total China E-commerce gross merchandise value where Alibaba charges search, advertising and commission fee for those merchants selling through their platform. Additionally, Alibaba owns the second largest local service discovery and on demand food delivery service provider in the consolidated entity Ele.me + Koubei. Furthermore, similar to Amazon Cloud, Alicloud is China's leading full suite cloud service provider with a market share over 40% in 2019. Finally, Alibaba owns 33% of the spin off Ant Group (Alipay), the number one mobile payments and digital financial service company in China valued at USD 150 billion with the plan to IPO in Shanghai and Hong Kong this year in what is expected to become the largest IPO ever worldwide.
An investment in Alibaba provides an exposure to the core of China E-commerce and China consumer retail, local service consumption and digitalization of infrastructure services such as Cainiao (logistics) Alipay and Alicloud.
Business overview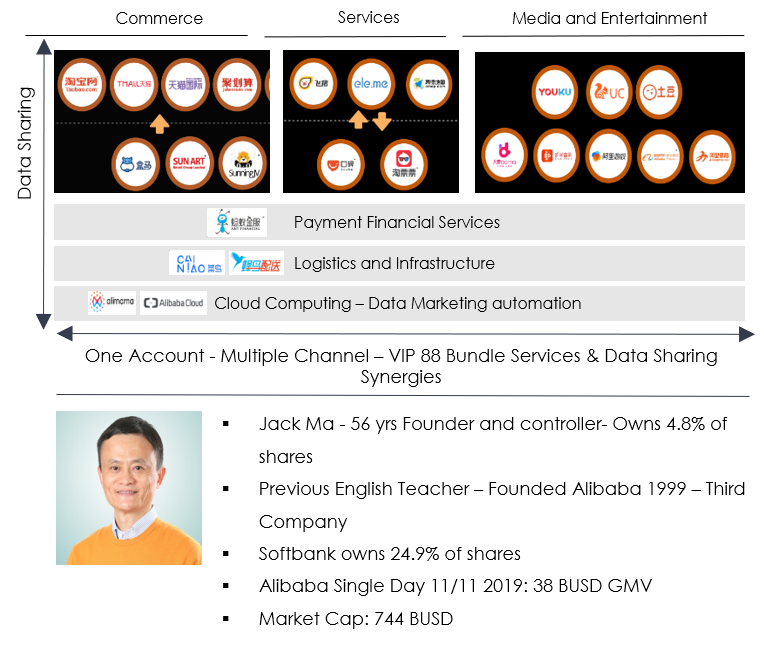 Financial overview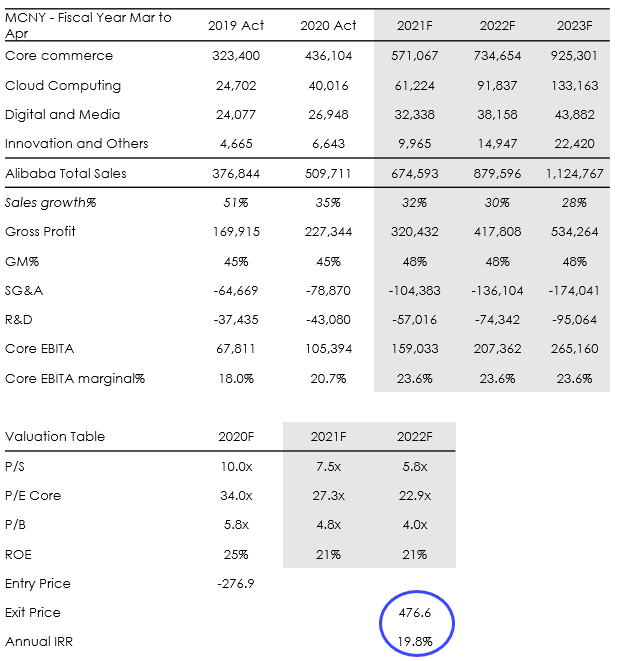 Share price performance YTD 2020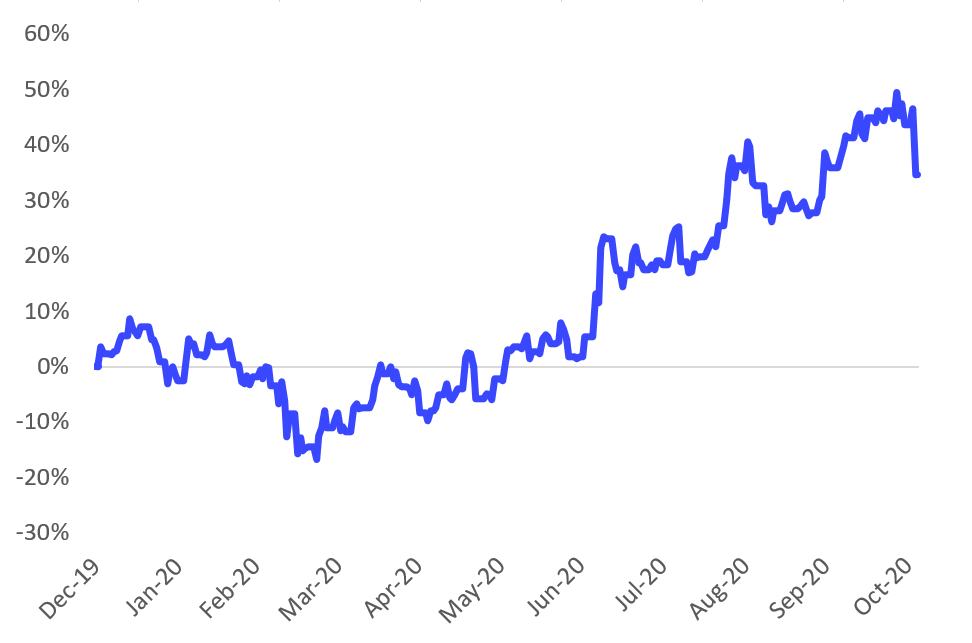 Interview with Nordic Asia's Partner - Investment Director Yining Wang on his views on Alibaba

From Nordic Asia's perspective what is the investment case for Alibaba?
First of all, from an "outside in" market perspective, E-commerce in China is a market niche with strong structural growth within a growing retail market. For example, retail sales in China has grown by an average of 8-10% in the past years, but on top of that in 2012 E-commerce only stood for approximately 6% of total retail penetration. By the end of 2019, E-commerce increased its share of total retail penetration by 3,5 times to 21%. As a consequence, E-commerce as a retail segment grew with a CAGR of more than +32% in the recent years.
Our view on the investment case for Alibaba might differ a bit from mainstream investors. Instead of seeing Alibaba as an E-commerce player, we see Alibaba more as a "platform infrastructure" player that enables Smaller Merchants, Factories, and International Brands to sell their products online via the services and traffic that Alibaba's platforms Taobao and Tmall provides.
The barriers to create such a "platform infrastructure" company is very high since you need to gather a large number of active end customers (Traffic), and a large number of merchants in addition to solving the issues of marketing optimizations, payment, logistics, customer services, and quality control for E-commerce distribution at a mass scale.
Currently, if you are a SME, established brand, or a factory outlet with the ambition to sell online you must sell through a platform with large established traffic user base. It is very difficult to set up an E-commerce site in China from scratch and sell directly to customers by generating traffic yourself.
As a consequence, we view an investment in Alibaba more like a combination of "Shopify + Google" in China where Alibaba both provides the E-commerce store infrastructure as Shopify (website shop, payments, logistics etc.) but also user traffic to the store than Google enables.
Alibaba mainly generate its revenues from charging Merchants and Brands commissions as a percentage of sales, but Alibaba also charges for search words, display ads and campaigns etc. Direct sales to end customers' accounts for 20% of total revenues.
Platform companies such as Alibaba, tends to build high bargain power in its industry as it becomes an important node in unifying a high number of users and merchants on its platform. As the platform grows, its relative importance in an industry to connect a mass number of users and merchants becomes more important in the industry. Thereby gradually increasing its relative bargain power in the market and key industry profit center.
Finally, the E-commerce "platform infrastructure" industry only hosts three main platforms that competes for customers (Merchants and Brands who wants to operate their own E-commerce sales channel). These are:
Alibaba
PinDuoDuo
JD.com (Mainly direct sales, only 7% third party sales)
Out of these three platforms, Alibaba holds a dominant market position and E-commerce sales of through Alibabas platforms account for more than 60% of total China E-commerce gross merchandise value.
How did Alibaba perform during the last twelve months and how was it affected by COVID-19?
Alibaba achieved a strong result with 34% year on year revenue growth to CNY 158 billion (~USD 23 billion) in Q2 2020 while core EBITA also rose by 42% year on year to CNY 35 billion (~USD 5 billion). Domestic core commerce has fully recovered to the prior COVID-19 level.
Annual active consumers/mobile monthly active users in the China Retail Marketplace rose by 10% and 16% year on year, respectively. Core marketplace growth accelerated by increased e-commerce penetration. Tmall physical gross merchandise value grew by 27% year on year, with FMCG, home furnishings and consumer electronics as the fastest growing categories.
New retail continues to benefit from the digitalization by offline merchants and increasing adoption of online purchases of groceries and daily necessities. For example, online penetration of Freshippo (Alibaba's supermarket franchise) was above 60% in Q2 2020.
Cloud computing grew by 59% year on year, benefiting from accelerating enterprise digitalization demands. Digital media and entertainment revenue was up by 11% year on year to CNY 7 billion (~USD 1 billion), mainly due to an increase in online games and membership subscriptions, partly offset by a decrease in customer management.
Looking forward, we expect Alibaba to continue to benefit from recovery in physical goods demand and increasing online shopping penetration.
Which are the key drivers and challenges for Alibaba that we should follow during the coming twelve months?
We believe the key challenge for Alibaba going forward is how it will fend off their main platform competitor PinDuoDuo which today holds approximately 13% of the market as well as how Alibaba can fend off new E-commerce Channels.
Due to the high concentration of the "platform infrastructure" market, Merchants and Brands are looking for additional E-commerce platforms in order to diversify their revenue steams and separate themselves from other sellers on the top concentrated platforms. As a result, Social E-commerce platforms such as Xiaohongshu and Bytedance is making efforts to explore E-commerce via their short video channels and this is creating new channels for merchants to sell through and thereby increasing the competitiveness of the current highly concentrated "Platform infrastructure" market.
Key takeaways from Nordic Asia's Research Analyst Sunny Huang who just participated in Alibaba's Investors Days September 28-30th 2020
It is the first time that Alibaba held its Investor Days online due to COVID-19. During this event, Alibaba reiterated its core strategy of building a digital economy and presented a strong financial performance. Alibaba's management views digitalization as the biggest opportunity of our time which is changing people's approach to life, education, and business operations. COVID-19 has further accelerated the pace of digitalization.
With a user base of over one billion people, the combination of Alibaba and Ant Group (Alipay) is well positioned to capture the opportunities created by the digital economic infrastructure built over the past 20 years.
Three key growth engines for Alibaba's future growth were identified by Management:
Penetrating domestic consumption
Transforming businesses operations with cloud computing and data intelligence
Globalization of Alibaba's business
Alibaba emphasized its synergies between different business units which have led to higher growth on a group level. Alibaba plans to accelerate its growth with consistent new investments as well as M&A to expand its ecosystem.
In terms of financial performance, Alibaba achieved a robust 34% year on year revenue growth for the last twelve months ended June 2020. Alibaba's global active consumers (AAC) reached 1 billion and both revenue and profit growth outperformed its global internet peers. Alibaba's digital gross merchandise value (GMV) amounted to CNY 7.3 trillion for the last twelve months ended June 2020, representing 18% of China's retail sales (up from 10% in 2015). The core business of Alibaba, China Retail Marketplace, has accumulated 742 million AACs. Annual average consumer spending reached about CNY 9,000 with 190 million high-spending consumers who have a retention rate as high as 98%.
Alibaba Cloud enjoyed an expanding market leadership with 9.1% market share in global cloud market in 2019, up from 7.7% in 2018. Alibaba is also the market leader in both China and APAC. User engagement grew strongly with more than 3 million paying users and a penetration of 60% among China's listed A-share companies. Average Revenue per User (ARPU) is swiftly increasing at a CAGR of 40% in the past 2 years. Management believes Alibaba's world leading and self-developed cloud will enjoy extensive development in the future as China's cloud market is still in a very early stage. IT spending in China accounted for only 2.8% of GDP in 2019, vs. 5.8% in the US while public cloud only penetrated 3.4% of IT spending in China vs. 10.4% in the US.
In summary, Alibaba has become a company with multiple growth drivers and diversified revenue streams. Other developing businesses, including Freshippo within the new retail segment, logistics network Cainiao, local services provider Ele.me + Koubei and digital media entertainment, have achieved robust progress with significant improvements in operating metrics and narrowing losses. Alibaba's idea is to develop these new businesses for future growth and for synergies with the current profitable China Retail Marketplace.
Looking forward, management expect Alibaba Cloud to turn profitable and Cainiao's operating cashflow to turn positive in the coming year. The key growth drivers for Alibaba in the coming years lies in its cloud business. Meanwhile, we are confident about a solid growth in its core commerce business and more synergy created within Alibaba digital economy from other developing businesses, which are still in a consolidating phase