Nordic Asia Portfolio Insights: Anta Sports
2020-11-27
Nordic Asia Team
Anta Sports - Company introduction
Established in 1991 and listed on the Hong Kong Stock Exchange in 2007, Anta Sports is a leading sportswear company engaging in the design, development, manufacturing, and marketing of professional sporting products including footwear, apparel and accessories in China. Through active acquisitions of globally recognized brands such as FILA, DESCENTE, Kingkow and Amer Sports, Anta has expanded the brand diversity and become an international sportswear giant with a multi-brand product portfolio covering all levels of sports, fashion, and professional markets. Anta has excellent characteristics of "high profitability, high growth and high stability", and it has been able to integrate the entire industry chain which is scarce in the domestic sportswear industry. Anta reached sales of CNY 33.0 billion in 2019 and has been ranked No. 1 in the sportswear industry for 6 consecutive years. It is also the largest domestic and 4th largest sportswear company in the world by market cap.
Anta Sports - Business Overview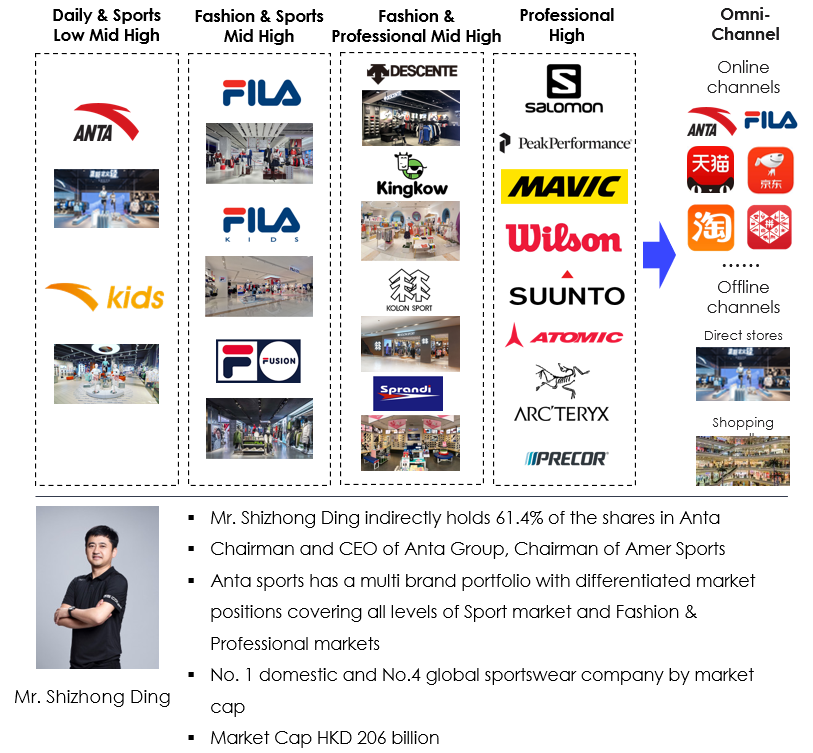 Anta Sports - Financial Overview as of 25 November 2020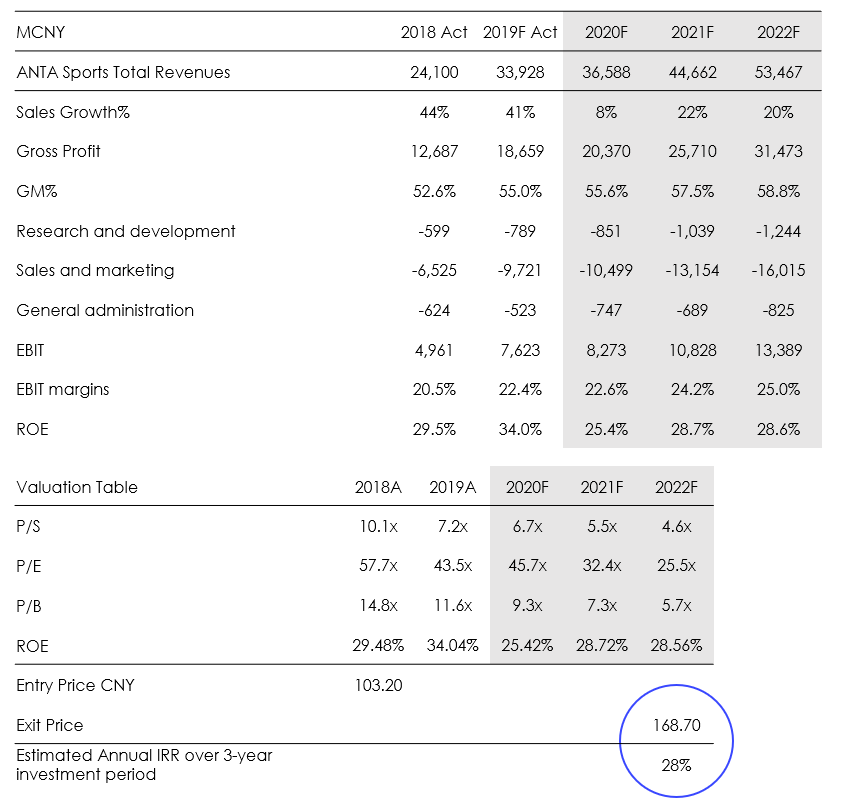 Anta Sports - Share price performance YTD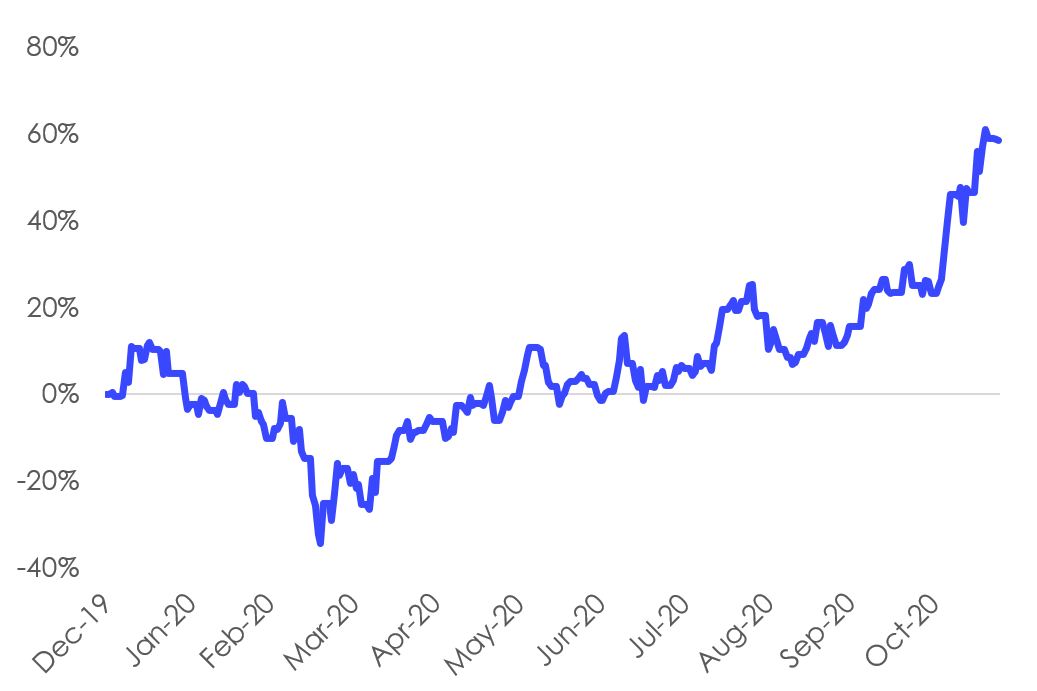 Interview with Nordic Asia Partner – Investment Director Yining Wang on his view on Anta Sports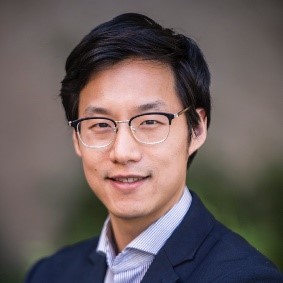 From Nordic Asia's perspective what is the investment case for Anta Sports?
First of all, from a market perspective, we like the sports apparel and footwear industry in China. Just in 2018 this market grew to CNY 265 billion with a YoY growth of +19.5%. Sports participation and health consciousness is also a growing trend in today's urban China with the number of sports participants rising by more than +34% of urban population in recent years corresponding to an increase of +170 million people in the past ten years. Furthermore, Sports fashion is also becoming a growing trend in China where many urban millennials wears sports apparel even in daily routine commutes. In this market Nike and Adidas are market leaders with approximately 18% market share each while the number three market position is held by Anta Sports with approximately 9% market share and Li Ning with approximately 6% market share.
However, unlike Li Ning who is pursuing a single brand premiumization strategy, Anta sports is pursuing a multi-brand strategy to address different market segments and specialized sports categories. For example, the brand Anta is positioned as a mass market sports apparel and footwear brand targeting the mid-tier market, while the FILA brand is positioned at the High-end fashion sports segment. Furthermore, Anta Sports acquired 52% of Amer sports with famous brands such as Peak Performance, Salomon, Atomic, Wilson, Arcteryx, Suunto etc. The strategic rationale of this acquisition is to bring these well-established international brands to Chinese consumers who are looking for high quality and lifestyle associations to these unique brand's heritage and brand positioning.
Furthermore, we have seen a gradual pick up of winter sports in China and the number of skiers in China rose to approximately 13 million as of 2019 and the number of ski resorts grew by +81% since 2014. The next winter Olympics will be held in Beijing 2022 and this is expected to become a catalyst for the future expansion of winter sports and ski participants in China. Therefore, Anta group with the acquisition of Amer sports is strategically well positioned to capture the growth of this niche market in China going forward.
In addition to this, Anta sports also combines an omnichannel sales strategy with a mix of +13.000 offline stores and online sales channels through the major platforms such as Alibaba, JD.com and PDD etc.
Therefore, an investment in Anta Sports provides us with the opportunity to take advantage of the growing sports apparel and footwear market in China via its multi-brand strategy to capture the full spectrum of market growth for different users groups, sports, and niche market segmentations.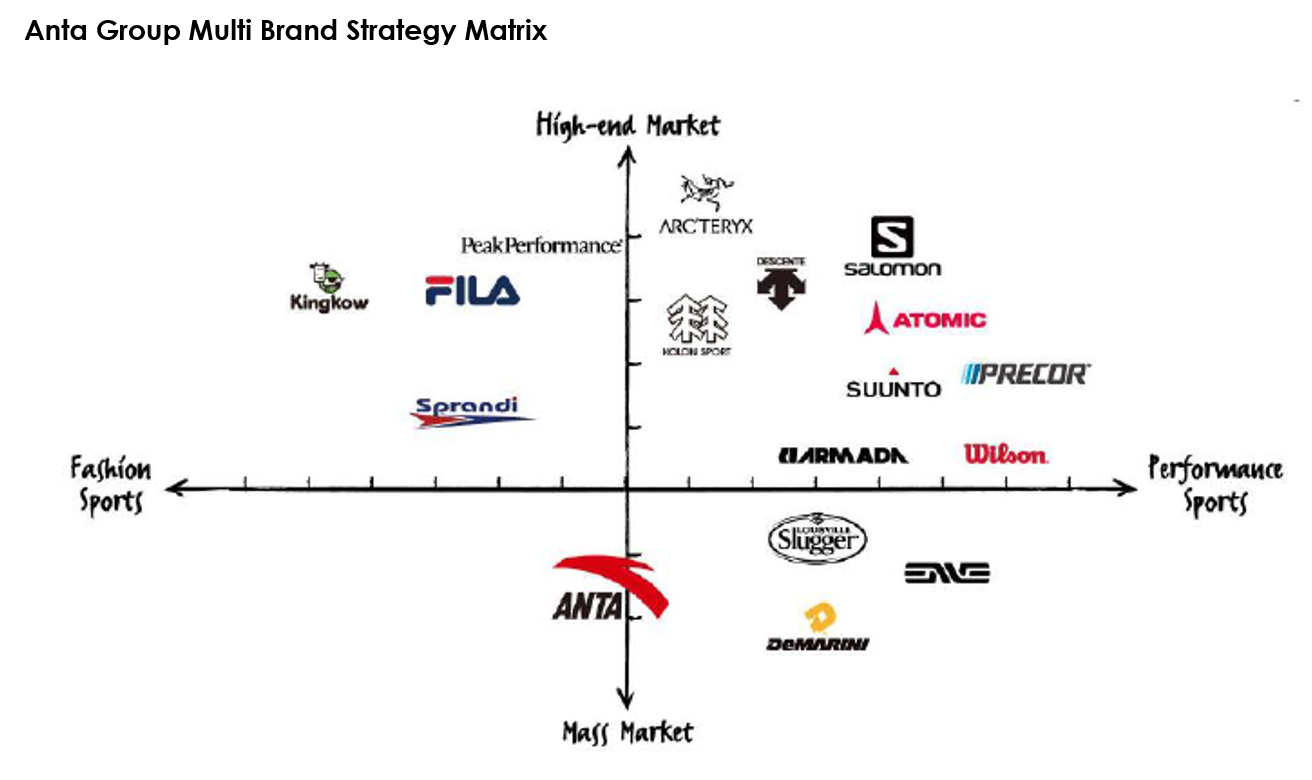 How has Anta Sports performed during 2020 so far and how was it affected by COVID-19?
Anta delivered a resilient result amid COVID-19 with its strong 55% growth in e-commerce channels. H1 2020 revenue was CNY 14.7 billion, down only 1% YoY while gross margin was up 0.7 percentage points to a new high of 56.8%, thanks to higher contribution from high margin FILA direct sales. Revenue from high-end FILA and other brands grew by 9.4% and 8.3% YoY respectively, offsetting Anta Sports 10.7% YoY decline. In Q3 2020, Anta Sports achieved a low-single-digit sales growth compared to a low-single-digit decline in Q2 and a large decline of >20% in Q1. FILA recorded strong sales growth of 20-25% in Q3, further strengthening from a growth of 10-15% in Q2. FILA's online sales growth was also strong at nearly 90%. Other brands also registered 50-55% growth in sales, among which Descente grew by 90% YoY while Kolon grew by 20-25%
How has Anta Sports performed during 2020 so far and how was it affected by COVID-19?
Looking ahead, Anta plans to transform its offline channels to a direct to customer (DTC) model. 60% of 3,500 offline stores in 11 cities will be managed and operated directly by Anta, and the rest of 40% will be run by franchisees under Anta's regulation. The DTC transformation will further strengthen its control over the sales channels and is expected to increase its operational management ability and bring higher operating efficiency. In the next year, as the COVID-19 situation further improves, offline sales should continue to show a positive growth contribution through pent-up demand and also through an increased health awareness in the Post-Covid era. However, due to inventory build-up earlier this year, Anta is likely to continue seasonal promotions to reduce inventory turnover days at the retail end which will put some pressure on gross margin improvements in the next year.