Nordic Asia Portfolio Insights: JD.com
2020-10-28
Nordic Asia Team
JD.com - Company introduction
JD.com was founded in 1998 by Richard Liu and is a multi-platform direct to consumer E-commerce company that primarily sells directly to consumers. JD.com currently carries over 30 million number of SKUs on its platform with over 12,000 supplier partners. By revenues, JD.com is the number 1 direct to consumer retailer in China. Unlike Alibaba's whose main business is third-party marketplace sales (E-Bay model), JD.com's core business is their direct to consumer sales model (Amazon model). This fundamental difference requires JD.com to develop its down integrated internal value chain of merchant's brand networks via direct sourcing, own fulfillment centers, delivery network and customer service support with full ownership of the customer experience. To improve customer experiences, trust, and delivery reliability, JD.com decided early on to build its own logistics network and to take control of the entire customer journey experience. As a result, it became the first online retailer in the world to offer next day delivery and despite annual revenues of hundreds of billion CNY it still manages to keep its overall inventory turnover rate around 35 days.
Business overview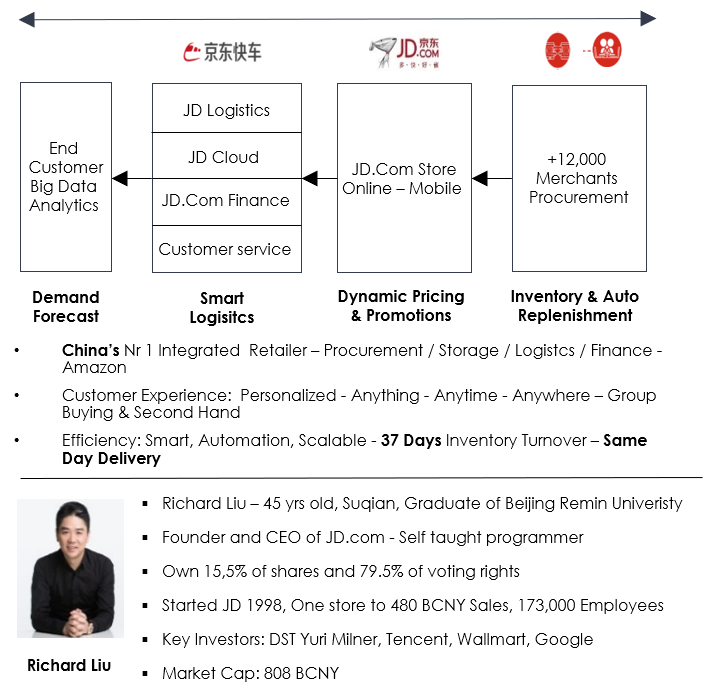 Financial overview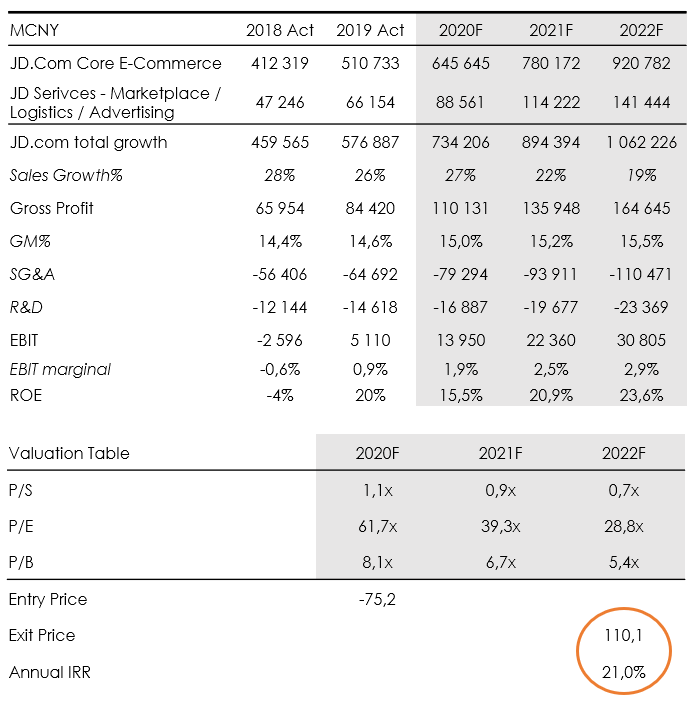 Interview with Nordic Asia Partner – Investment Director Yining Wang on his view on JD.com

From Nordic Asia's perspective what is the investment case for JD.com?
As mentioned in the previous Alibaba article, China E-commerce is primarily dominated by three platforms: Alibaba, JD.com and Pindoudou. From an "outside-in" perspective, China E-commerce will continue to grow, and its penetration of total sales could double and reach up to 40% of total China retail in the long term. Although Alibaba is the market leader with 60% of total market value, JD.com is second to Alibaba with approximately 20% of total market share.
However, JD.com's business model and market positioning is vastly different to that of Alibaba. First of all, unlike Alibaba which is a third-party E-commerce "Platform Infrastructure" company, JD.com on the other hand is primarily a first party vertically integrated direct sales E-commerce retailer business. Unlike Alibaba, whose main business is to enable other to sell online and holds no inventory. JD.com's main business is to buy inventory from suppliers and brands and sell directly to the end customers via their own E-commerce retail platform and retail infrastructure.
Therefore, JD.com has the ultimate responsibility for the quality, authenticity, delivery and returns of the product to the end customer. JD.com, as one of the pioneers of E-commerce has built a strong reputation of delivering high-quality goods via its supply chain network. Today, JD.com is strategically well positioned as a highly dependable and trustworthy online sales portal to connect mass consumers to high quality authentic product brands and reputable end customer services. JD.com is especially strong for higher ticket items retail goods such as Electronics and Home appliance products that stands for approximately 60% of direct sales volume. Average order value on JD.com is therefore more than 4x to that of Alibaba.
Furthermore, from an "inside out" perspective due to its vertical integrated direct to customers sales model and value chain, JD.com has built up an impressive internal logistics infrastructure consisting of 240,000 employees, 7 fulfilment centers and +750 warehouses of approximately 18 million sqm.
If Amazon is a mix of marketplace and direct sales, you can say JD.com is the direct sales part of Amazon but with its own self built logistic network and warehousing down to last mile delivery. While Alibaba is the "market place" part of Amazon with much broader product range at more diversified price points.
From an investor point of view, we like the business model of JD.com especially when JD.com continuous to scale up to increase their market concentration and bargain power towards suppliers. JD.com is currently growing around 20% -25% per year despite a greater sales base. With additional sales volume, JD.com gains operational leverage and can reduce fulfillment costs as % of sales. JD.com is reinvesting in operations automation, data analytics, drone deliveries to further enhance operational efficiencies to include new product categories and new sales channels while keeping prices at competitive levels.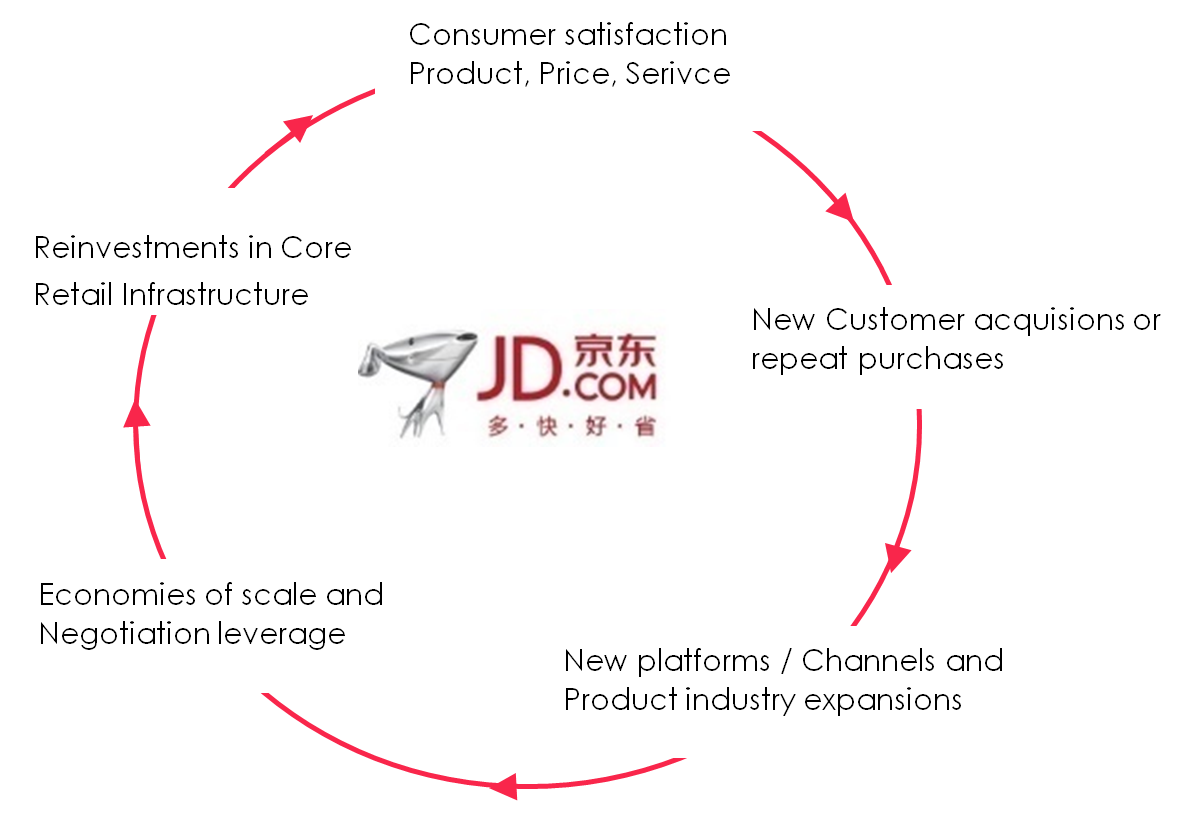 Finally, from a valuation perspective JD.com is valued at approximately USD 135 billion today compared to USD 845 billion for Alibaba. JD.com is trading at1.3x P/S while Alibaba is trading at 8.5x P/S. Of course, due to the difference in business model, JD.com's operating margin is currently around 1.5% - 2.5% while Alibaba's margins is around 23%. But due to Alibaba's strong market leadership and highly profitable business model, JD.com has not received enough attention for its direct sales business model advantages, inhouse operational strength and financial development. In the long term, with JD.com scalable retail infrastructure and continued volume growth, we expect margins will improve and earnings growth to grow faster than sales. Therefore, from an investor perspective relative to Alibaba, the valuation of JD.com and the earnings growth prospects of JD.com could be more favorable than that of Alibaba.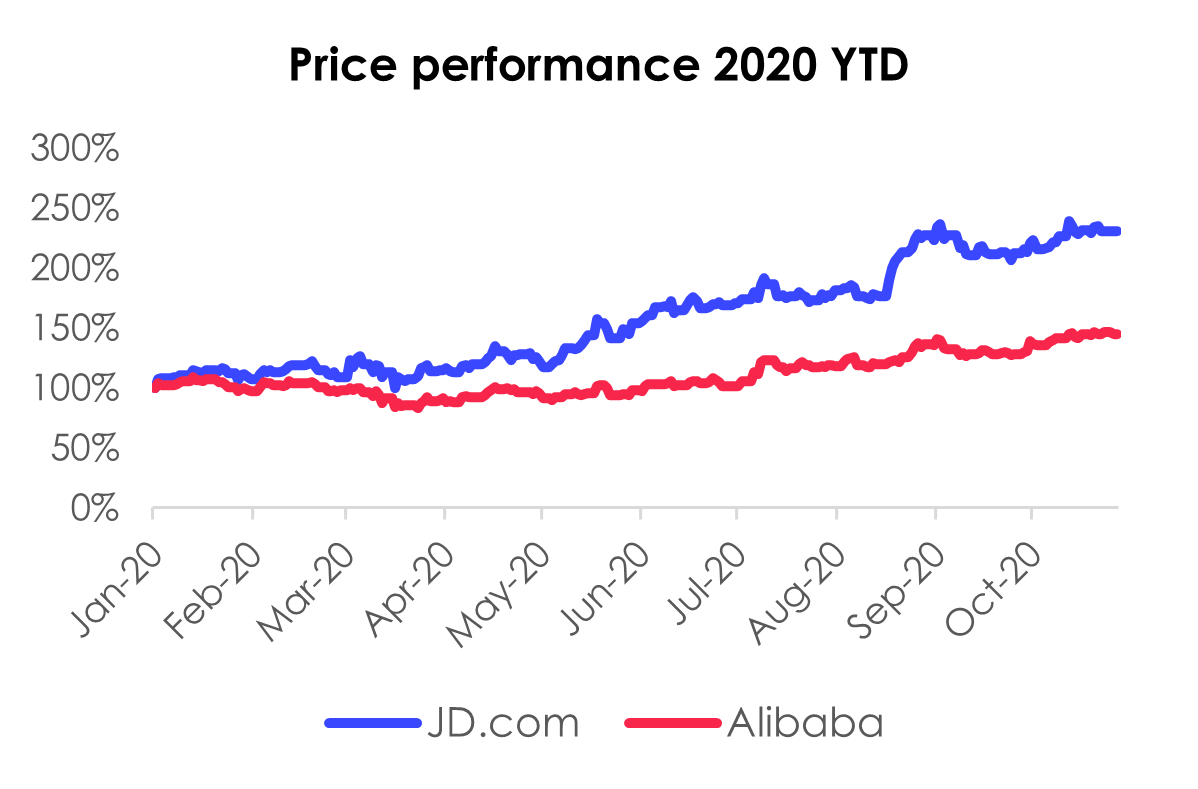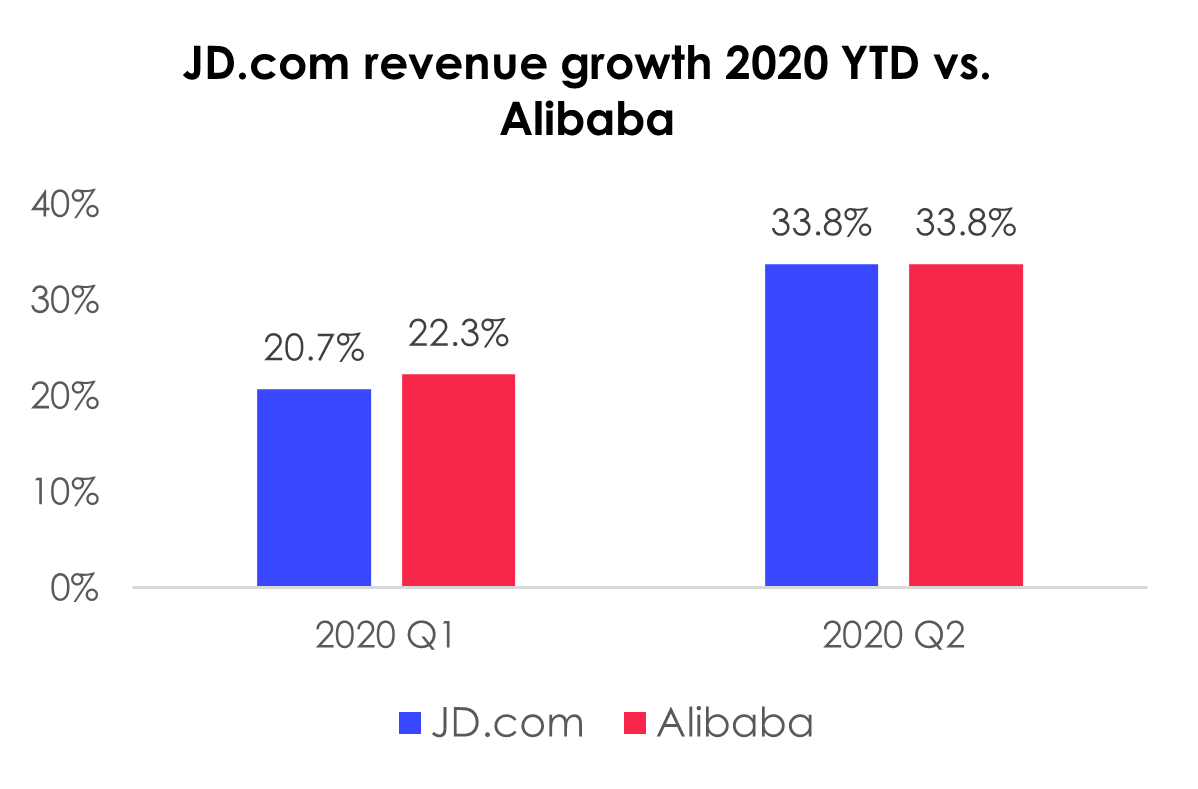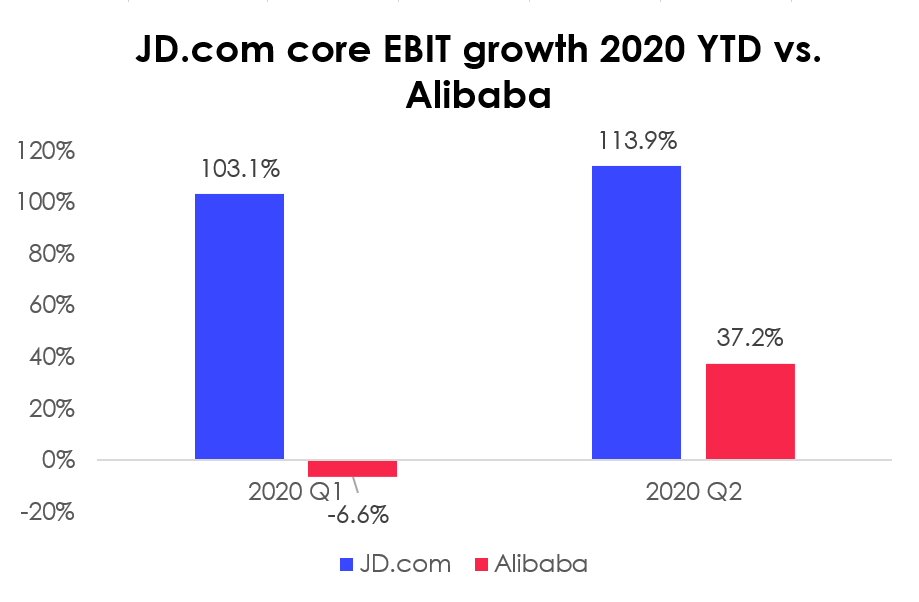 How did JD.com perform during H1 2020 and how was it affected by COVID-19?
JD.com's Q2 2020 result was impressive with +34% year-on-year revenue growth driven by the release of pent-up demand during COVID-19 and the strong mid-season sale 6/18 event. The strength of an integrated retail model with in-house logistic network were on display during the COVID-19 outbreak, as JD remained fully operational during this crisis ahead of its competitors with outsourced third-party logistics. In Q2 2020, EBIT% for JD.com improved further to 2.4% from 1.6% in Q1 2020 delivering an impressive +117% EBIT year-on-year improvement.
Revenue from its core E-commerce was up +33% year-on year in Q2 on robust growth in the FMCG & fresh produce categories and user expansion. Per management guidance, FMCG & fresh produce exceeded electronics to become JD.com's biggest category and FMCG enjoyed a solid +45% year-on-year increase, thanks partly to the growing demand and greater adoption of grocery delivery as the result of the COVID-19 crisis. Annual active consumers increased by +30% year-on-year to 417 million while mobile daily active users surged by +40% year-on-year. +80% of new customers come from lower-tier cities, up from 70% previously as JD.com continued strategy of penetrating lower-tier customers is bearing fruit.
Which are the key drivers and challenges for JD.com that we should follow during the coming twelve months?
Looking forward, we expect growth will remain steady in the second half of 2020 while FMCG/fresh product growth should continue to remain strong as habit formation of online grocery sales is likely to remain sticky despite the "Post COVID-19" environment. JD.com has solidified its market position due to COVID-19 as user acquisition increased. Therefore, we expect JD.com to further benefit from the overall retail and consumption improvement in China in the coming 12-months. In this environment, JD.com's EBIT% should further increase from the continuing scale benefits and improvement from its investments logistic & technology infrastructures. Pending listings of JD Digits and JD Health will provide meaningful contribution to JD.com's valuation. While greater than expected investments in sales / marketing and R&D could hammer its thin margins and cause greater short-term EBIT% fluctuations.