Nordic Asia Portfolio Insights: NIU Technology
2021-03-26
Nordic Asia Group
NIU - Company introduction
In 2014, with the mission of redefining urban mobility, NIU technology was founded in China. To solve the problem of traffic congestion in urban area, NIU aims to design and develop e-scooters that combine functionality and fashionable to attract urban millennials. In 2020, NIU's revenue reached 2,444 million CNY. As of 31st Dec 2020, it has 1616 franchised stores over 180 cities in China and 36 distributors in 46 countries overseas.
NIU – Business Overview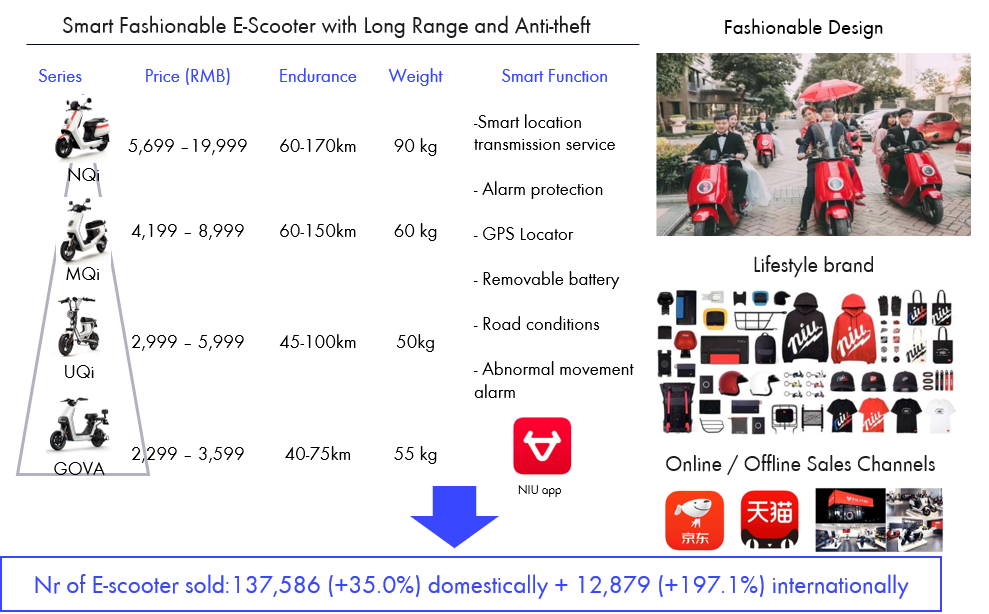 NIU – Financial Overview as of 25th March 2021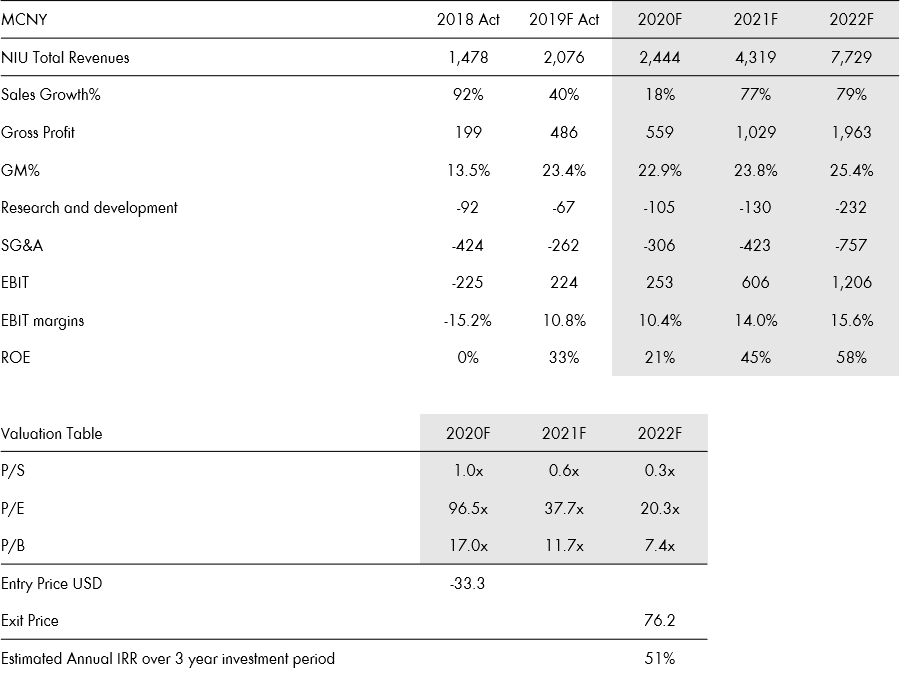 NIU – 2020 Results Highlights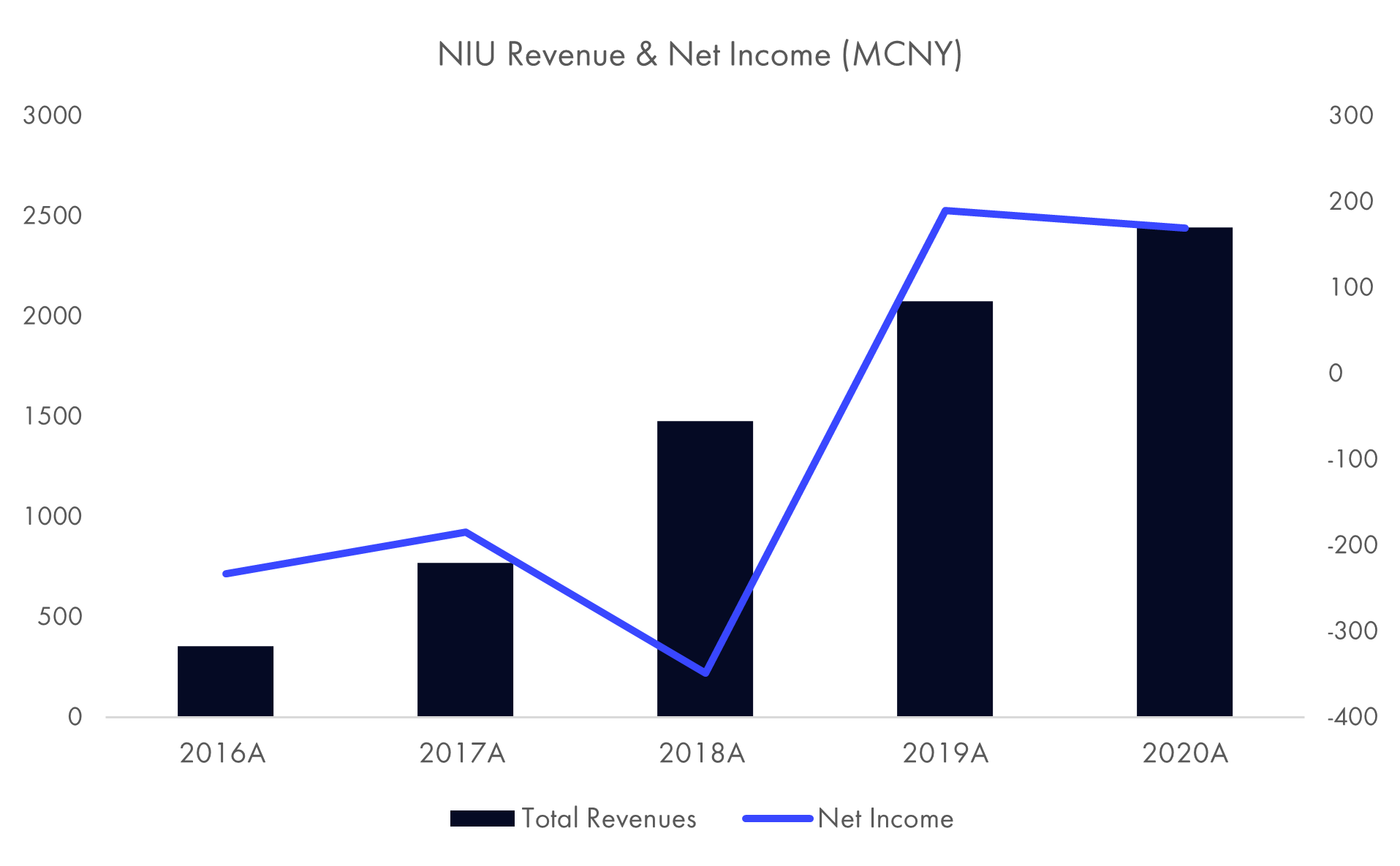 The cumulative sales in 2020 will reach 600 thousand units of vehicles, fulfilling the annual sales target. Revenues were RMB 2,444.3 million, an increase of 17.7%, mainly driven by increases in e-scooter sales volume of 42.8%. E-scooter sales from China market reached 1,857.3 million CNY (+22.2% YoY) and E-scooter sales from international markets reached 286.0 million CNY (7.1%). The ASP is 3,246 CNY and 9,694 CNY in Chinese and international market, respectively. The company achieved sales of 149,705 units of vehicles in Q4 2020 (+40.9% YoY). The domestic market sales reached 137,586 units of vehicles (+35.0% YoY). The sales growth came from the continuous expansion of offline stores and the increase in the contribution of new products released in the early 2020 (including G0/MQi2/MQiS).
NIU – Share price performance from 1st Jan 2020 to 25th Mar 2021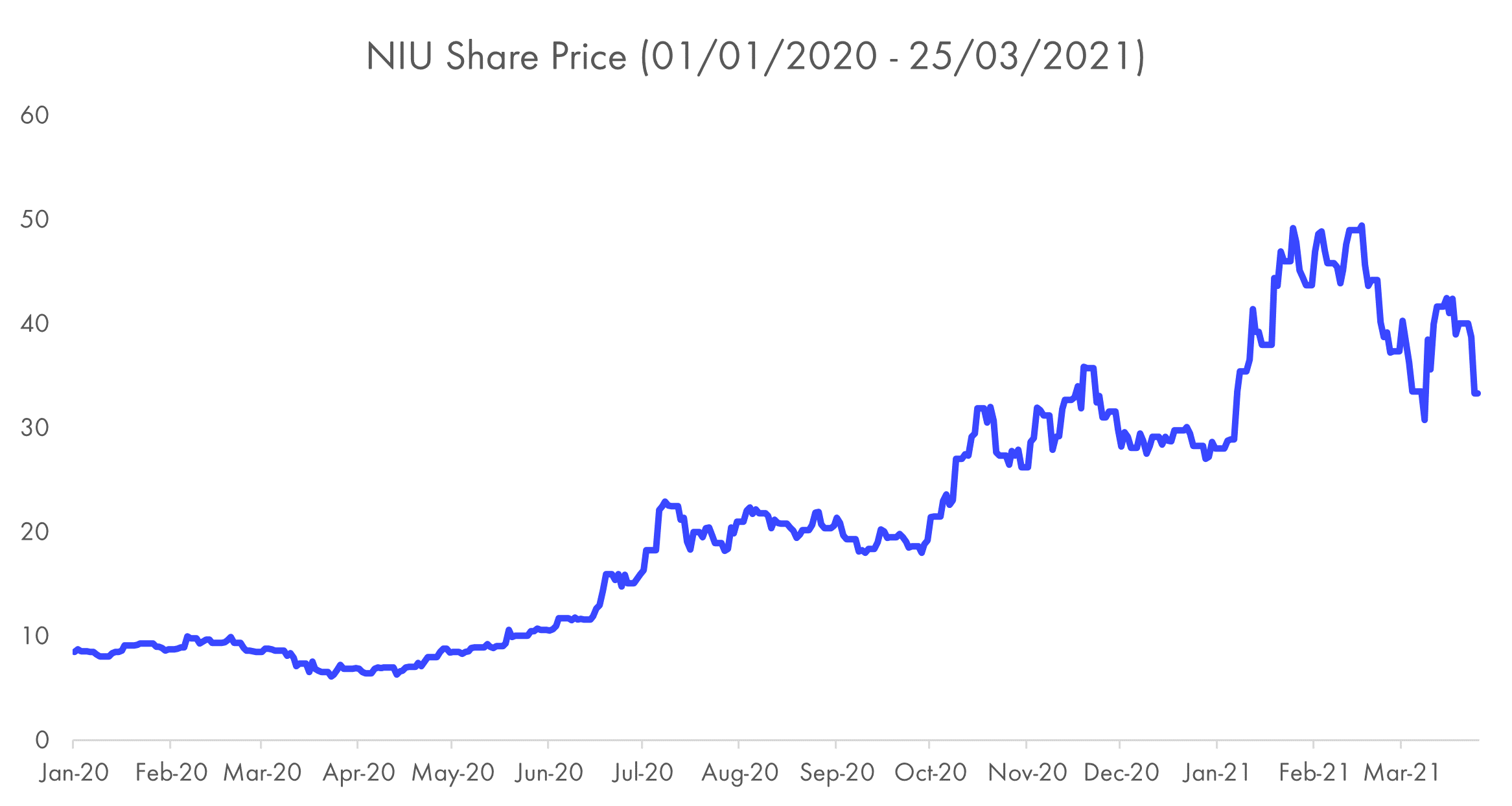 Interview with Nordic Asia Investment Director – Yining Wang on his views on NIU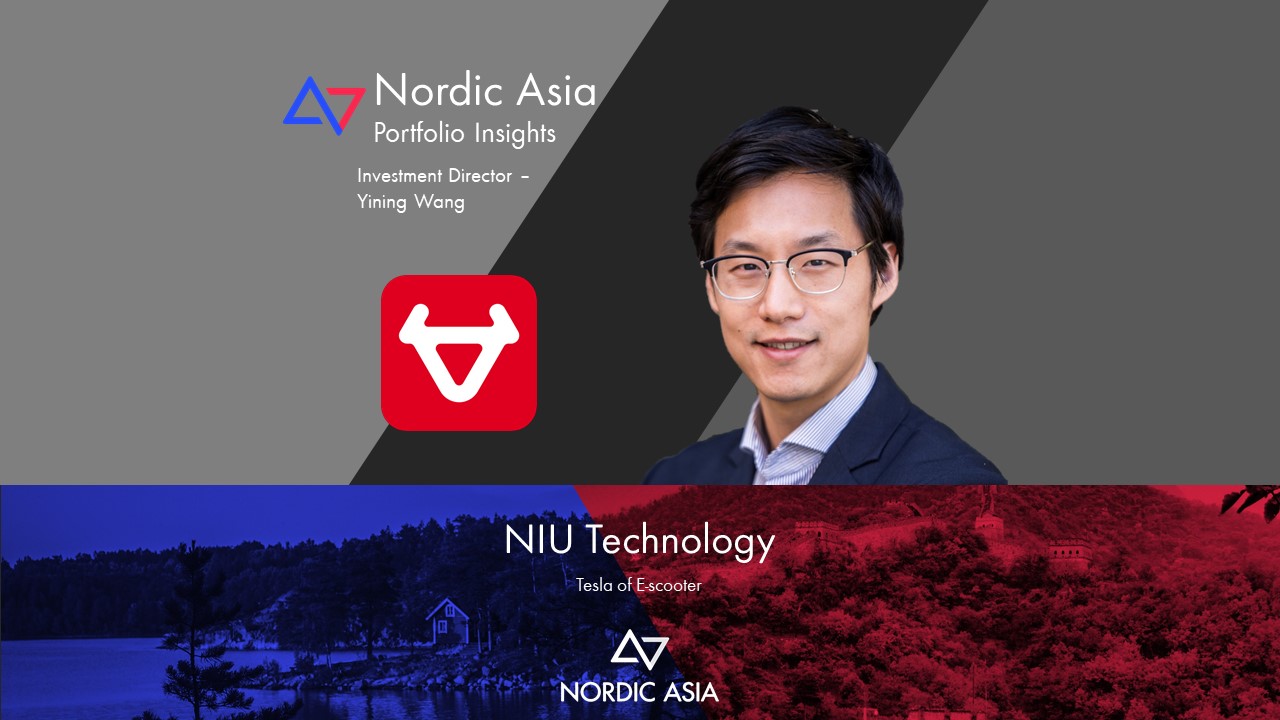 From Nordic Asia's perspective what is the investment case for NIU?
First of all, urban mobility is a core investment sector for Nordic Asia. For us urban mobility is the link to physically connect people to people, people to goods and people to services. To facilitate effective and higher frequency of modern urban mobility, we need to look at a broad variety of urban mobility solutions. In this space, modern designed, smart lithium-ion-based E-scooters is a niche mobility segment with strong structural growth both in China and internationally. We have followed NIU since its IPO in 2018 and been impressed by their ability to scale up quickly through a combination of rapid sales network expansion, brand and community building along with new product lunches to cover multiple-price points and target specific use cases. This is validated in their strong performance in 2020, and despite severely impacted by Covid-19, NIU domestic E-scooter unit sales increased by +46% and in Q4 2020 overseas sales volume grew by +197%. However, we think NIU is just in the beginning of the potential addressable market and the penetration of smart lithium-ion-based E-scooters both in China and globally is still growing from a low base. NIU has quickly established itself in the forefront of this market shift towards fully electric smart E-scooters and we think this company will continue to grow rapidly in the years ahead.
How does NIU differentiate itself from its peers such as Gogoro and Yadea?
We believe that what makes NIU stand out from its domestic and international competitors such as Gogoro and Yadea is its international layout, its distinct target user groups and strong user stickiness. In Mainland China, E-scooters are commonly used for delivery and short-distance commuting. Traditional e-scooter companies face fierce market competition, offer low-price e-scooters and thus have a low revenue margin. Compared to Yadea, NIU has a more precise user target, aiming at mid-high-income group and enjoy a stronger user stickiness, which enables NIU to enjoy a higher pricing power. The ASP (Average Selling Price) is 4,242 CNY and 1,965 CNY for NIU and Yadea, respectively. Gogoro is a e-scooter company also focusing on smart e-scooters as NIU. However, Gogoro only operates within Taiwan, while NIU has a more international layout with flagship stores in 46 countries, mostly in Europe as of 31st Dec 2020. The NIU's ASP of international markets reached 8,979 CNY in 2020. With its international layout and target user group, the company can continuously enjoy a revenue growth.
How did NIU perform during 2020 and how was it affected by COVID-19?
NIU's business was severely hit in Q1 2020 due to the pandemic. However, the business recovered rapidly due to 1. Market recovery; 2. The increasingly need for short-distance travel after the pandemic; 3. The need for e-scooter in Europe and South East Asia. The revenue reached 2,444 mn CNY in 2020, with a YoY increase of 17.7%. Total E-scooter sales from China market reached 1,857 mn CNY, with a YoY increase of 22.2% and e-scooter sales from international markets reached 286 mn CNY, with a YoY increase of 7.1%. The ASP is 3,246 CNY and 9,694 CNY in Chinese and international market, respectively. Compared to 2019, ASP in China was down 16.2%, mainly due to increased sales in its lower-end e-scooters and decreased sales in its high-end e-scooters. The ASP in international market was stable and up 4.8%. But total E-scooter unit sales in China increased +46% in 2020 and overseas volume saw a sharp increase +197% in Q4 2020.
During 2020, NIU opened 10 flagship stores in European countries such as Lisbon, Rome, Malta, Amsterdam, and Edinburgh, what is its international expansion strategy?
International expansion strategy has always been NIU's main focus. During 2020, NIU opened 10 flagship stores in 8 countries. Most of them are in developed European countries, such as Britain, Netherlands, and Portugal. The penetration rate of electric two-wheeled vehicle in Europe is still low and there exists a huge potential market. As a market leader in the e-scooter industry, NIU has existing advantage in distribution and market entry experience and can thus enjoy the market growth. The international expansion strategy enables NIU to further increase its ASP and its revenue. Currently NIU has 36 international distributors to establish marketing and sales network in 46 countries globally. However international sales accounts for only 13% of total sales in 2020.
Which are the key drivers and challenges for NIU that we should follow during the coming twelve months?
In the coming twelve months, we expected NIU to benefit from its market expansion, new launched product and the overall consumption recovery. With the recovery from pandemic, there's increase need for short-distance travel and more people may turn to e-scooter to avoid public transportation. NIU will benefit from this trend. At the meantime, NIU is expected to rapidly increase its nr of stores in 2021. Moreover, the company is planned to release new series of product in Q2 2021, to further expand its product portfolio to existing sale networks. We will mainly focus on following aspects: 1. New store openings and like for like organic in store sales 2. New product launches and ASP trends 3. International expansion and increased adoption of NIU E-scooter in scooter-sharing platforms such as Lime, Revel, Scooty etc.