Nordic Asia Portfolio Insights: SF Express
2020-10-15
Nordic Asia Team
SF Express - Company introduction
Established in 1993 and listed on China's A-share market since 2017, SF Express is one of the leading integrated and intelligent express logistics service providers in China with over 100,000 employees. The logistics products mainly include time-defined delivery, economy delivery, intra-city delivery, international express delivery, and cold chain and warehousing service. It has also extended its services to segments of production, supply, sales, and distribution in the front-end of the value-chains. SF Express has the network scale and independent R&D advantages. It has built a unique intelligent logistics network the "Aviation + Ground + Information" network based on big data, AI, and smart equipment. The company has 17,832 self-operated service points with a 99.4% urban coverage ratio in China and 62 countries covered with express products. SF Express has been ranked No.1 in customer satisfaction in the China express industry for 11 years and No.1 in timeliness throughout the entire process of express delivery for 7 years. In 2019, SF Express realized 4.83 billion shipments, with press logistics and supply chain revenues reaching CNY 110.9 billion.
Business overview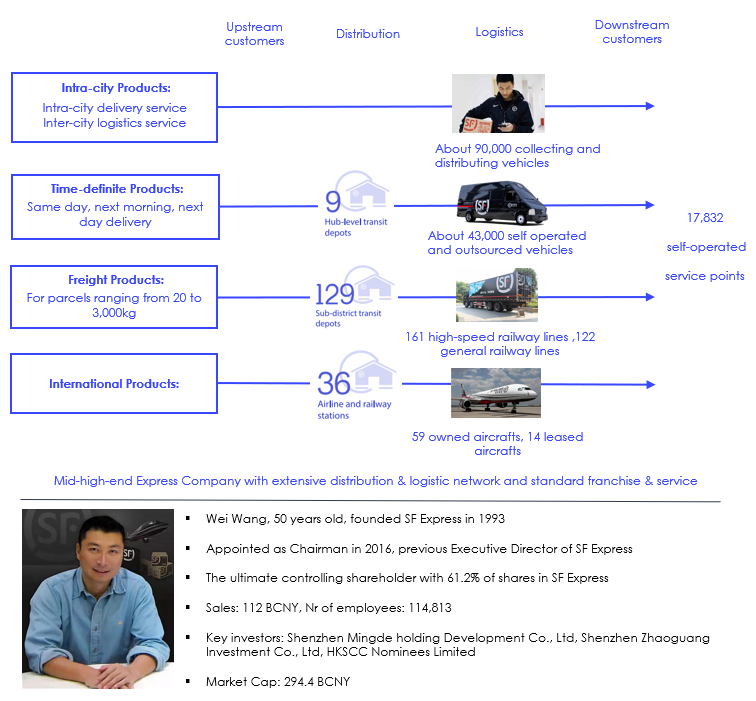 Financial overview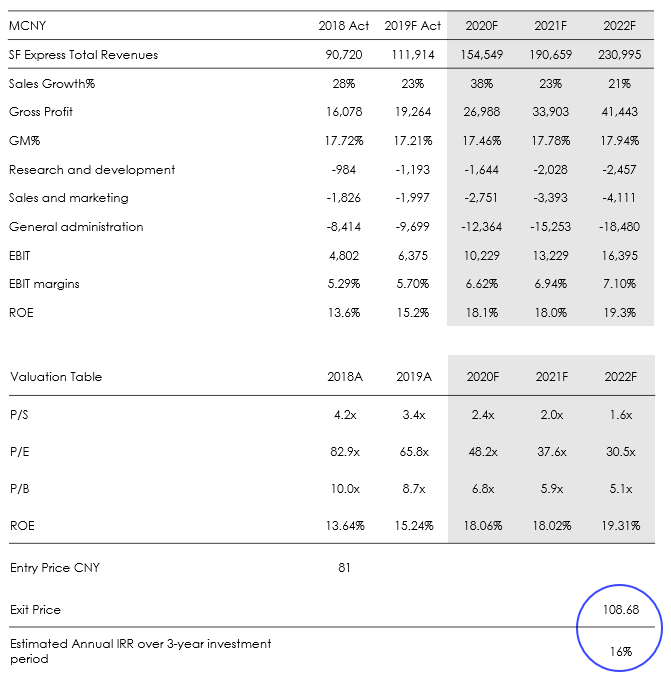 Share price performance YTD 2020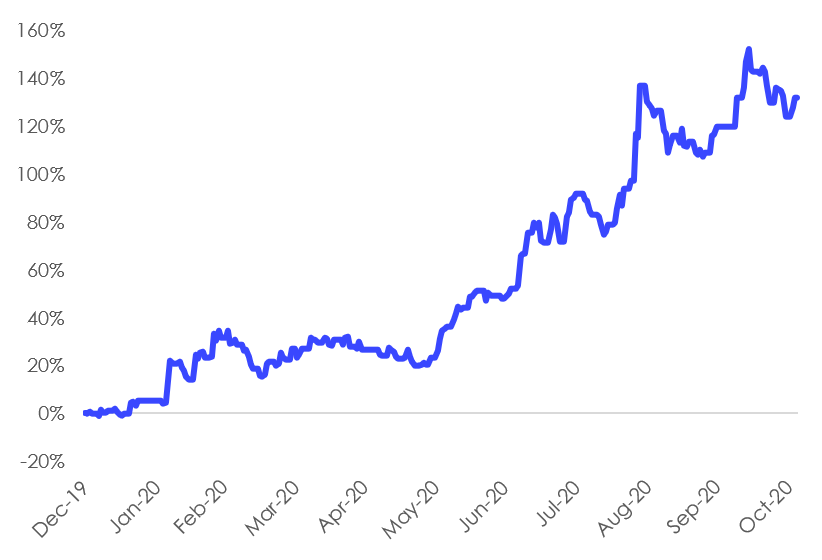 Interview with Nordic Asia's Partner – Investment Research Director Yu Zhang on his views on SF Express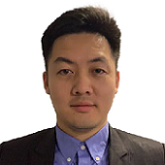 From Nordic Asia's perspective what is the investment case for SF Express?
We invest in SF Express mainly due to the following reasons. Firstly, logistics is the link that connects the economy. In the long run, the social division of labor will be more refined, and the requirements for logistics safety and efficiency will increase. Express delivery is an important part of the logistics industry, and the new era of online consumption is on a steady rise. In the long run, the operating costs of companies with a high market share in express delivery will be significantly lower than competitors with insufficient orders. Express delivery companies with good service quality and high network coverage are more favored by both private customers as well as business customers. SF Express' cost advantages, network advantages, and brand advantages will form the Matthew effect of accumulated advantages and squeeze out competitors resulting in an increased market share and long-term pricing power which is a guarantee for the company's long-term shareholder returns. In addition, the barriers of entry to the express industry are relatively high both from an investment perspective and a management perspective. As a consequence, it is difficult for new market entrants to be successful. The above reasons constitute our investment framework for favoring this market.
Secondly, from a customer behavior perspective, online consumption is in a steady upward trend. The total value of online consumption continues to reach new highs. As an example, during the recent National day holiday in China from October 1st to October 8th, the national postal express industry collected 1.82 billion express parcels, a year-on-year increase of 53.4% ,and delivered 1.80 billion express parcels, a year-on-year increase of 62.5 %. We believe that there is still a lot of headroom for the total volume of the domestic express delivery industry in China to grow. In addition, the cross-border e-commerce and international express delivery market still have a large expansion potential for listed express delivery companies in China, and the market prospects are promising.
Thirdly, SF Express is a leading company in the express delivery industry in Mainland China. The company enjoys a leading position in terms of sales and market share in the express industry. The company's products also cover a wide range and can meet the diverse needs of customers, including cold chain logistics that is difficult to operate and emulate. From an internal operations perspective, the company's degree of digitalization, control of the loss rate of goods, control of customer complaints rate, and logistics delivery efficiency are significantly better than the industry average. In addition, the company has managed to establish a significant brand advantage and a top of mind position within the domestic consumer group.
In summary, SF Express is a high-quality company that will remain in our portfolio in the medium to long term.
How does SF Express differentiate itself from its international logistics peers such as FedEx, UPS, and DHL?
We believe that compared with FedEx, UPS and DHL, SF Express's differences are mainly related to the huge differences in the customer groups and the business areas it serves. For example, there is still a certain gap between SF Express and the world's major courier companies in terms of cross-border express service coverage of countries and the number of delivery points. However, the number of SF Express delivery points and coverage density in China are much higher than those of international competitors.
The China domestic express delivery market is mainly covered by domestic companies such as Alibaba affiliated companies and SF Express. For domestic express delivery business, domestic companies have significant advantages in terms of delivery efficiency and cost, this is especially true for SF Express. In addition, in recent years, the volume of express orders during certain periods in China will increase sharply due to the influence of shopping activities such as Singles Day (11/11), which poses new challenges to express companies. SF Express and other companies have made great efforts to maximize their delivery capacity to handle these periods. Finally, SF Express' technical capabilities within logistics information and automatic sorting have approached or even surpassed the world's leading express companies.
How did SF Express perform during H1 2020 and how was it affected by COVID-19?
SF Express realized a satisfactory performance with steady growth in H1 2020. On a group level, SF Express realized CNY 71.1 billion in revenues and CNY 3.8 billion in net income which corresponds to a rapid growth of 42.1% and 21.4% respectively. This was higher than the industry average revenue growth of 12.6%. The gross margin of its express delivery and supply chain services decreased by 1.2% to 18.6% mainly due to the increasing proportion of economy delivery products.
On a product level, all the products realized growth in H1 2020. The largest product, the express delivery product, recorded a steady growth of 19.4% and reached CNY 32.0 billion in revenues corresponding to 44.9% of total revenues. The economy delivery product grew by 76.1% and reached CNY 20.2 billion in revenues contributing to over 40% of revenue growth on a group level with shipments growing by as much as 240.9%. The main driver for the economy delivery product was SF Express' promotion of a new special e-commerce parcel at reduced rates targeting e-commerce platforms. The freight service product grew by 51.3% and reached CNY 7.7 billion in revenues corresponding to 10.8% of total revenues. Other business segments such as cold chain and medicine delivery, international delivery and supply chain business continued to grow rapidly and corresponded to 15.9% of total revenues.
COVID-19 stimulated the growth of the express delivery industry by boosting the demand for transportation and express delivery of anti-epidemic materials and residential necessities. Even though the total volume of the express delivery industry only grew by 3.2% year-on-year in Q1 2020, SF Express achieved a growth of 77.1% year-on-year in Q1 2020 thus increasing its shipment volume to 1.72 billion and increasing its market share from 7.6% to 13.7%. Furthermore, the pandemic led to a transformational shift of high-end product sales from offline to online channels and the development of live e-commerce, bringing additional growth for the express delivery industry. For H1 2020, SF Express' total shipments reached 3.66 billion corresponding to 81.3% year-on-year growth which was far ahead of the average industry growth of 22.1%.
New SF Express business initiatives include the new special e-commerce parcel at reduced rates targeting e-commerce platforms in order to break into the mid-low-end market. Even though the profit margin will decrease due to lower prices, it will bring rapid growth and higher market share for its economy delivery business. Furthermore, SF Express invested and participated in the construction of E'zhou Airport (located in Central China's Hubei Province). This will be the first cargo-oriented airport in China with 3.3 million tons in capacity. This airport will help SF Express to further expand its aviation network coverage to 250 cities, lower the cargo cost and improving its profitability for air express.
Which are the key drivers and challenges for SF Express that we should follow during the coming twelve months?
SF Express has steadily increased its market share in the high-end express delivery segment and its business volume and gross profit margin are relatively stable. SF Express has formed a long-term brand advantage in this market. What we need to pay attention to in the next 12 months is whether the company can penetrate from high-end express delivery into other business areas, develop into a platform-based logistics company, fully capture the advantages of the platform, and widen the gap to competitors within economy delivery and heavy cargo delivery etc.
When it comes to economy delivery, we will follow whether the expansion into the low-end market can proceed smoothly. The main concerns are 1. The growth of economy delivery volume; 2. The fluctuation of economy delivery unit price and gross profit; 3. Whether competitors will reduce prices which has an impact on industry profits.
Finally, the heavy cargo delivery business is a new growth area for company profits as this market develops fast and the market is large. Whether the company can quickly increase its market share by using its platform advantages is also a main point for us to focus on in the coming twelve months.