Nordic Asia Portfolio Insights: Shenzhou International
2021-01-20
Nordic Asia Team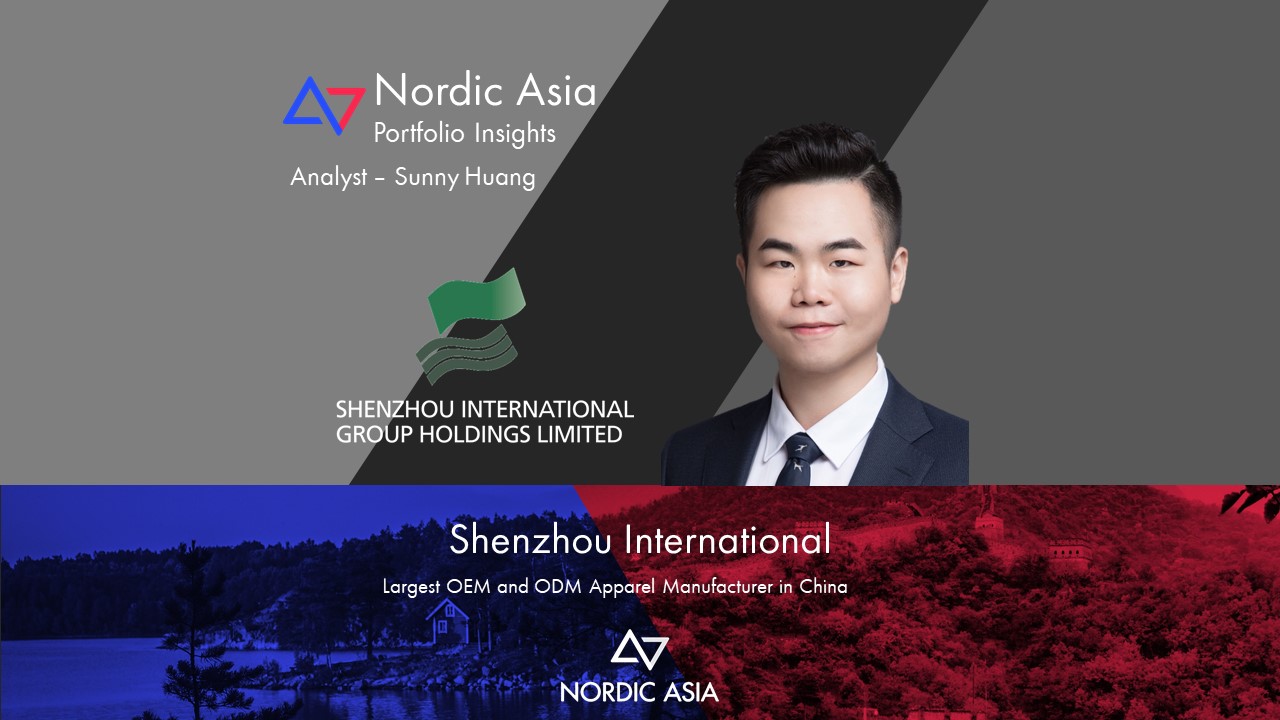 Shenzhou International - Company introduction
Shenzhou became apparel supplier of the two international sportswear giants, Nike and Adidas, in 2005-2006 to explore the fast-growing sportswear sector. 72% of Shenzhou's 2019 revenue was generated by sportswear manufacturing and 30%/22% was from Nike/Adidas, respectively. The strong momentum of sportswear industry and leadership position of Nike and Adidas help Shenzhou achieved strong revenue growth. Shenzhou's total revenue grew by 15% CAGR in the past 5 years while sportswear revenue grew by 19% CAGR in the same period. Besides sportswear, Shenzhou was also the supplier of UNIQLO since 1997. The experience in supplying UNIQLO enabled Shenzhou to expand its capabilities in supplying other big names. Shenzhou provides its core customers not only strong raw manufacturing power but also value-added services. Shenzhou actively involved into the downstream customers' design process and develop advanced and professional fabrics for core customers. Representative products include AIRism for UNIQLO and Dri-FIT, TechFleece and Flyknit for Nike.
Shenzhou International – Business Overview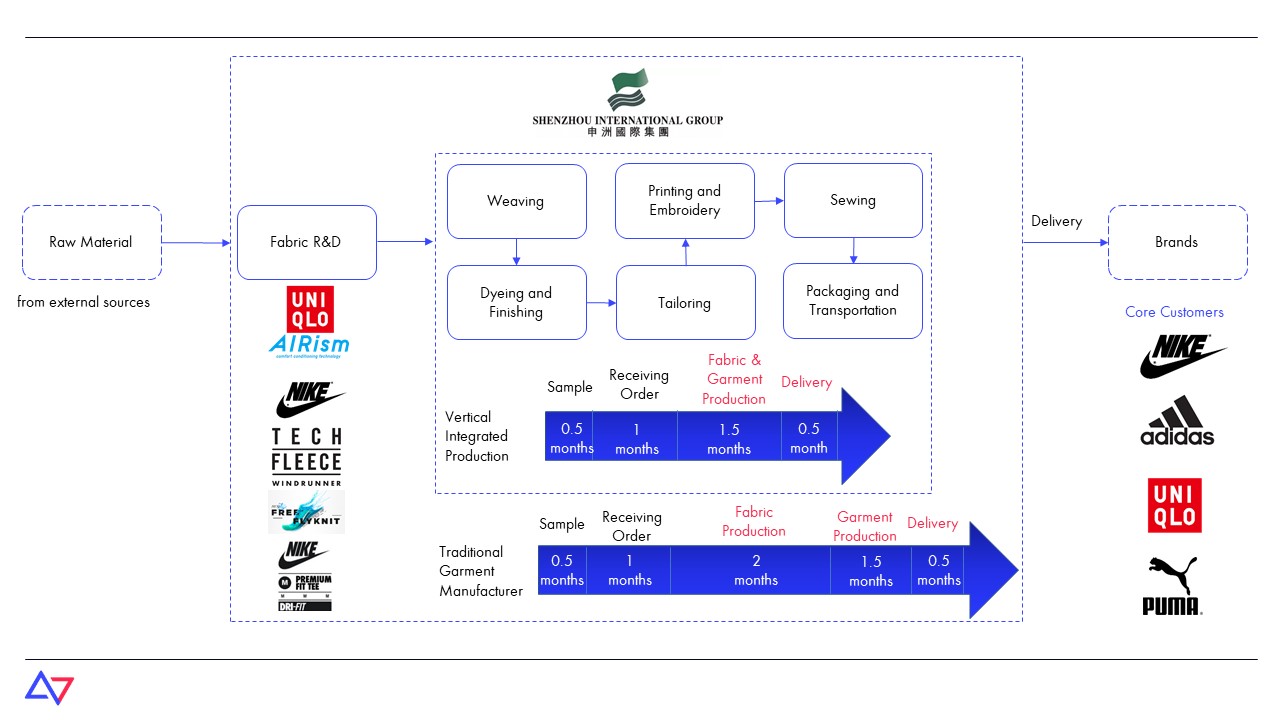 Shenzhou International – Financial Overview as of 19th Jan 2021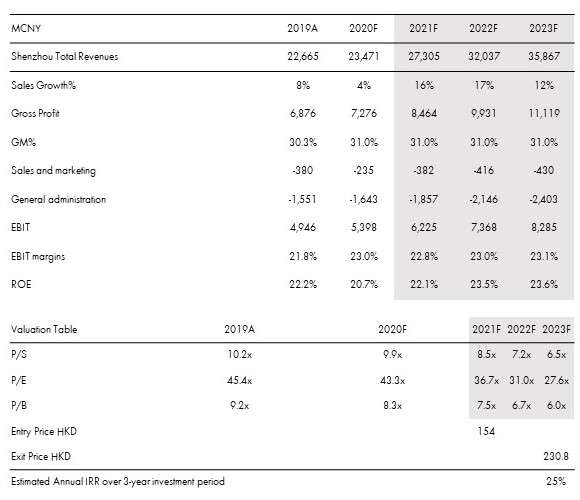 Shenzhou International – Share price performance from 1st Jan 2020 to 19th Jan 2021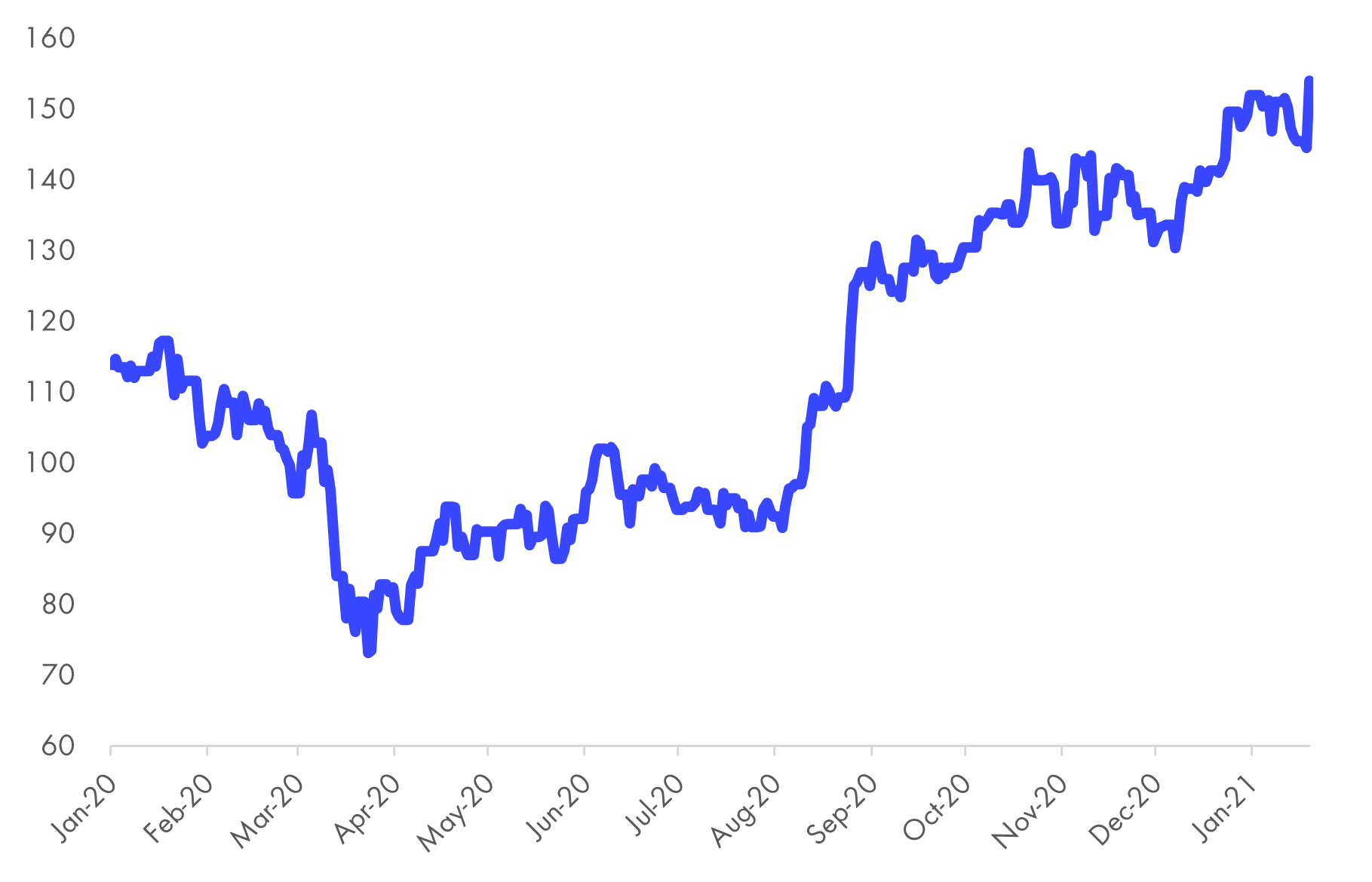 Interview with Nordic Asia Research Analyst – Sunny Huang on his views on Shenzhou International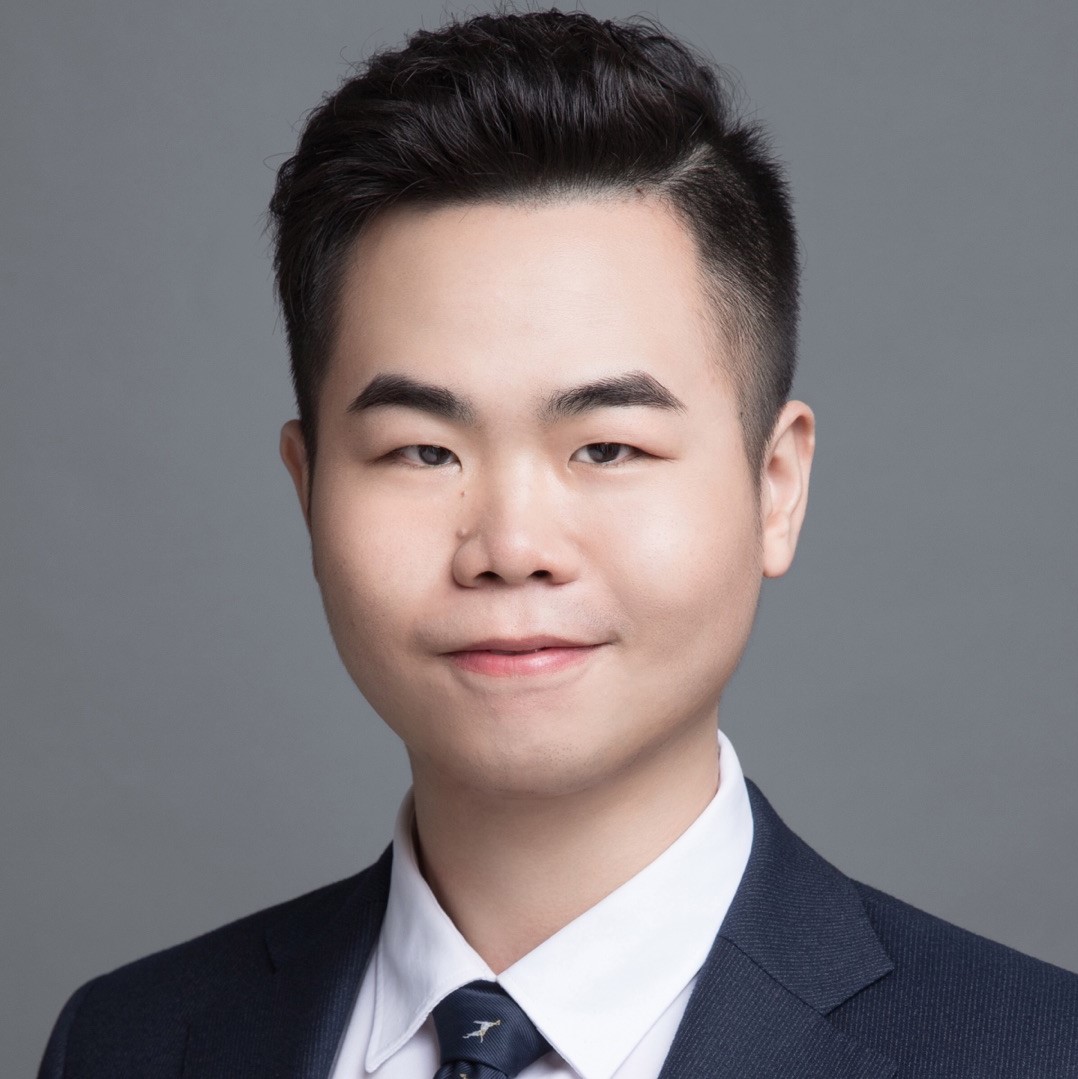 From Nordic Asia's perspective what is the investment case for Shenzhou International?
From the outside in perspective, China sportswear market outgrew the overall apparel and footwear market by 16.6% CAGR for 2014-19 while the world shares similar trend. The sportswear market is a highly concentrated market with top brands taking majority of market share. In 2020, CR5 of sportswear market was 59% in China and 37.1% Globally by brands due mainly to the market consolidation from strong branding power of the top brands. Such market landscape indicates sportswear is a better category under apparel & footwear sector and the top brands would benefit the most. At the company level, Shenzhou is the largest upstream player in China sportswear market. Shenzhou manufactures and distributes garments for its customers. Shenzhou alone receives about 20% of Nike's total apparel orders. Its core customers are Nike, Adidas, UNIQLO and PUMA, which are the leaders in the apparel or sportswear industry. Shenzhou's vertically integrated production line and strong management capability enabled its cost efficiency. It managed to increase its per person production from ~4,500 units garment in 2017 to ~5,000 units garment in 2019 and decreased production cycle to 45 days vs. 3 months for traditional garment manufacturers. Urgent orders could be done in as soon as 15 days. Besides raw manufacturing power, Shenzhou also provides its customer fabric development services by engaging in the designing process. Such R&D initiatives attracted more customers and strengthen cooperation with existed large brands. In the recent years, Nike and Adidas are both cutting number of suppliers in order to cultivate large size suppliers with better cost efficiency. Shenzhou would be benefited from such trend as the largest supplier in China with R&D capabilities. An investment in Shenzhou provides us exposure in the growth of China and global sportswear industry while margin of safety from Shenzhou's diverse customer portfolio in top apparel/sportswear brands.
How does Shenzhou International differentiate itself from its peers such as Lu Thai Textile and Jasan Holding?
First of all, Shenzhou strategically started its garment manufacturing business for sportswear leaders since 2002 after its success in supplying UNIQLO. Sportswear revenue accounted for 72% of Shenzhou's 2019 revenue while other garment manufacturers like Lu Thai Textile and Jasan Holding perform business majorly in the casual wear business. The advanced strategic move and strong manufacturing power helped Shenzhou became the largest supplier to Nike and Adidas in China. Additionally, Shenzhou also provides its core customers value-added services of researching & developing advanced and professional fabrics. Representative products include AIRism for UNIQLO and Dri-FIT, TechFleece and Flyknit for Nike. As of 2019, Shenzhou has applied 413 patents among which 143 are patents for fabrics developments. Shenzhou could also provide 300 tons/day of fabrics in the China factory and 280 tones/day of fabrics in Vietnam factory.
How did Shenzhou International perform during 2020 and how was it affected by COVID-19?
Shenzhou recorded 2020 H1 revenue of 10.2BCNY with resilient growth of -0.4% YoY due mainly to discontinuing its retail business. Revenue growth would be +2.3% YoY excluding the impact of the discontinued business. Core EBIT was 2.2BCNY, up 5.3% YoY while core EBIT % improved YoY to 22.1% thanks partly to the less selling and marketing expenses amid pandemics. Sportswear revenue increased to 73.4% of total revenue with a growth of 2% YoY. Adidas was the fastest growth name in core customers. The rise of sportswear revenue was driven by the increasing demand in Europe. Orders volume has recovered to positive growth in Q3 after the impact of Covid-19 pandemic. As the pandemic eases gradually, China factory and Cambodia factory both started staff recruitment. Shenzhou's leading position was reinforced amid pandemic due to its stability in supply chain and strong capability in maintaining business continuity.
Which are the key drivers and challenges for Shenzhou International that we should follow during the coming twelve months?
Looking ahead, capacity expansion in Vietnam, Cambodia and Ningbo in China will be the key drivers of future revenue growth. Whether Shenzhou could expand its capacity accordingly and the future plan capacity expansion will be the key factors we should follow. In addition, Shenzhou's new capacity in Vietnam and Cambodia should provide better cost efficiency which lead to margin upside. Finally, the growth of sportswear is likely to experience a strong rebound in 2021 from the further recovery from Covid-19. Hence, Shenzhou is likely to be benefited with strong growth in order volume from core customers.