Nordic Asia Portfolio Insights: Tencent
2020-12-08
Nordic Asia Team
Tencent - Company introduction
Tencent is the operator of its core social networks WeChat and QQ. These are multi-purpose messaging, social media and mobile payment apps connecting over 1.2 billion active users. Tencent provides users entertainments including online mobile and PC games, videos, music, news, and books on its social platforms. It also distributes users convenient financial services from its partner financial institutions as a third party platform, in which users could easily access payment services, credit services, wealth management services and insurance services via channels developed by Tencent with their WeChat/QQ account. On the business side, Tencent provides advertising services that reaches a wide range of consumers and digitalization solutions powered by communication tools and cloud technology. Tencent also invests heavily in e-commerce, local services, tourism, and housing which includes JD.com, Pin Duo Duo, Meituan Dianping etc. Tencent still enjoys a 20% YoY growth despite annual revenues of CNY 377 billion.
Tencent – Business Overview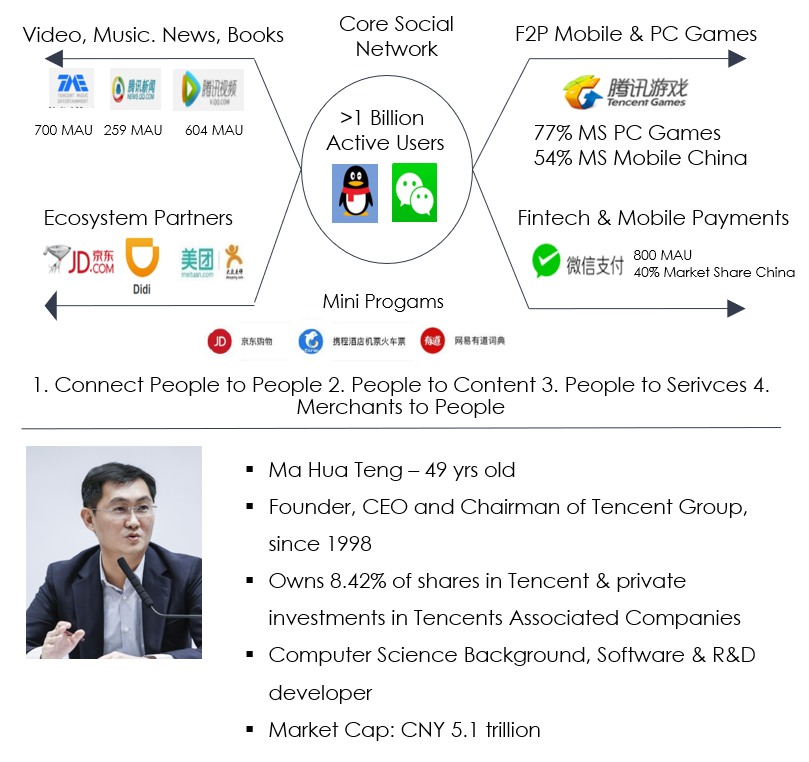 Tencent – Financial Overview as of 7 December 2020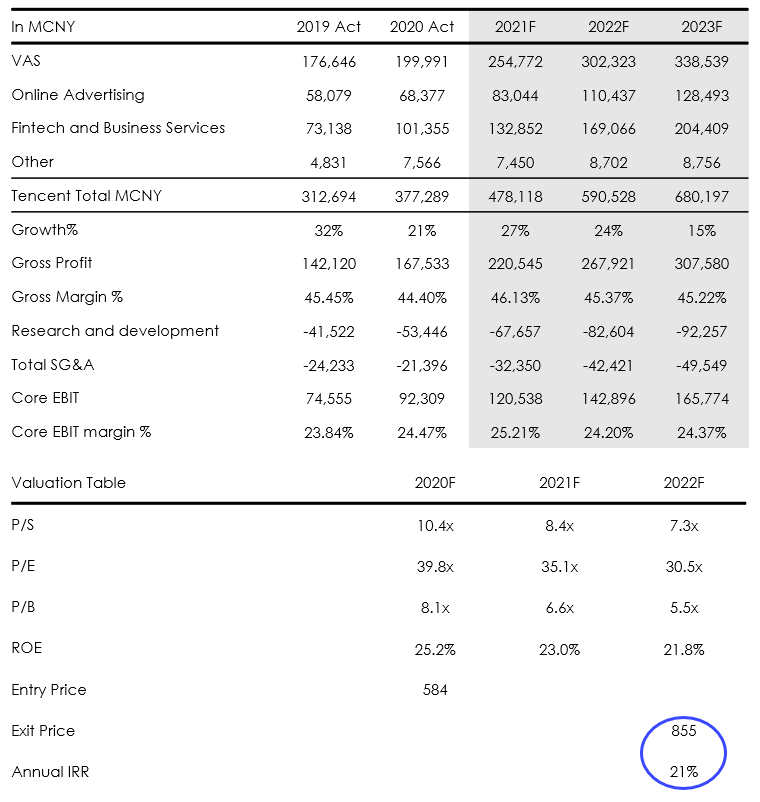 Tencent – Share price performance YTD as of 7 December 2020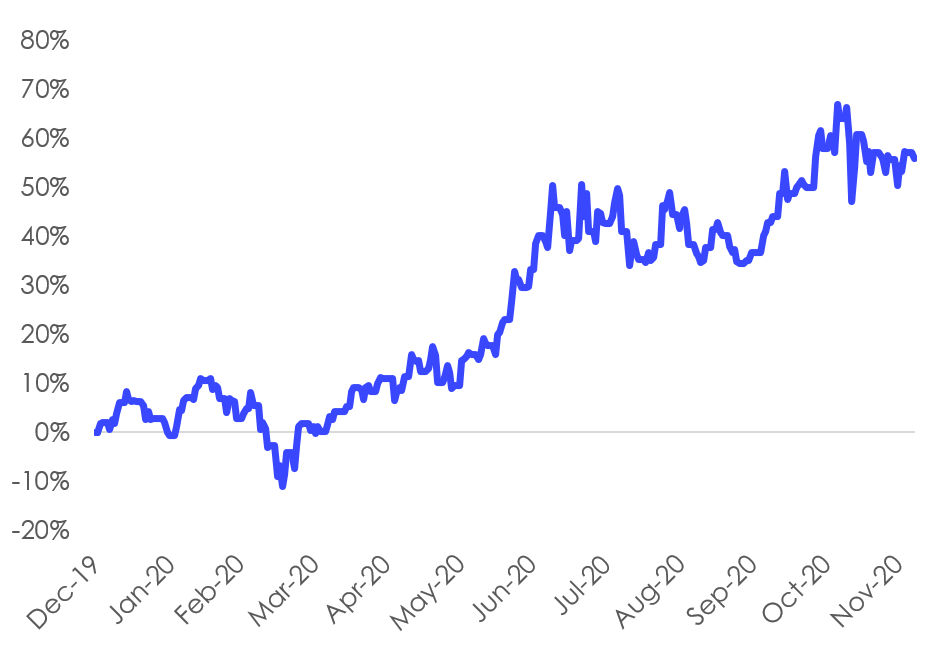 Interview with Nordic Asia Research Analyst – Sunny Huang on his view on Tencent
From Nordic Asia's perspective what is the investment case for Tencent?
From the market perspective, Tencent is the dominator in the China social media market with WeChat's Nr 1 smart community with 1.2 billion MAU and QQ's 648 million MAU. WeChat has also become a must-use app with such extensive network. Hence, Tencent could effectively distribute and cross promote its digital entertainment services such as 1. Online gaming, 2. Media and Entertainment and 3. Fintech and payment services WeChat pay.
Owning the unique digital distribution channel reaching basically all the internet users in China, Tencent's strategy is to connect, 1 People to people, 2. People to content, 3. People to services and 4. Merchants to people. Digital entertainment services is Tencent's key growth driver which generates over 50% of Tencent's revenues. The online gaming is the most valuable business. Tencent is the market leader in the mobile gaming market in China with a 54.5% market share by its in-house developed multiplayer titles "Honor of King" (HOK), Peacekeeper Elite, League of Legend and PUBG mobile, among which HOK is the nr. 1 China smart phone game with daily active players ranging from 80 million to 100 million.
Additionally, Tencent's social network also served as an effective portal for businesses to tap into markets by online advertisements across the platforms including social feeds, official accounts, news, video, music properties, short-form video, and live streaming. On top of that, Tencent also built an ecosystem via external partnerships and investments by directing WeChat user traffic to investees including e-commerce. As a result, Tencent provides its users more convenience with broader user cases with WeChat network and drive user consumption and engagement.
An investment in Tencent provides us exposure to Chinese consumption of online gaming, digital entertainment, merchant advertising, local E-commerce, and mobile payment solutions.
What similarities and differences is there between Tencent's Wechat Pay and Alibaba's Alipay and how do you think the market share in digital payments between these two companies will change in the future?
The underlying difference between Tencent's WeChat Pay and Alibaba's Alipay is that WeChat Pay is an in-app function of Tencent's social network while Alipay is a standalone app connecting to Alibaba's eco-system. Therefore, user behavior is different in Alipay than WeChat Pay. Besides digital payment, Alipay users tend to engage more in financial services including wealth management, borrowing credits, and participating in insurance plans as users use the Alipay app with a more financial mindset under Alipay's strong e-commerce connectivity and financial institution partners. WeChat Pay's users tend to stick more on digital payment due to the convenience in social connectivity. As a result, Alipay has larger size in terms of financial services while WeChat Pay's users has a higher payment frequency thanks to the large user base and high stickiness to WeChat.
In 2019, Alipay dominated the mobile payment market with 54% market share and CNY 123 trillion in transaction volume while WeChat Pay accounted for 39% of the market with CNY 89 trillion in transaction volume. Looking ahead, the competitive landscape would tend to be steady as the digital payment market is growing at a more stable rate. We see WeChat Pay recorded 30% YoY growth in 3Q 20202, which is much higher than the market growth. We expect the market share of Tencent's WeChat Pay in the payment market could slowly increase due to its high user stickiness and extensive user base, but the overall competitive landscape remains unchanged.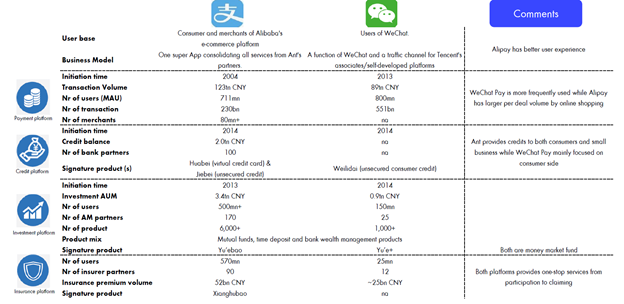 How has Tencent performed during 2020 so far and how was it affected by COVID-19?
Tencent Group delivered a strong 3Q 2020 result with revenue at CNY 125 billion, up 29% YoY, and core EBIT at CNY 31 billion, up 32% YoY. MAU of WeChat and Weixin combined grew by 5.4% YoY or 0.6% Q o Q to 1,213 million. Online game revenue growth was strong at +45% YoY, driven by strong growth in mobile games. Total mobile game revenue growth remained strong at 61% YoY. Non-game social network revenue increased 29% YoY with online entertainment subscriptions climbing +25% YoY to 213 million, driven by 20% growth in video memberships to 120 million and 46% growth in music subscriptions to 52 million. Online advertising revenue grew by 16% YoY stronger than previous quarter's 13%, demonstrating a steady recovery trend. Media advertising also recovered with YoY revenue decline contracting to only -1%. Fintech and business service revenue increased 24% YoY with 30% YoY growth in payment volume and 50% YoY growth in wealth management customers and AUM, partly offset by a one-off impact in business services impacted by Covid-19.
Which are the key drivers and challenges for Tencent that we should follow during the coming twelve months?
Looking forward, Tencent's new game "Moonlight Blade Mobile" and a pending launch of LOL mobile and DNF could be the key driver to sustain the strong growth in online gaming. Advertising will enter into a recovery trend as the macro economy further recovers from the impact of Covid-19 which would also benefit the group with better growth certainty. Fintech and business services will remain as long-term drivers along with the trend of digitalization after the pandemic.