Nordic Asia Portfolio Updates: ANTA Sports
2021-03-31
Nordic Asia Team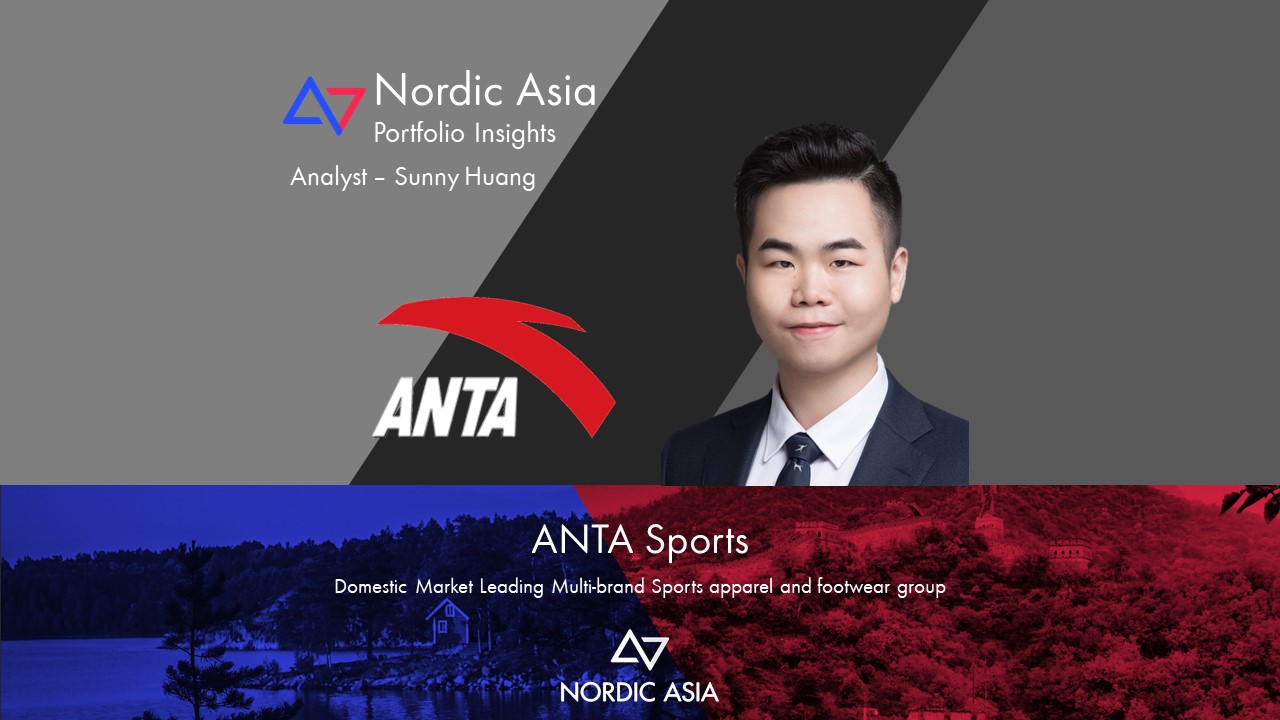 ANTA in a nutshell
Established in 1991 and listed on the Hong Kong Stock Exchange in 2007, Anta Sports is a leading sportswear company engaging in the design, development, manufacturing, and marketing of professional sporting products including footwear, apparel and accessories in China. Through active acquisitions of globally recognized brands such as FILA, DESCENTE, Kingkow and Amer Sports, Anta has expanded the brand diversity and become an international sportswear giant with a multi-brand product portfolio covering all levels of sports, fashion, and professional markets.
For ANTA Sports insights click HERE
ANTA 2020 Financial & Operating Highlights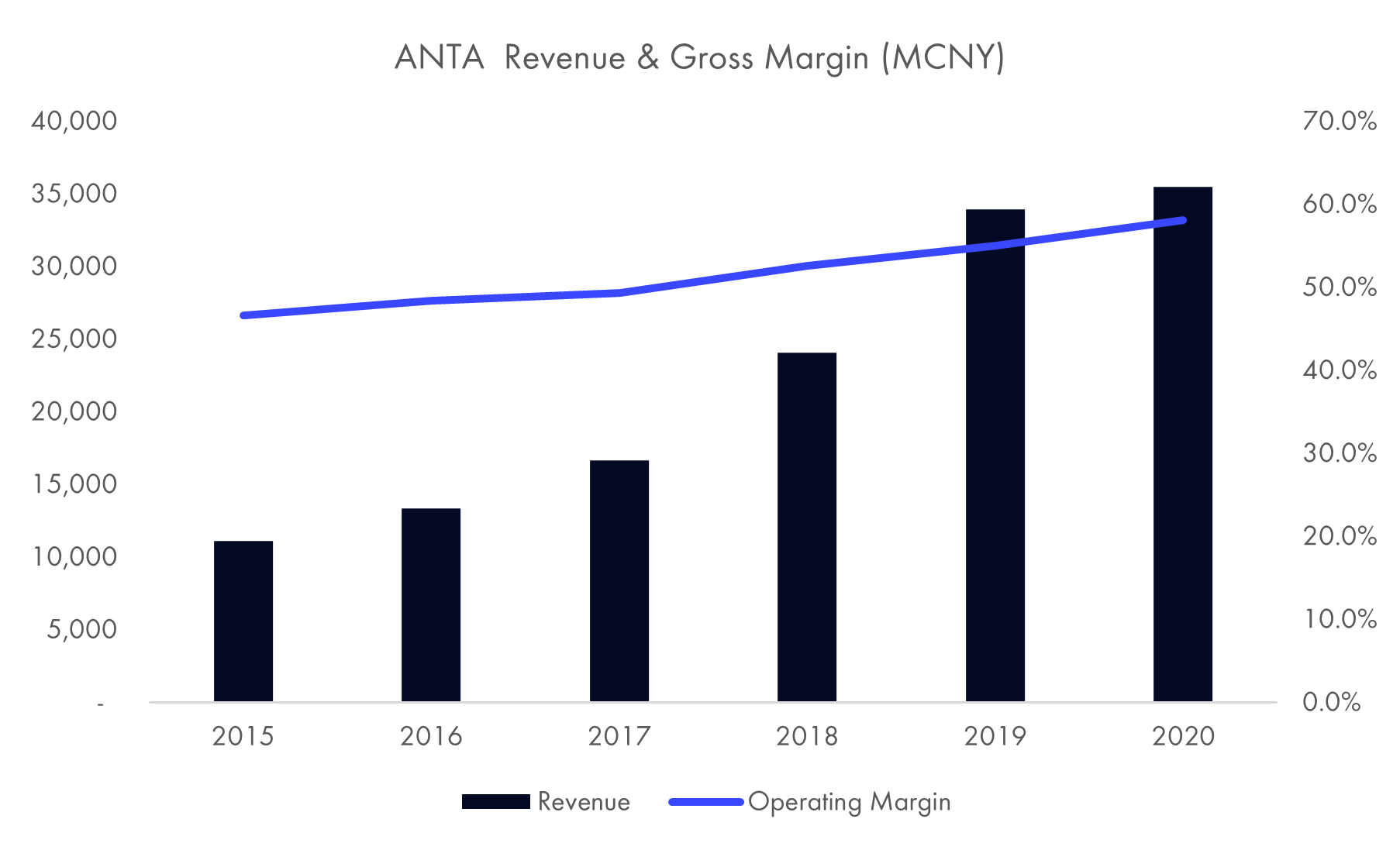 Anta reported broadly in line 2020 result with revenue up 4.7% YoY to 35.5BCNY but gross margin improved to 58.2% thanks to better-than-expected DTC (direct-to-customer) transformation of Anta brand. Anta brand revenue down by 9.7% YoY due to repurchase of franchisee stores' inventory of DTC with gross margin/operating margin improved to 45.2%/28.2% respectively from the higher margin of retail business. FILA brand achieved stronger than expected revenue of 17.5BCNY with 18.1% YoY growth in for 2020 or 25% YoY growth in 2H20, accounting for 49.1% of total revenue. Higher-end brands Descente and Kolon Sport both achieved strong growth of >60% and ~20% YoY respectively on the backdrop of pandemic. Online sales growth was the main driver grew by ~53% YoY accounting for >25% of total revenue. On the store level, store number of Anta brand at 9,922 down 594 amid pandemic while FILA store number reached 2,006 up 55.
How did ANTA perform during 2020 and how was it affected by COVID-19?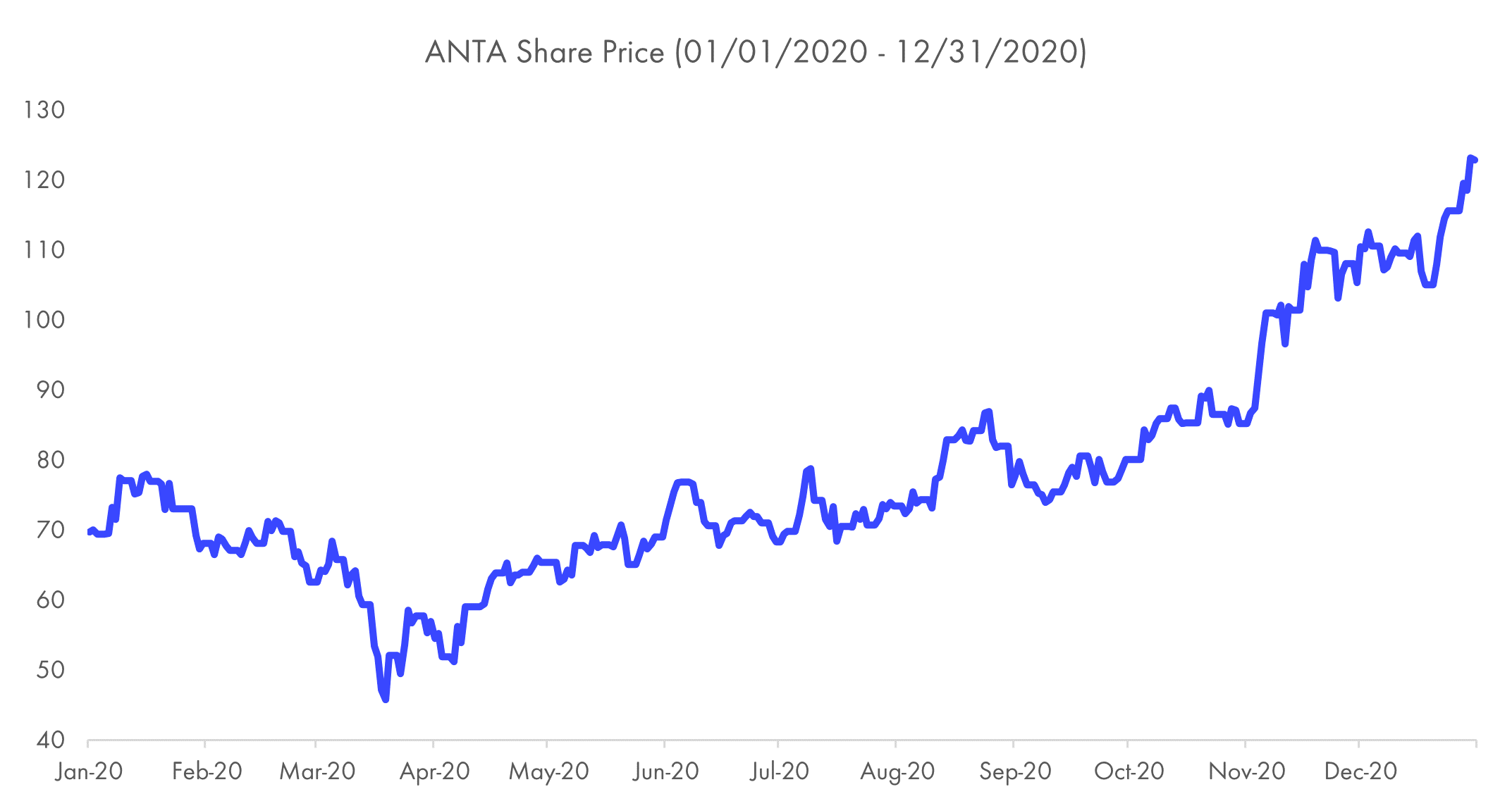 Anta suffered from COVID-19 of stores closing in the first two months in 2020 which disrupted Anta Sport's offline retail performance. Total revenue was down by 1% YoY in 1H20 with Anta brand declined by 10.7% YoY. However, FILA brand maintained its strong momentum and delivered resilient result of +9.4% YoY in 1H20. Furthermore, Anta actively perform online sales campaign. Online sales grew by >50% in 1H20. After that, we saw Anta had strong recovery as offline retail and economy recovers in the lower-half 2020.
In late 2018, ANTA acquired Amer – the mother company of Arc'teryx. However, in late 2020, ANTA choose to sell Precor under Amer. What's ANTA's strategy for that?
Anta's strategy in acquiring Amer Sports is expanding its product universe to higher-end sports categories and geographical coverage. In late 2020, Anta sold Precor under Amer to concentrate its resources on main product categories of sportswear, apparel and footwear, and spin-off the underperforming business of Amer for better overall performance. In the upcoming, Anta is likely to further sell other underperforming businesses under Amer in lights of product category and performance focus initiative. Company guided that watch business could be the next spin-off target.
Which are the key drivers and challenges for ANTA that we should follow during the coming twelve months?
On 2020 annual result, management guided more positive outlook with Anta brand achieving mid-to-high teens growth on sell through level while FILA brand to maintain strong >30% growth. All other brands to have better contribution in 2021. Management also announced that they will perform an Anta brand reshape in 2021 and detailed plan will be disclosed in Jun-2020. The key drivers and challenges of Anta in the next 12 months are 1. Whether FILA brand could maintain its momentum; 2. Whether Anta brands reshape is successful; 3. Whether Anta could maintain its strong online sales growth after overshooting 2020 on E-commerce. 4. Whether Amer could provide positive return on the backdrop of Europe pandemic situation.