Nordic Asia Subscription Notice
2020-11-30
Nordic Asia Team
Overview of the offering
Nordic Asia is announcing a new share Issue of 50 MSEK targeted to Nordic professional Investors with a minimum position of SEK 5 million. The subscription period will be from November 30th to December 11th. Nordic Asia invests only in well-established market leaders listed in Shanghai / Shenzhen via Stock Connect, Hong Kong and the U.S. (ADRs) with at least USD 1 billion in market value. The company has already raised SEK 51 million in a private placement and now intends to raise an additional private placement of SEK 50 million during the next investment round. Thereafter Nordic Asia Investment Group 1987 AB intends to prepare for an IPO 2021 as a listed investment company in the Nordic stock exchange during 2021 to offer the strategic investment portfolio to public investors.
Investment Highlights
Concentrated investment portfolio of approx. 20 leading domestic Chinese firms with strong market positions with exposure towards China consumption upgrade
Investment return target of 15% IRR at 0,4 – 0,6 beta to OMXSPI
Swedish-Chinese Investment team with local market presence and In-house analyst team in Shanghai
Plan for IPO of Investment company 2021
Offering terms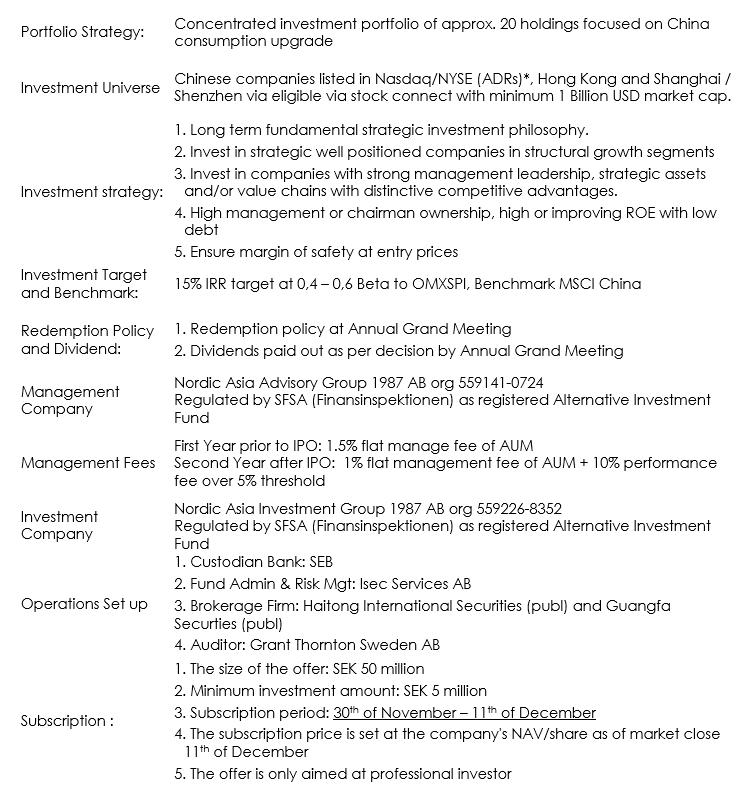 Key dates - Nordic Asia Investment Group 1987 AB 50 MSEK Subscription Process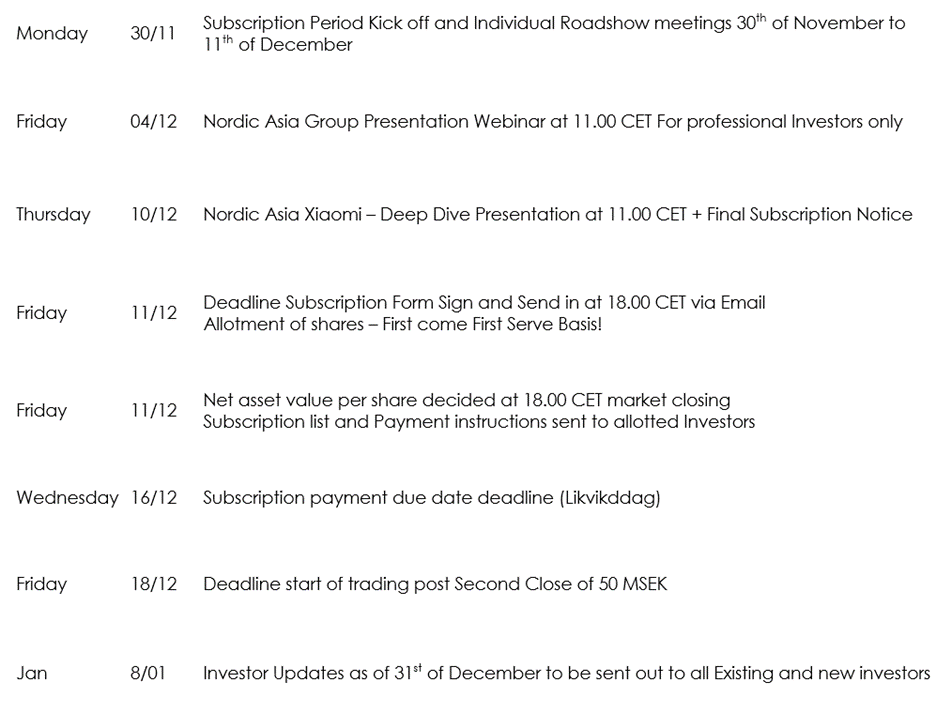 About Nordic Asia
Nordic Asia Advisory Group 1987 AB is a Swedish alternative investment manager and manages a privately owned investment company Nordic Asia Investment Group 1987 AB. Founded by second generation Swedish-Chinese, our mission is to solve the current under-allocation problem towards China's shift to a consumption led economy. Via our investment company Nordic Asia Investment Group 1987 AB, we offer Nordic investors a concentrated investment portfolio towards the domestic market leaders in China's shift to a consumption driven economy. Based on our Swedish-Chinese background with local market presence and Nordic investment philosophy, we invest in leading domestic Chinese listed companies with strong market positions, unique value chains with proven financial performances and high management ownership. The investment portfolio contains around 20 holdings with the target of returning over 15% IRR annually with a beta of 0.4 - 0.6 to OMXSPI.