Singles Day' (11/11) Miniseries – Part 1 of 3: Introduction to Singles' Day
2020-11-09
Nordic Asia Team
The evolution of Singles' Day as a shopping festival
Singles' Day originated at Nanjing University in 1993 as a celebration of being single. The date November 11 (11/11) was chosen as the Singles' Day as the four "ones" represents four singles. Originally, Singles' Day was a dating day with a lot of blind date parties and a day where love-related issues were discussed by the Chinese Media.
In 2009, Alibaba rebranded Singles' Day as an annual shopping festival held on November 11 by offering discounts of at least 50% and free nationwide shipping on both of its e-commerce platforms at that time, Taobao and Tmall. Since then, Singles' Day quickly surpassed US Black Friday and Cyber Monday to become the largest online shopping day in the world. In 2019 Alibaba's Singles' Day sales reached USD 38.4 billion which was more than twice the sales of US Black Friday and Cyber Monday combined.
The evolution of Alibaba's Singles' Day sales vs. US Black Friday and Cyber Monday online sales combined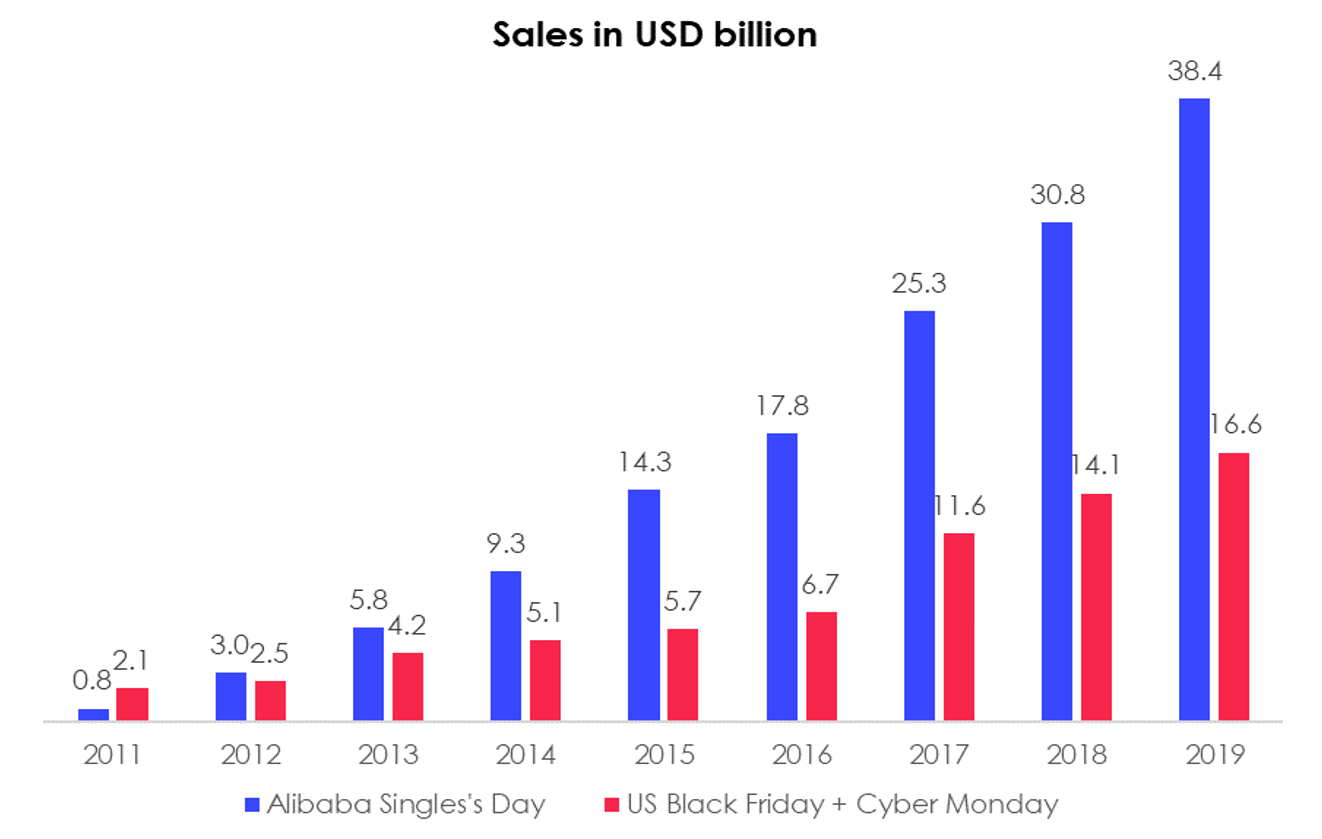 Singles' Day 2019 in numbers
Total sales reached USD 38.4 billion of which the first USD 1 billion was reached in within the first 68 seconds and USD 12 billion was reached in the first hour
The total number of orders generated on Alibaba's e-commerce platforms reached 1,292 million
710 million payments were made, and 467 million parcels were delivered
100 million new users joined the shopping festival in 2019 compared to 2018
Launch of one million new products
More than 200,000 brands participating, including 22,000 foreign brands from 78 countries
299 brands surpassed USD 14.3 billion or CNY 100 million in sales with Apple and Nike as the top sellers
For emerging brands, Singles' Day can make up as much as 25% of annual sales
Chinese shoppers had 26% higher add-to-cart rates on Singles' Day and were 84% more likely to start a check-out than their US counterparts on Black Friday
Singles' Day is becoming increasingly popular in many regions across Southeast Asia, including, Singapore, Malaysia, Indonesia, Philippines, and Vietnam
90% of sales came from smartphones. Other top selling categories include other electronics, cosmetics, beauty items, and fashion products
Alibaba's Singles' Day sales 2019 by time of day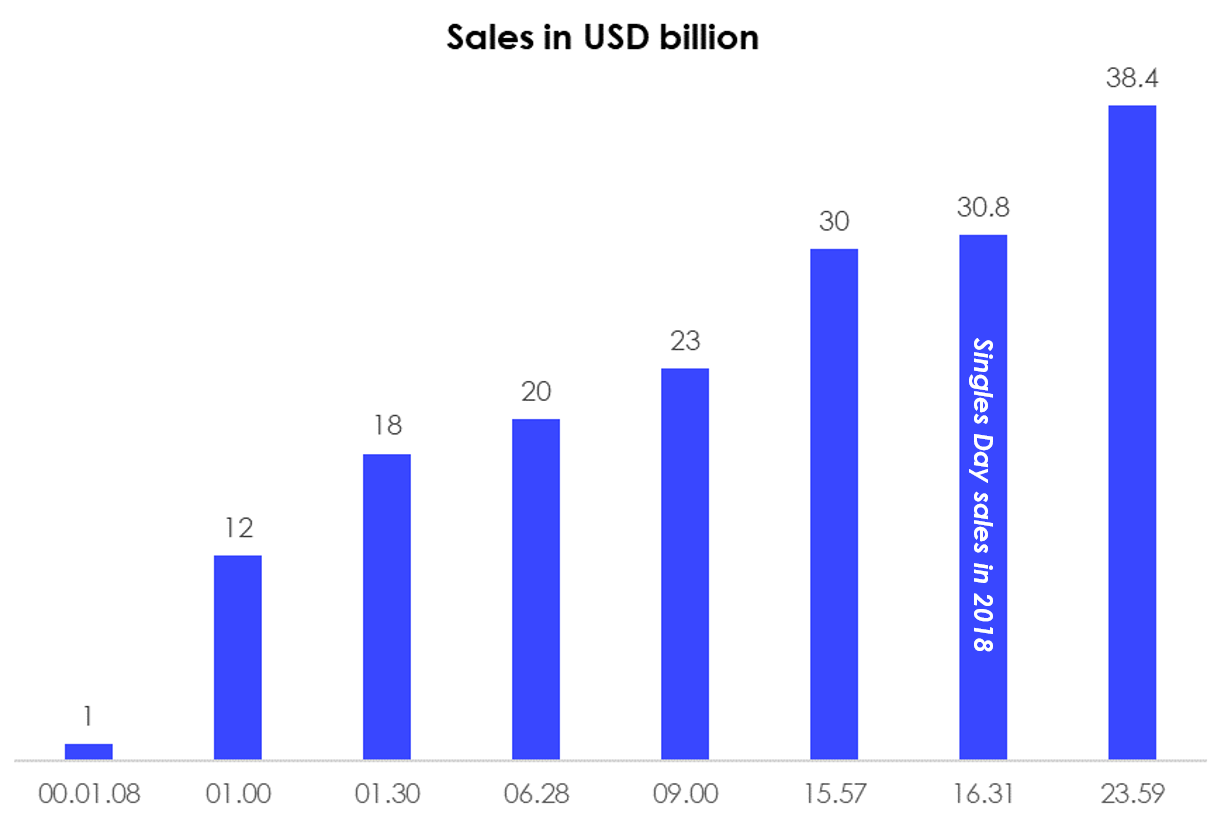 How Singles' Day works – Event Timeline from Singles' Day 2019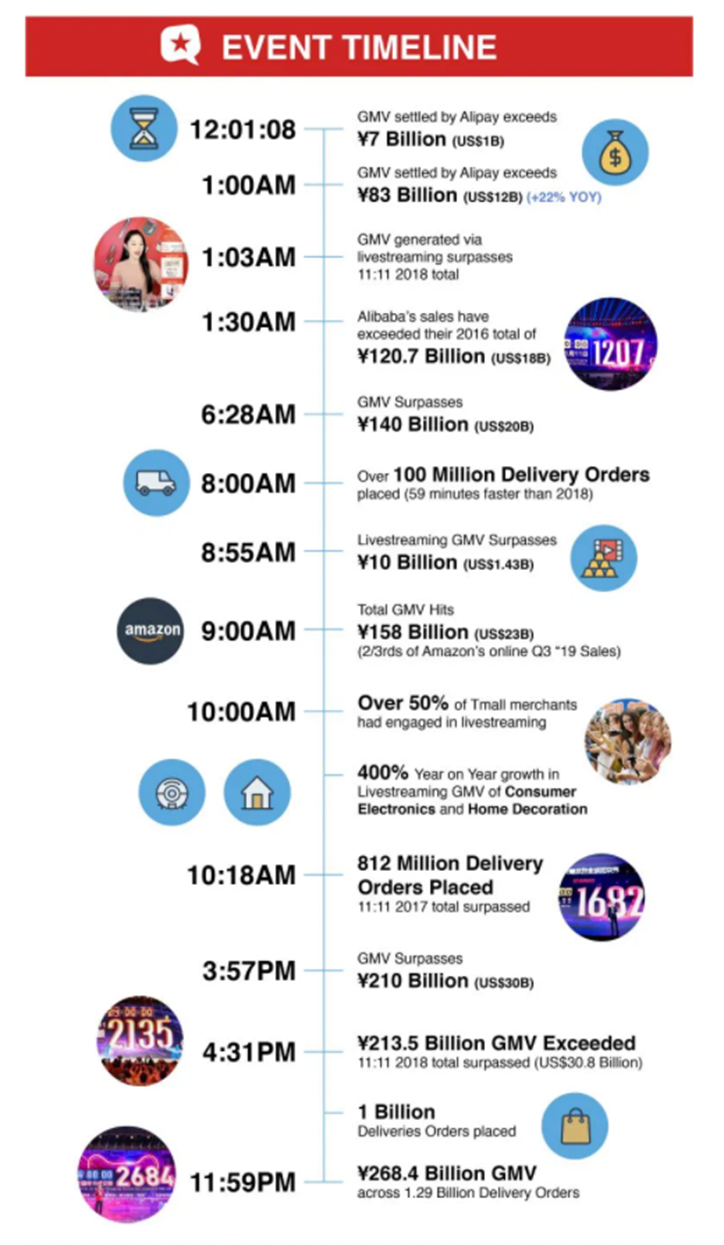 What to expect for Singles' Day 2020
This year's Singles' Day will be the first large shopping event post COVID-19 and will also be a good indicator for the revitalization of the Chinese consumption. Leading Chinese e-commerce companies has made several announcements ahead of Singles' Day on what to expect. Please see below for a selection of announcements:
Alibaba
Alibaba's new features of the Singles' Day 2020 include a new promotion window between 1-3 November ahead of the main event 11 November. Livestreaming is also expected to play a larger role in this year's event. More than 250,000 brands are participating in this year's event, and more than 2 million new products will be introduced, double the amount compared to 2019
JD
JD will offer more than 200 million goods at 50% off. As for Alibaba, livestreaming is expected to play a larger role with JD inviting over 300 celebrities and over 500 executives into its livestreaming room. Increased gamification efforts including several online games where consumers can earn cash or shopping credits.
Suning
Suning 's Singles' Day offering include more than 100,000 products. Suning operates both online stores and physical stores and new for this year is that discounts are eligible for physical stores for the first time. Product wise, focus will be on electronic vehicles and the latest models of 5G mobile phones.
Xiaomi
Xiaomi 's Singles' Day promotions will focus on their smartphones with the heaviest discounts on its flagship models. The flagship models released during H1 2020 with a list price of over CNY 4,000 will be available during Singles' Day for prices around CNY 3,000.